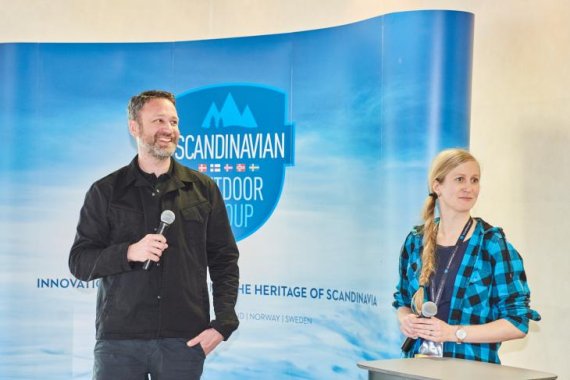 Samarbejde, samarbeid, samarbejde, yhteistyö, samstarf – that means "cooperation" in Danish, Norwegian, Swedish, Finnish and Icelandic. Or you can simply say "Scandinavian Outdoor Group". That's because although the 66 current members include direct competitors, the cooperation seems to work better from year to year.
The result can be viewed in the Scandinavian Village at ISPO Munich. "The thinking in founding the Scandinavian Outdoor Group in the year 2000 was: You bring ten customers with you, I bring ten customers with me – and we all benefit from this," reports David Ekelund, who holds the honorary office of Chairman of the SOG.
"Two times three is four, and three makes nine" – Pippi Longstocking taught us that Scandinavians sometimes also make some unconventional calculations. And this doesn't matter, as long as the end result is right. This is how it is with the SOG; the Scandinavian Village is one of the hotspots at every trade fair. And Ekelund also says: "1 add 1 can equal 3."
What the charismatic manager, who earns his salary as the CEO of the Swedish brand ICEBUG, thinks: "If companies cooperate in some projects, at the end the result is better than if everyone strikes out alone."
Because lean structures are paramount at the SOG – in the office at Åre (Sweden) there are only two permanent employees – they consider themselves to be a platform and not an industry association with lobbying work. "Not much politics, a lot of cooperation", says Ekelund, who says himself that he uses only one working day per month for his office as the SOG boss.
"If I need support for an ICEBUG project, then, thanks to the SOG, I immediately have several addresses prepared, which I can turn to immediately," Ekelund reports.
For such an important topic as environmental protection, companies that have a special rivalry as Adidas and Puma also forge an alliance. Thus, the Sustainability Managers of Haglöfs, Fjällräven, Houdini Sportswear and Peak Performance – all of which are headquartered in Stockholm – now work together on a joint strategy to persuade their suppliers to move towards more responsible management in the topic of microplastics.
"We feel that there is limited activity from the fabric suppliers," as it says in a joint communication. Part of the strategy: At ISPO Munich 2018 they invited their suppliers to a supplier seminar, to find out more information about the current state of research and possible solutions.
Environmental protection plays an important role in Scandinavia. The brands from Sweden, Finland, Norway, Denmark and Iceland see themselves as being forerunners of the sustainability movement. In order to help these gain even greater significance within the SOG, since 2017 Christiane Dolva has been part of the board. The 34-year-old is the Operational and Sustainability Manager at Fjällräven. Her task: "How can we support our members with their sustainability goals?"
A survey of the brands that Dolva has run into showed that the SOG members already do a lot for the environment. But, the manager thinks, things could always be better: "I also hope that we at the SOG can reach a point at which we can sign a joint charter that indicates what level we want to reach as a group. With high ambitions, of course."
Someone else might be surprised at the openness with which the Scandinavians shares their innovations. But this community spirit, which can easily be recognized through the open, visitor-friendly stands in the Scandinavian Village, is simply part of the DNA. "If your goal is to improve the environment, you can't keep your innovations to yourself," explains Joel Svedlund, Project Manager at Peak Innovation.
In order to meet the challenges of the future, you need to samarbejde, samarbeide, samarbeta, yhteistyötä, vinna saman.
Inuheat from Sweden is celebrating only its fifth birthday in 2018 an offers wearable heating technology.
Pinewood also comes from Sweden, was founded in 1996 and offers functional materials.
VJ Sport from Finland produces outdoor shoes, with particular attention to good grip, for almost 30 years.