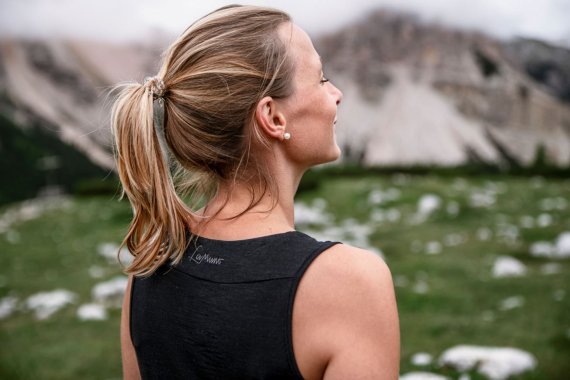 Mountaineering is no longer a male domain. From gentle mountain hiking to athletic alpine climbing, women are now part of the picture everywhere. But do women really feel addressed by the mountain sports brands? Most mountain sports brands have a male history, with their male founders, sports legends and core target groups. With the new LaMunt women's brand, the Oberalp Group - to which the Salewa, Dynafit, Wild Country, Evolv and Pomoca belong - create a counterweight now: The new mountain sports brand from women for women focuses exclusively on female demands and a purely feminine view of the mountains and alpine sports.
The basis for the market launch of LaMunt was a semiotic study on women and mountain sports, which the Oberalp Group commissioned from a renowned behavioural research institute. The study revealed that women do not want to conquer mountains, but rather experience them. The experience of nature plays a major role for them, not just the sporting challenge. Accordingly, the functionality of mountain sports clothing and equipment has top priority for women, followed by the desire for comfort and fit. For the women surveyed, design comes in third place, followed by price. With regard to existing collections, it also became clear where the problems currently lie: Mountain boots and trousers are among the items that are least well received by women, mostly because of their fit.
The new brand was initiated by Ruth Oberrauch, the 35-year-old daughter of company founder Heiner Oberrauch, who joined the family business in 2010. Initially responsible for the Italy marketing of the Salewa and Dynafit brands, she began to build up the Corporate Social Responsibility department within the Oberalp Group in 2012. "LaMunt is the result of my own attitude towards mountain sports," says Ruth Oberrauch. "I find myself in the mountains, this is where I can best switch off. For me, the wild beauty of the mountains, the direct experience of the elements coupled with physical exertion is the best meditation from which I can draw strength for my everyday life and re-sort my thoughts". The female perspective on the mountain is also reflected in the brand name: "La Munt" is Ladin and means "the mountain" - only that in the old Romance language of Northern Italy the mountain is female.
The new collection is a premium mountain sports brand for women with a strong focus on sustainable quality, premium materials and functionality tailored to the female body. Of course, a certain fashionable finesse should not be missing. The first autumn/winter collection was just presented at the Oberalp Convention. It will be available online and at selected retailers from January 2022. The first spring/summer collection will be presented to the trade public in 2021.