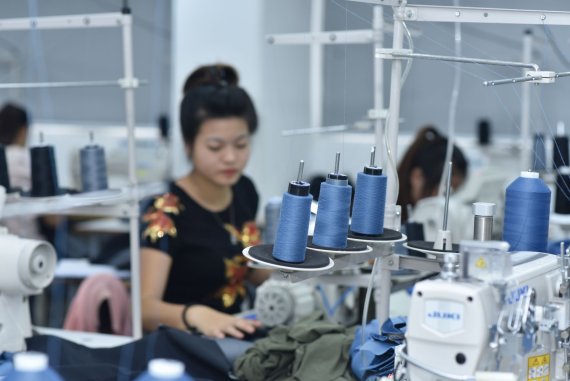 Anyone who positions themselves in the premium segment must also take responsibility. Schöffel CEO Peter Schöffel is convinced of this. Year after year, when he achieved Leader status from the Fair Wear Foundation, he proves that sustainability is very important at Schöffel. Six times in a row, Fair Wear has honored the outdoor company from near Augsburg for its exemplary work in the global supply chain. The Fair Wear boss Alexander Kohnstamm and Peter Schöffel give an insight into their collaboration.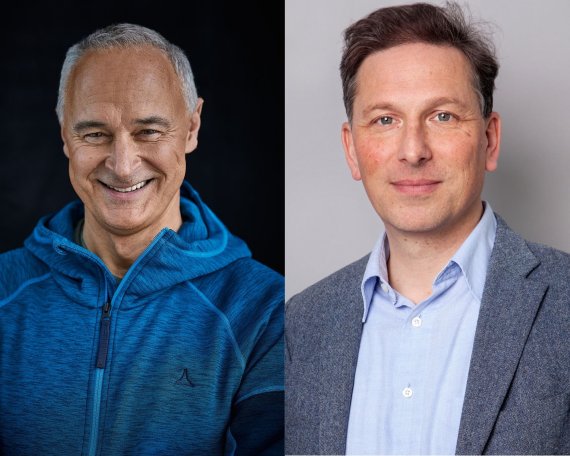 ISPO.com: Mr. Schöffel, you have achieved the Leader status of the Fair Wear Foundation for the 6th time in a row. Congratulations. It sounds like the requirements are a bit too low for you?
Peter Schöffel: You only achieve the status if you improve year after year. A lot of work goes into it, especially from a specialized department that is very conscientious about implementing the requirements set by the Fair Wear Foundation. We are proud of that.
Alexander Kohnstamm: At the Olympic Games, too, it's always faster, further, higher. That's the same for us. You can start with a rudimentary system, but step by step a new element is added, and our Performance Check demands more and more. If you always just do the same thing, you won't become a leader.
What needs to be right for a partnership like this to succeed in the long term?
PS: It takes three things: first, the will to do it, starting at the top of the company. Second, the ability to implement it properly. Just wanting to do it is not enough, because you have to completely reorganize many processes, otherwise it won't work. And finally, thirdly, you have to be prepared - as with all strategic issues - to live with the resulting consequences.
Why was membership important to you?
PS: We already had good procurement partners 15 years ago. But our partners were increasingly sitting in their own offices rather than in the factories themselves. That meant we had a good gut feeling, but we lacked proof that the working conditions were right. It was clear to us that clean production into all stages of the value chain had to be a core issue for us. It's not enough to talk to producers twice a year. If something goes wrong, it immediately reflects on us. So, we asked ourselves how we could rationalize the good gut feeling. Today I can safely say that Schöffel works cleanly, and we can document that. That's the important difference between that and a good gut feeling.
What has changed in your supply chain since you joined Fair Wear ten years ago?
PS: We have significantly fewer suppliers, there is no subcontracting, there is massively less overtime and more occupational safety. But also, significantly higher procurement prices. We can only work with companies that are willing to invest in issues such as occupational safety or living wages. The regulations of Fair Wear are very strict, but the organization helps to ensure that these requirements do not hinder but are implemented constructively so that problems such as overtime can be avoided. You have to plan better and plan ahead, and thanks to Fair Wear we are better at this than we were ten years ago.
Mr. Kohnstamm: Interestingly, outdoor brands in particular are leading the way in Fair Wear. Why is that?
AK: Schöffel is outstanding in this respect; achieving leader status six times in a row is an enormous achievement. I think it's very important at Schöffel that the decision is supported by the top of the company. Quality also has a social component, and the products also have to be manufactured well. With outdoor brands, it seems to be in the DNA to really want to do things differently. Maybe it's because of the more expensive materials, the more long-term relationships with manufacturers than compared to fast fashion, for example. I'm not saying it's not possible to trade fairly there, but there are more incentives for short-term decisions.
Fair Wear also encourages collaboration among brands - which was rather unusual. How does that work?
AK: If you're a brand and you want to pay Living Wages, but you're only producing a ten percent share in a factory, you're still not paying higher wages for 90 percent of the production. So, you have to work together and speak the same language.
Living Wages is also a demand of Fair Wear. How do you implement this at Schöffel?
PS: Living Wages are a very complex issue that we cannot implement on our own, but we are working on it. On a T-shirt, of course, paying Living Wages only adds up to a few cents, but on a mass scale it's a lot. Nevertheless, I think that as a premium brand, I have to be able to afford that. It costs, of course, and we accept less profit for that. I'm more convinced than ever that we can and must position ourselves in the premium segment, and sustainability is a high priority here. I also see this as a huge opportunity for retailers, because they can tell honest stories that stand behind the products. You shouldn't just talk about water columns, but about origin and production methods. Customers are demanding that more and more.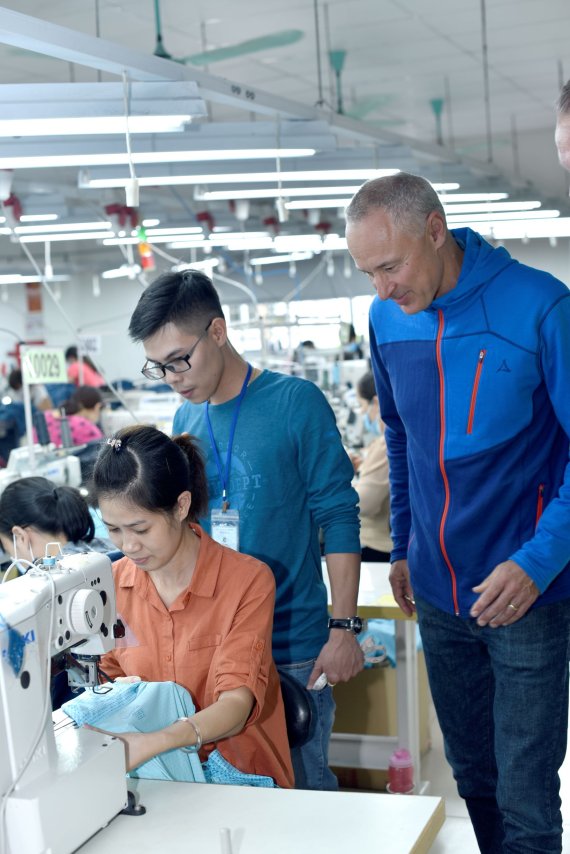 AK: It should not be the case that only premium brands can pay Living Wages. Living Wages are a human right. Basically, it's a great pity that we have to talk about it at all. And there are still many companies that don't even pay the statutory minimum wage.
PS: We always pay 100 percent of the statutory minimum wage. But when it comes to paying Living Wages, you're dependent on the producers, we can't decide that ourselves. It is important to understand how wages and prices relate to each other in order to be able to act responsibly.
AK: Now in the crisis, it has become clear that long-term relationships are also important for economic reasons. Reliability is a two-way street, both sides have to stick to the agreements in order to be able to count on each other in crises. That's why the financial world is now investing more in sustainably oriented companies, because they minimize risks. Sustainability is no longer a trend; it is a structural thing. The market can no longer go back.
Mr. Schöffel, how is your supply chain doing right now? In the summer, you said you had not canceled any orders. How do things look now?
PS: We now have the advantage that everything is a bit more planned. The challenge at the moment is to manage procurement properly, but I firmly believe that we will not have to cancel. What's exciting now is that we haven't been able to visit any operations at the Asian producers and fabric manufacturers since ISPO Munich 2020 due to the pandemic, and the processes that were initiated via Fair Wear are continuing on their own. I don't even want to imagine what would have come out of this if we didn't have producers to rely on now. We need strong procurement partners, so we have to be fair.
Mr. Kohnstamm, how are you keeping in touch with the factories now? What is the current situation in the garment factories?
AK: Our complaints mechanism for the workers in the factories has been very important. We were able to maintain this during the crisis, even though we were no longer able to be in the factories. We had a lot to do with that. There were many complaints. This brand-independent complaints mechanism is unique to Fair Wear; we offer it in all ten countries where we are active with our own teams, in the respective national language.
With what goals are you now looking to the future?
PS: We want to continue to be Fair Wear leaders. Issues like Living Wages or overtime are KPIs that I can measure. Of course, the current situation is challenging. It would have saved me eight million euros in cash flow if I had canceled in summer. But I'm staying the course, there will be no U-turn for opportunistic reasons. It takes a clear commitment to stick to it right now in this second.
AK: My vision is that even more companies will be prepared to face up to the difficult questions. Then the competitive situation between companies will also become fairer. I am also sure that a supply chain law will come in Europe - to prepare for it is very reasonable. That means the market also requires us to become more sustainable. Also, as an industry, we need to work more closely together in the future and define the new "normal." The goal is simple, the question is how do you get there? This is where we need to show collective responsibility and develop measures.
If you are interested in Schöffel and the topic of sustainability, please have a look at the panel discussion "Social and Environmental sustainability hand in hand" with 
Peter Schöffel (Managing Partner, Schöffel)
Alexander Kohnstamm (Executive Director, Fair Wear)
Dr. Katy Stevens (Head of Sustainabilty, European Outdoor Group)
on 05.02 at 17:40 on the Main Stage of ISPO Munich Online.