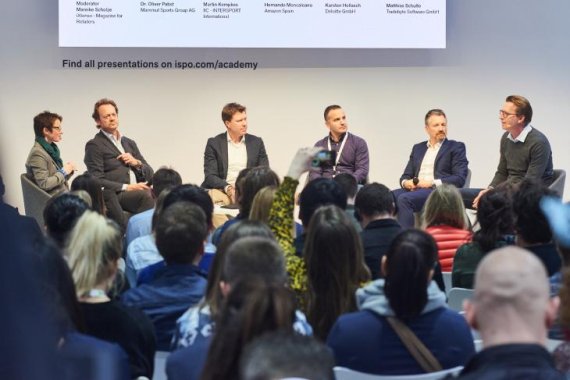 Matthias Schulte of Tradebyte Software, sums it up right at the beginning of the roundtable discussion on the digital transformation. His brief analysis: "The digital era is coming – and many people still don't know how they're going to cope with it."  One thing quickly became clear on the ISPO Academy podium: Manufacturers and retailers are seeing an urgent need for action. Their own position is subjected to thorough, critical examination. Mammut CEO Dr. Oliver Pabst, for example, admitted that he could not yet estimate where digitization would lead. "We still have a lot to learn," he said as part of the panel at ISPO Munich. On a scale of one to ten, he currently sees his company at a "solid three" in terms of digitization.
Martin Kempkes of Intersport International was similarly clear. Retail, he said, needs to change completely. This also includes intensive cooperation with the manufacturers as well as close interlocking between online and in-store offline offerings. "In the future, we'll only reach the customer together," Kempkes continued.
Amazon is considered to be the major adversary of stationary retail in several sectors. Naturally, Hernando Moncaleano of Amazon Spain sees it differently. Amazon is a technology company that also operates retail trade, Moncaleano says. However, they come at it from a completely different direction. "We believe in technology, because it can make customers' lives easier." Looking at the sports industry as a whole, however, Amazon is only one of many market participants – they're interested in learning and benefitting from one another. 
Karsten Hollasch of the Deloitte consulting firm also sees a need for retailers and manufacturers to catch up digitally. Above all, the correct handling of Big Data must be further deepened. The retail trade still has an important position with many stationary customers, especially in the sports sector, explained Hollasch. But the phenomenon that needs to give the industry pause: "When buying online, it's not with the strong local partners, but with Amazon in particular" – this is a challenge for retailers. Stationary retail also needs an online store that's closely networked with in-store product offerings.
Initial attempts at Intersport show what this can look like. An entirely new store concept was tested in real operation in a phase of twelve countries. "For us, it wasn't just about a pleasant environment for the customer," Intersport man Martin Kempkes explains. The stores not only need to be sleek, stylish, and clean, says Kempkes, "it's also about a completely new business model here."
The core of the pilot project is the so-called extended sales table, which connects the offline and online worlds. "With the expanded sales table, we are able to offer around 5,000 items digitally in the store – in the test phase, we already generated around 20 percent of sales in individual stores."
Karsten Hollasch of Deloitte emphasized the fact that the virtues of the past are still important. The most important things for retail are well-trained salespeople who deal intensively with the customer and the product. The consultant is certain that the phenomenon of the consultation clause will then become less important. According to a Deloitte study, even today only around eight percent of customers would not buy in retail stores if they had previously sought advice there. "Good service and good consultation sell," Hollasch summarizes – in case of doubt, even in the company's online store.
An observation that Hernando Moncaleano confirms. "Our data also shows that the majority of retail still takes place offline. But we also see that many customers research with us, then buy in the store. We at Amazon simply need to ensure that we are a partner to customers and manufacturers in equal measure." The challenge for all parties involved is now networking themselves well.
For Martin Kempkes of Intersport, the discussion about the contrast between stationary retail and e-commerce is already heading in the wrong direction. In the future, retail will have just one chance: "We need to be good on all channels. Our lives as retailers definitely aren't getting easier, but we're facing up to it," Kempkes continues.
Mammut CEO Oliver Pabst also argues in this direction: For him, digital transformation means placing the customer at the center of all considerations even more than they already are. "We can no longer wait for the customer to come to us. As manufacturers, we need to create as many touchpoints as possible and do a good job at reaching the customer on all kinds of channels." This also means making stationary retail strong, including in e-commerce. A major challenge. Ultimately, you need the right employees, the right technologies, and the right data.
The new digital world is still associated with major uncertainties for several players. Nevertheless, the panel's forecast was very positive. Digitization can help work become faster, more efficient, and more transparent. In the end, it was agreed that this sector is not a threat but, above all, a great opportunity.