Roland Auschel has worked for Adidas since 1989. He's been a member of the Executive Board since 2013, is responsible for Global Sales, and reports directly to CEO Kasper Rorsted. Even back as Chief Sales Officer Multichannel Markets, the business economist was already responsible for developing digital transformation at Adidas – and he talks about its growing importance for the world's second largest sporting goods manufacturer after Nike in this interview.
ISPO.com: Mr. Auschel, you've been with Adidas for three decades, have been involved in many of its developments, and have also been a member of the Executive Board since 2013. In light of the changes in the sports business and digital transformation, is this the most challenging period that Adidas has ever experienced?
Roland Auschel (Member of the Executive Board, Global Sales): I wouldn't go that far. We've already experienced so many challenges in our company's history. Nevertheless, these are very exciting times. Everything is being accelerated by digitalization. Nowadays, we get immediate feedback when we put a new campaign online. Everything is commented on and evaluated on all channels directly.
Overall, what's the biggest challenge of digitalization for Adidas?
The speed at which it's taking place. And our determination to always truly be at its forefront. This goes hand in hand with the question: How quickly can we switch over – from the things we've done in the past to the processes necessary for the future? An example: We opened numerous new stores in the past. The question today is: How many of these stores will we as a brand really need in the digital future?
Tell us about it!
We still need to be present in major cities like Los Angeles, New York, London, Paris, Shanghai and Tokyo. Beyond that, it's no longer a matter of establishing a classic distribution. It's much more important to increase the desirability of our brand. The consumer wants to have an all-inclusive experience. They are the focus.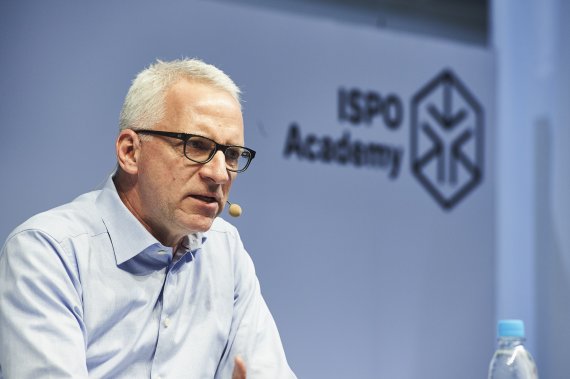 You've said that you don't care about the platform in B2C. You'd have to be everywhere the consumer is.
That's the core of our strategy. We don't have a preference for any particular channel. Rather, it's our job to connect all contact points with one another. The consumer alone decides where they like to shop best. Regardless of the time and place, we want to offer them the best brand experience. And because our consumer has obviously chosen the digital sales channel, we are also systematically driving direct sales through our e-commerce platforms. We will disproportionately increase our sales in this area to four billion euros by 2020.
You've proclaimed that Adidas' goal is 'not just to be the best but also to be the fastest!' How important is that?
In sports, speed is crucial if you want to be at the top. The same is true for us and our business. Being first gets the innovation. The second just copies it. And that is mercilessly punished by the consumer.
Could you give us a couple of examples, please.
We were the first in the running to have launched a completely new cushioning material by bringing "BOOST" technology onto the market. With our Futurecraft 4D technology, Adidas is creating the world's first high-performance shoe with a midsole to be produced using light and oxygen. With this, we're taking production in the sporting goods industry to a whole new level – with unprecedented quality in the field of sports performance. Or our Speedfactory, which we established in Germany last year and is now also operational in Atlanta. This makes it possible for us to go into series production within the shortest possible time with a completely new shoe tailored to consumer requirements. In our markets, a head start is a very important competitive advantage.

Read more about the Speedfactory here!
What good will come of continuing to progress at this high speed?
Speed doesn't just mean being the first, after all. It also means going from one step to the next very rapidly. Sticking to the topic of Futurecraft 4D: If we take an impression on a foot scanner today, the shoe will be produced overnight and ready the next day. That's fascinating. We anticipate that young consumers in particular, who have thousands of options to spend their money on every day, will love it. Speed in the connection of processes – that's what it will come down to in the future.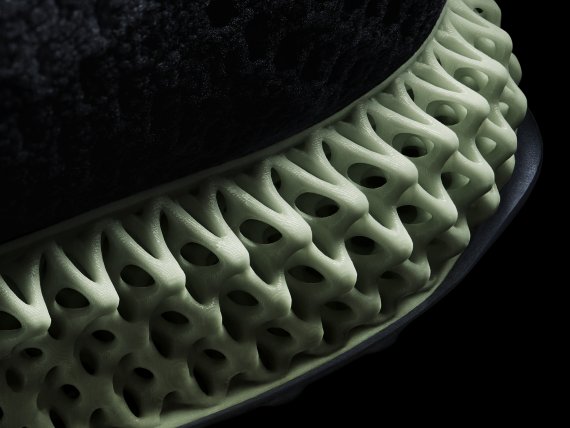 If you always want to be the first, the fastest, you're also going to make mistakes. Is that allowed in this tough competition?
Of course. Anyone who dares to do something new will always make mistakes. But it also means learning faster than the competition.

How are your competitors reacting to the tempo? Where do you need to pay attention so that you're not overtaken?
Our industry has unbelievable potential. We're happy about every competitor who thinks in a consumer-oriented manner and promotes innovation. That remains our business. That's how the market of the future works.
At ISPO Munich 2018, you and your booth in the ISPO Digitize area went straight to the industry.
And very successfully, at that. Our exhibition on the topic "Digital Future" definitely got one or two manufacturers thinking: 'Okay, maybe I do need to reconsider my trade fair presence, and not always just show the products that I want to sell in the next six months. Instead, maybe even the innovation that's coming in two or three years. Maybe even later than that.' And if we all work this way, we'll create a better, more future-oriented industry.
Adidas will also be joining in at ISPO Digitize in the summer.
Definitely. We're going to bring new insights. The digital world turns very quickly, and we'll already be another step further in the summer. We've agreed with Messe München that our exclusivity can be significantly lower. I hope that other big players will also be there.
After a long period of abstinence, is ISPO an exciting platform for you once again?
We're back on the ISPO platform to show our connectedness with specialty retail. Openly and transparently. We're glad that the ISPO platform is walking new paths and now offers much more than the opportunity for a physical product presentation. Every industry has a global platform where it meets. Whether it's CES in Las Vegas for the electronics sector or IAA in Frankfurt for automotive subjects (read here: ISPO is the Center of the Sports Industry). However, the ISPO platform also needs to keep on moving with the times in the future if it is to remain internationally relevant. In this respect, we are in good talks with those responsible.
"The sporting goods industry needs to wake up and face digitalization."
Roland Auschel, Chief Sales Officer at Adidas Group in part 2 of the interview