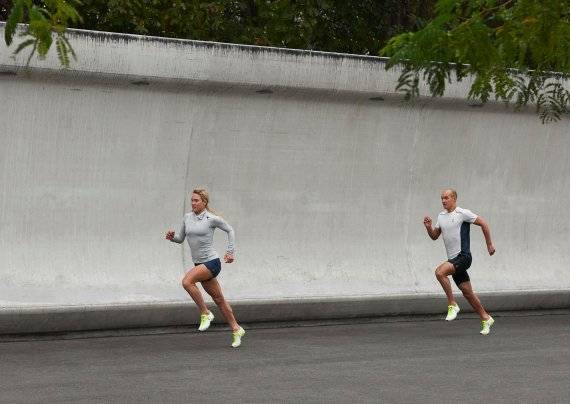 "Well executed, clean and coherent design with attention to detail, resulting in an extremely credible high performance product", the ISPO AWARD jury praised the Cloudflash by On and awarded the running shoe as Product of the Year of ISPO Award 2017. The Cloudflash was launched on April 6th.
The 130 employees of the Swiss footwear company from Zurich with branches in Portland Oregon (USA) and Yokohama (Japan) took another step with their newest shoe.
Olivier Bernhard explains why the Cloudflash is so unique and how important the ISPO AWARD is to On.
Interested in the ISPO Award? Find all information about the sports industry's seal of quality here.
ISPO.com: Mr. Bernhard, where is your ISPO AWARD trophy now?
Olivier Bernhard: Our ISPO AWARD is on prominent display in the entry area to our Zurich headquarters. This is our "Play Area", which has a huge sofa where our team can just chill and chat. It's also where we welcome our visitors and where we hold our weekly team meetings.
Just how did the development of your product come about?
Having been a professional athlete, I am well familiar with various running shoe brands. And I was convinced thanks to my experience that there had to be a smarter way of cushioning the foot-to-ground impact.
With our On running shoes and their patented Cloud technology, we've developed a combined vertical and horizontal cushioning that genuinely delivers a new running sensation. Our new Cloudflash competition model has brought this technology to a totally innovative level. The Cloud cushioning elements are now mounted directly onto the thin Speedboard, which is made of a new energy transisting material called Pebax. The lack of a midsole not only makes the Cloudflash extremely light: it gives it a toe-off that's more explosive than ever!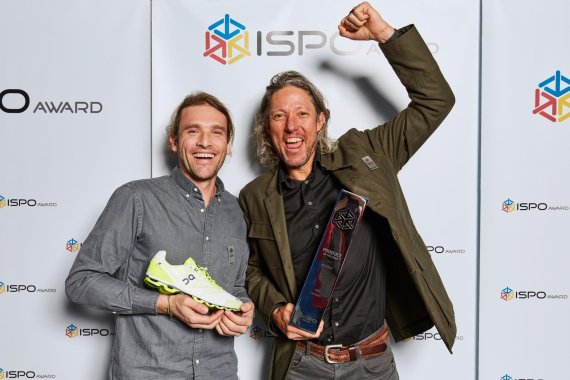 What feedback did you get on winning the ISPO Award?
The feedback has been great! Dealers, partners, media representatives and fans of our products: they all sent us their congratulations. And asking for more details about the new Cloudflash. In a way, the fact that our new shoe wasn't yet available at the time the ISPO Award was presented has made it all the more interesting!
Why do you think your product won the jury over?
Every single detail in the Cloudflash is engineered to high-tempo running. It's the first model we've developed without a classic midsole. It features a new Speedboard, which is made of Pebax that is surprisingly hard but stores and returns the runner's impact energy. So maybe this was the reason that convinced the judges that the Cloudflash is a truly outstanding running shoe.
How do you incorporate the win into your brand and product communication?
We've communicated the ISPO Award through all our channels – social media, newsletters and more. And we've been making a point of mentioning it in all our personal discussions with our partners and customers.
In your opinion, how important is the ISPO Award for industry and consumers?
ISPO has always been special to On, because in a way ISPO Munich was where we were born. Here, we won ISPO Brandnew back in 2010, just a month after we founded the company. ISPO opened so many doors for us, and really generated interest in our new brand. So we're all the more delighted to win our first coveted Product of the Year Award with our Cloudflash this year.
Would you recommend participating in the ISPO Award to others?
Absolutely. With its international scope and its judging panel drawn from so many different areas of expertise, the ISPO Award is a globally recognized and reputed seal of quality that everyone values – retail, media and consumer. And the very fact that the judges had to choose the five best products from more than 500 submissions only confirms how prestigious the ISPO Award is.
Where is the market heading to in your segment?
We are sure to see further innovations, because performance and the "feel-good factor" become more and more important and fun – whether you're a professional athlete or a casual runner.
The best products of the sports industry: Find all information about the sports industry's seal of quality here.
How are you encouraging the innovative spirit in your company?
At On we have flat hierarchies and transparency is key. One way we encourage this is our long and open office space at our headquarter.
Our premises are over 100 meters long, and are based around a central 'spine walk' that takes you past the indoor garden and the gym. With the 'long office' concept, you meet your team mates along your way for a quick chat. It also keeps everybody moving and provides pretty much the perfect conditions for creative exchanges and new ideas.