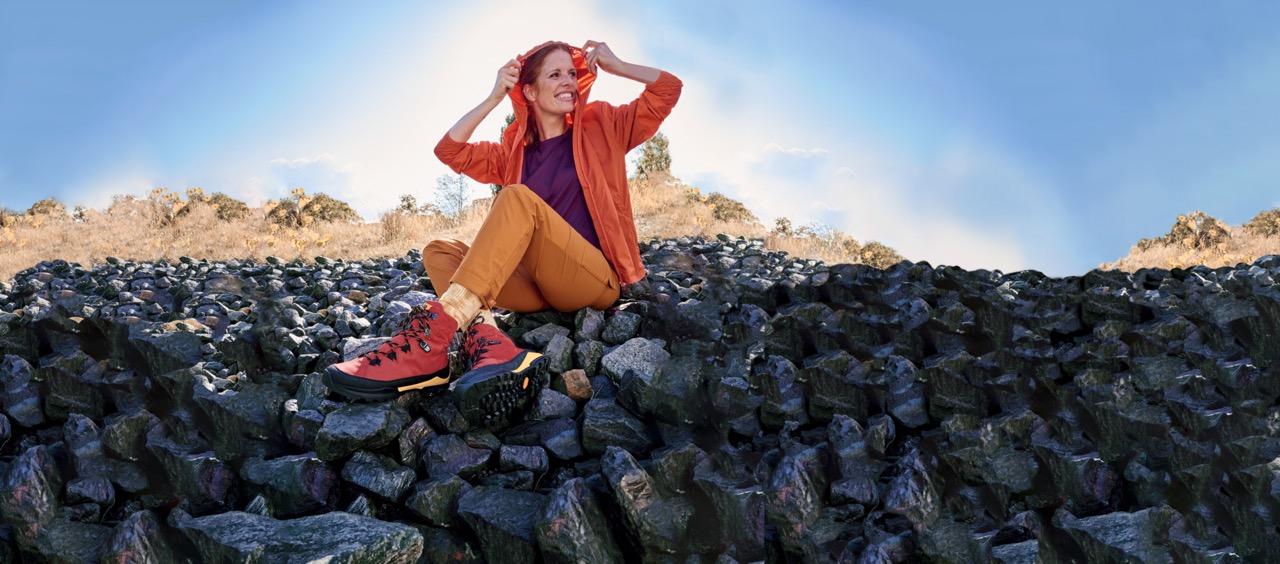 The German shoe manufacturer Bär belongs to the elite of shoe innovators and has created a true revolution with the comfortable Bergkomfort 2.0 mountain shoe. This shoe combines function, comfort, health and sustainability into an unbeatable combination. The highlight: the patent-pending Firmoflex® soles, with which you always have a secure step - even on rough terrain. Bär not only places value on performance, but also on sustainability. The materials used, such as the sustainable Terracare® upper leather and the chrome-free tanned, breathable lining leather, not only ensure maximum comfort, but also a clear conscience on every hike.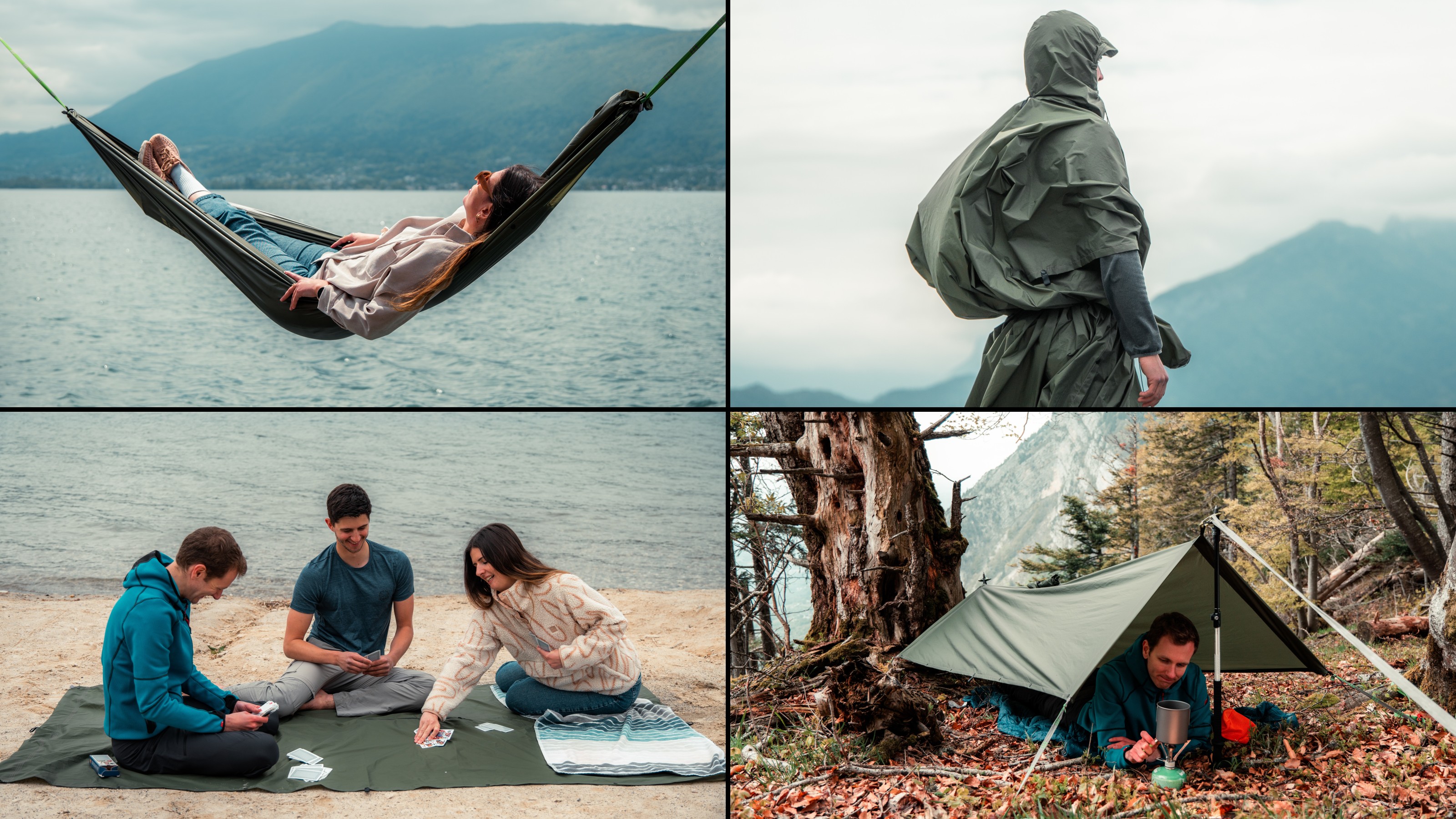 The Nomad Cape is a hammock, hooded rain poncho, rain cover and ground tarp all in one: with this versatile 4-in-1 feature and handy design, Trail Hoppers equips outdoor enthusiasts for numerous activities. The Nomad Cape follows the current trend of lightweight and versatile gear. In addition to its light weight and compact pack size, the multifunctional Nomad Cape stands out especially for its quick and uncomplicated conversion from one mode to another. "The idea for a 4-in-1 product came from a real need during a backpacking trip around the world. Since then, we've been obsessed with improving the user experience that the Nomad Cape offers," Trail Hoppers says of the 4-in-1 wonder.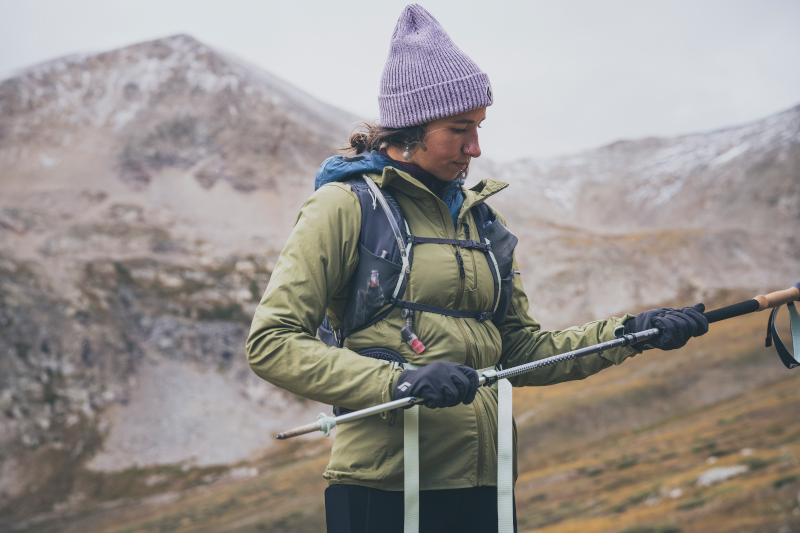 Black Diamond has found the answer to the question of more sustainable design for trekking poles and proudly presents the Pursuit Shock, the ultimate poles in a class of its own. The natural cork grips are available in two different sizes, adapted for large and small hands. In addition, Black Dimond uses for the first time the revolutionary Bloom algae foam outside of shoes. This algae-based EVA grip component gives the poles an eco-friendly touch and sets new standards for outdoor products. But details are also important: the wrist straps are made of recycled fibers to further minimize the ecological footprint. The shaft of the poles is made of high-quality aluminum, which is not only extremely durable, but can also be fully recycled. No room for compromise is left here.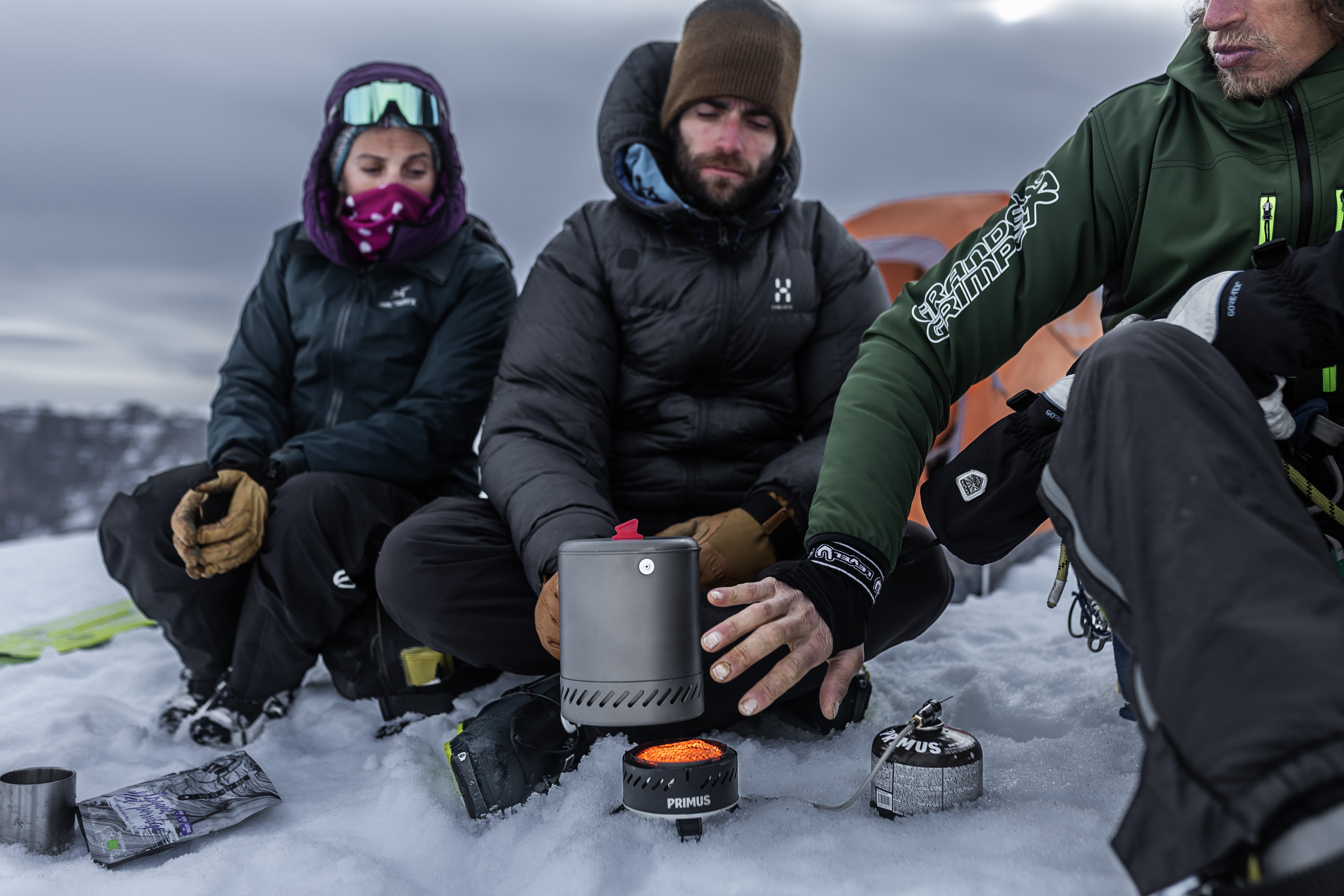 Wind-resistant, stable, reliable, powerful: the new outdoor stove from Primus was developed for extreme conditions. "Aiming to withstand even the harshest environments, this all-in-one system with its combination of catalytic combustion and infrared radiation offers the most reliable cooking solution for expedition cooks worldwide," says Manuel Dürmoser, Head of Product at Primus. What makes the "Ulti Stove" system so special? The sophisticated technology: When the "Ulti Stove" is ignited, there is no open flame. The fuel and air are mixed together in the burner and burned in the presence of a catalyst material. This material consists of a special metal alloy applied to a porous metal foam. Clever!
Water march! Get your water flowing with the GO Hydration Water Faucet & Jug from Dometic. This handy piece turns any water container into an easy-to-use, automatic water dispenser. The faucet features a small, self-priming pump that gets the water flowing. No more tedious pumping motions, just refreshment at the touch of a button. Equipped with a rechargeable battery, the faucet can dispense an impressive 150 liters of water per battery charge. Whether you're going on an adventure or just relaxing in the backyard, this faucet is always ready to provide you with refreshing water.
Stylish cooler, long battery life, reliable cooling: thanks to its robustness, flexibility and powerful battery, the Anker EverFrost rechargeable cooler is an excellent option for keeping food and drinks optimally cool during outdoor stays. And it does so for up to 42 hours. Equipped with a powerful lithium-ion battery, it can operate for up to 42 hours at an indoor temperature of 4 °C and an ambient temperature of 25 °C. In addition, the 100-watt solar input allows convenient, easy and environmentally friendly charging by solar energy. These features make it the ideal companion for weekend camping trips or other outdoor adventures where access to power is limited. Furthermore, the cooler can also serve as a means of transport for medications in need of refrigeration when away from civilization.
You can't make a herring any better? No way! The Solid Peg herring from Terygen Lab & Autumntree from China shows how good design can also combine form and function in camping. The special shape is designed for effectiveness: A 1.5 degree angle between the striking surface and the tip ensures perfect alignment when hammered in and guarantees a firm hold in the ground. The peg is made of stainless steel cast according to a traditional Chinese handicraft process, making it particularly corrosion-resistant and stable. Inspired by the natural shape of tree roots, with this peg you are not only functional, but also stylish on the road!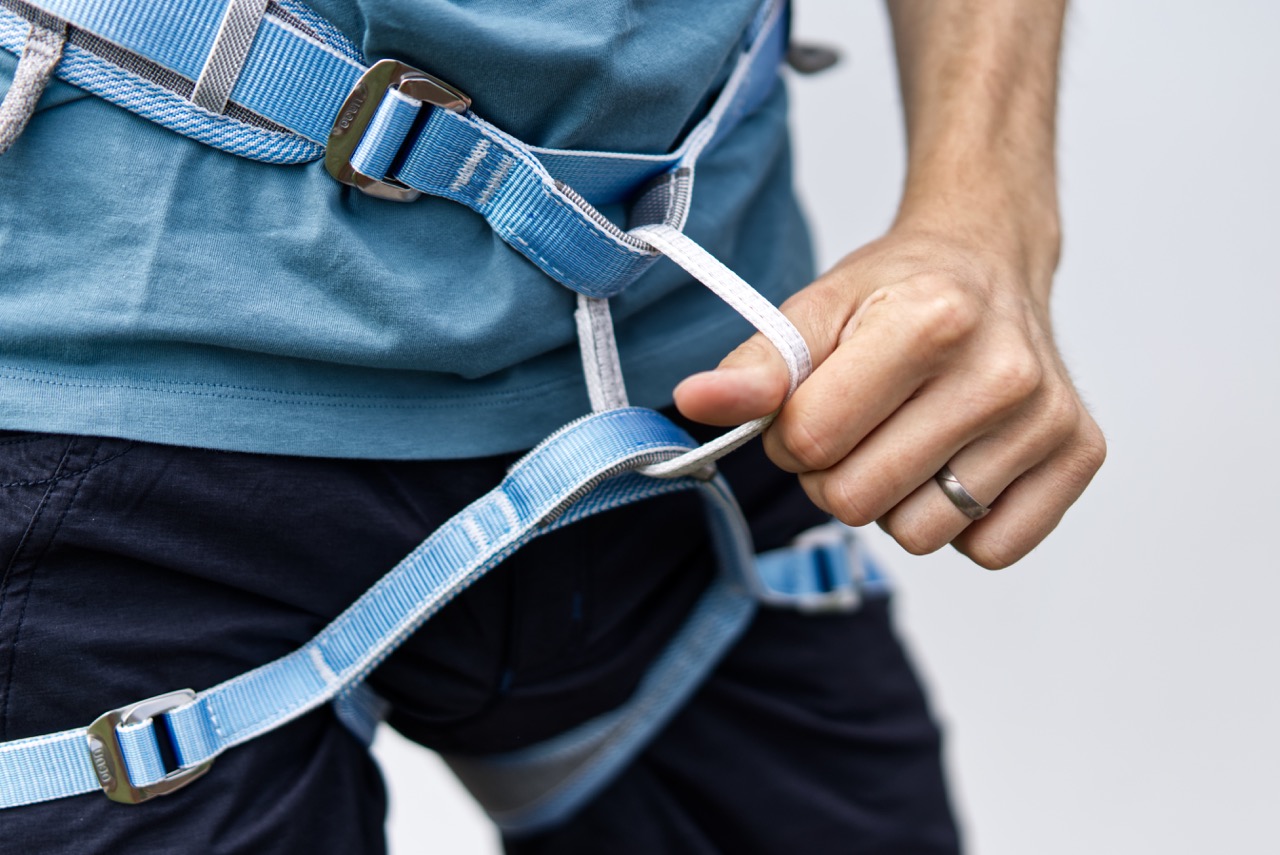 Sustainability beware, new standards are being set here. And without compromising on safety or quality. Ocún introduces a sustainable climbing harness for sport climbing, mountaineering and via ferrata. 82 percent of all materials used in the production of the TwistTech Eco are of recycled or bio-based origin. Among other materials, Ocún uses bio-based Dyneema®, which is derived from waste materials from the wood industry, in the production of the climbing harness. The webbing for the harness is made from recycled polyester yarn with high strength. In total, these two components together represent 82% of the Twist Tech Eco. The synthetic materials used come from recycled PET bottles. All components were intensively tested over a period of two years to ensure their tensile strength, elasticity, abrasion resistance and UV stability.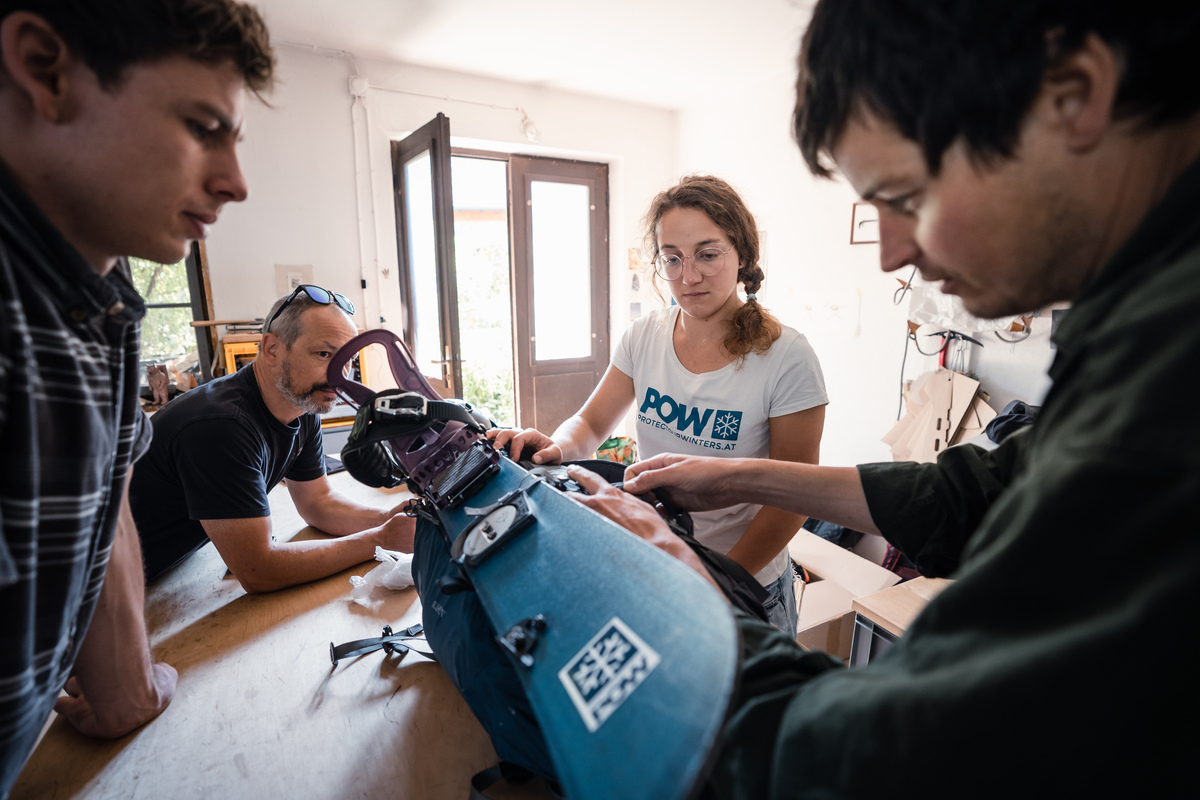 The A.Round by ABS is the absolute gamechanger in avalanche protection. This backpack sets new standards and is equipped with a revolutionary twin airbag system that offers the wearer ultimate protection. But that's not all! This backpack is not only for extreme ski or splitboard tours, it is a true multi-talent and can be used all year round. The A.Round impresses with its versatility and is available in two different back lengths. The shorter back length was developed specifically for women and ensures optimal weight distribution and maximum comfort. No more compromises, but a backpack that adapts perfectly to you and accompanies you on every adventure.