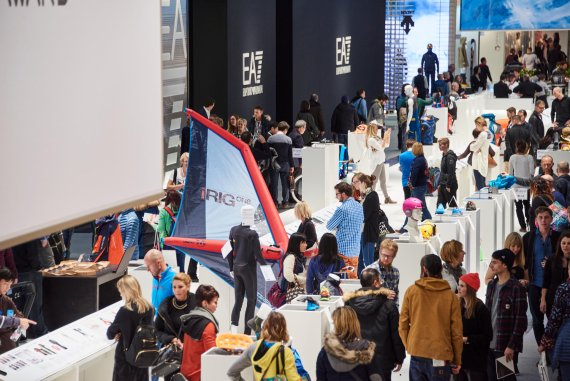 The third day of ISPO MUNICH 2016 will start at the Seeblick Restaurant with a sustainability breakfast. And it will end with the swanky highlight of these days spent in Munich: ISPO VIP dinner. There, extreme mountaineer Gerlinde Kaltenbrunner will be presented with the Sports Personality of the Year award.

The sporting achievements of this mountain climber, who was the first woman to climb all 14 8,000-meter peaks without supplemental oxygen, will be honored in the presence of 350 prestigious guests from the areas of business, sports and media. Gerlinde Kaltenbrunner's work in supporting Nepali aid organization Beilngries will also be honored.
Focus on wearables
Between these (culinary) highlights on Tuesday at the Munich trade fair will be a day full of mouth-watering highlights of the most varied nature. The entire day and into Wednesday will focus around the "Wearable Technologies" conference at the ICM auditorium.

The "DJI Cable Session" kids with their skiing skills are sure to be a highlight in the Snow Arena. Starting at 9:30 am, the entire day at ISPO Academy will focus on the Chinese market, which is incredibly important for the sports industry. This will be followed by ISPO Sports Communications Day. The focus in Hall C3-411 will be on the important textile topic of "Nature's water-repellent functions without fluorine."
Famous guests from the world of sports and politics
And the third day will also see celebrities on tap. The primary topic of the Olympic games in Rio in 2016 will certainly be the focus of Brazilian Sports Minister George Hilton's visit. Another guest at ISPO MUNICH on Tuesday will be the Vice President of the European Commission and Commission Vice President for the Digital Single Market Andrus Ansip.

Olympic champion weightlifter Matthias Steiner will take the stage at 12 pm in Hall B4 and give a presentation on his principles for losing weight. The same stage will feature yoga presentations interspersed throughout the day, and extreme athletes David Lama and Stefan Glowacz will appear for a presentation at 2:30 pm. And alpine star Anna Fenninger and aspiring biathlon queen Laura Dahlmeier will also make appearances at ISPO MUNICH on Tuesday.
Of course the awards will continue in Hall B5-132: ISPO AWARD Communication will be presented at 4 pm. And of course you can enjoy a calmer "night off" to talk shop with other attendees apart from the large ISPO VIP dinner – the traditional ISPO after-work get-together will kick off in the Atrium between A1 and B1 at 5:30 pm.