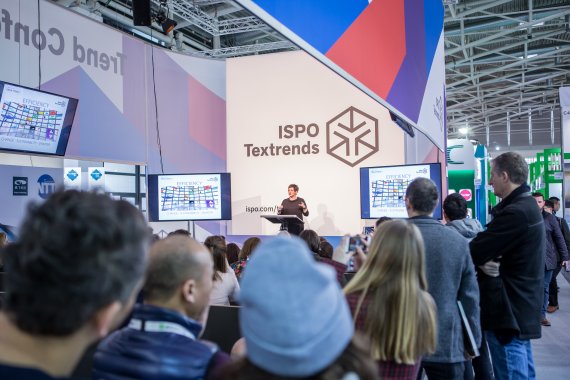 ISPO Textrends announces a wide range of conferences covering a host of topics from digitalization, micro factories to the dawning of a new era in sustainability, as the textile industry maps out the future. A knowledgeable lineup of industry professionals presents their thoughts, research, findings and developments, ensuring everyone is on the right path to an efficient and cleaner future.
The Fall/Winter 20/21 season takes on a new direction in the textile industry as efficiency, digitalization and sustainability emerge triumphant. The textile chain is changing, driven by the demands of the consumer, as transparency and traceability, to a renewed waste-less, recycled and reuse attitude come to the forefront. A smart approach to textiles also features, from innovative sustainable solutions to artificial intelligence (AI), illustrating how we can embrace new technology through the entire textile chain.
Textile trend consultant, Louisa Smith, will share ISPO Textrends mega trends, color palettes and textile trend directions daily at 13.00, that connects to the latest developments for Fall/Winter 20/21, featured in the ISPO Textrends forum. In addition, a preview of the trend information developed for ISPO Textrends Spring/Summer 2021 will also feature.
Occurring over four days, the first two days of the conferences fall under the title of 'Road Map to the Future' with the final two days featuring a wide range of conferences incorporating the growing use of 'Artificial Intelligence' (AI). Knowledge is power, and the lineup of conferences that will influence the future of the sports and outdoors market, offers the perfect opportunity in understanding the changes and new ideas shaping our future industry.
If you are looking into understanding the future needs, worries and demands of the consumer, then look no further than the inspiring presentation that David Shah, Editor in Chief, View will deliver with his Reaching for Utopia.
Working more efficiently ties in with the sustainable progress, as Mirella Becucci of C.I.A. and Dorota Kabala of we-design.studio discuss the contemporary society with User Centered Design and Sport-Gener-Actions, as a borderless sports industry emerges.
Coloro, in collaboration with WGSN, will give a global preview of the S/S 2021 colors that will be key for the sportswear and activewear industry, enabling visitors to get motivated for the upcoming season.
Jeffrey Hsu from FENC will focus on the problem of textile waste to landfill, and how it is possible to eliminate this through innovative new systems with his presentation of An Eco-Friendly Solution for Global Textile Waste Problem.
A view on social and economical developments of the next decade and its impact on the industry is the topic from Sara Canali of Sara Canali Creative Consulting, focusing on the faster commerce revolution, and how higher paced innovation in the next decades will impact our life and business.
On the last two days of the show the conferences' theme changes, highlighting the textile industry's approach to artificial intelligence (AI) and technology, and how we can embrace it and use it to the full.
Dominik Šurc and Alexander Artschwager from DITF in corporation with Stoll, the flat knitting machine manufacturer, will present a micro factory workflow for automated knitting of shoe uppers under the title of Algorithm-Based 3D Shape Knitting of Shoes.
Fashion design consultant, Nora Kuhner, presents Everything AI, everything o.k.? focusing on artificial intelligent (AI) and the fundamental transformation it will deliver to the textile chain. Virtual prototyping, individualized mass production and smart textiles are just some of the buzzwords which are used to highlight the potential of a fundamental transformation in the whole process chain.
Activating a new dimension of values for contemporary consumer by Giusy Bettoni, CEO/Founder  of C.L.A.S.S. and a pioneer of the importance of sustainability in the textile industry will highlight the new smart approach being taken. Embracing a new way for design thinking that represents a shift in culture to empower businesses to be competitive and socially responsible. Key smart innovative materials, and related brand adoptions, that inspire creativity and infuse technology, performance and sustainable credentials that take steps toward a circular economy will feature.
Dr. Vanessa Daelman of Devan Chemicals will present the results of a project undertaken with the Bakala Academy (University of Leuven) that evaluates the impact of sportswear clothing with Moov&Cool technology on body core temperature during sports performance.
Do your clothes contribute to microplastic pollution? An important topic in today's market, with Elena Conti, Multisectoral Research and Innovation from Centrocot, highlighting the laboratory methods for qualitative and quantitative analysis.
X-Industry Design Inspiration for Active Products - CMF 3D Design Stories for the Active Market is a presentation that Anouk Groen, CMF Trend Forecaster and Director/Owner of RNA Design NV. Inspirations for this forecast come from charismatic characters, world events and innovations that inspire us to go on adventures to find out who we are, what we want and where we want to go.
With the micro factory becoming a more prominent feature in the industry, Professor Christian Kaiser from Hochschule Albstadt-Sigmaringen will show that a fully integrated, fully automated and adaptable workflow process from design concept to finished garment is possible with digital technology.  Skiing Pants Made in a Microfactory - a Complex Product Produced in a Simplified Process Chain will take you on the process of how the rise of miniature micro factories benefit the sports and outdoors markets.
The full list, dates and times of conferences can be found here: ISPO Textrends conferences.
All the ISPO Textrends conferences will take place in Hall C4, Conferences, Booth C4.20