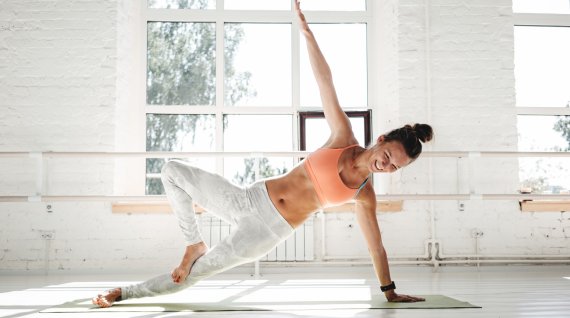 Have you ever felt like you are not getting enough individual guidance in your yoga classes? Or you would rather have a yoga instructor coming to your home? These problems could be solved with technologies that are designed to help individuals to reach their yoga goals.
Probably the most promising company in yoga wearables at the moment is Wearable X. Its Nadi X smart yoga pants include patented technology with integrated sensors and haptic feedback that could help users to improve their yoga practice.
The yoga session always starts with what Wearable X calls "the pulse". The pulse is clipped into the Nadi X pants behind the left knee and connect with the user's smartphone.
Once the yogi starts the practice with the Wearable X mobile app, the smart pants will start guiding him into correct poses with light vibrations. The accelerometer values are then processed in the smart phone, and it will let the user know if he have correctly made it into the pose.
If you have ever been to a yoga class, you must have heard your yoga teacher telling about how important it is to breathe. The teacher probably told you to breathe very consciously. This is essential to yoga, but many are struggling with getting it right.
Breath! was born out of this need for making it easier for yoga students to master the correct breathing. The idea of Breath! is to design wearable and smart garments that would reveal graphic patterns related to the respiration of the wearer. The user would thus receive direct visual feedback on his respiration rate.
At the moment, the project is still in its development phase. We are curious to see if this type of innovation will become more common, and what yoga practitioners think of them.
Last year, Apple finally brought a smart watch to the market that can be used to track yoga. The Apple Watch Series 4 has added a specific workout tracking for yoga to its features. Many yogis are likely to be doubting if adding wearables to their workout would be only distracting their practice, but Apple has taken this into consideration when developing the product.
When in yoga mode, the watch will not make any sound to interrupt the practice. Instead, the tracked data will be available only after the workout.
Yes, even your yoga mat is smart now! A Bangalore-based start-up called Wellnesys launched earlier this year an AI powered yoga mat, YogiFi. The YogiFi Series I includes seamless sensor technology embedded inside the mat to track asanas.
It provides the user with real-time feedback to correct poses, and monitor your daily progress. YogiFi comes with a companion app that gives the user access to data from yogis around the world, a leader board, and workout data.
Christian Stammel is CEO at WT | Wearable Technologies, a leading innovation and business development platform for wearables, and updating ISPO.com readers about latest trends on digitalization, wearable tech and IoT in sports, fitness and well-being. More information about WT at www.wearable-technologies.comhttp://www.wearable-technologies.com