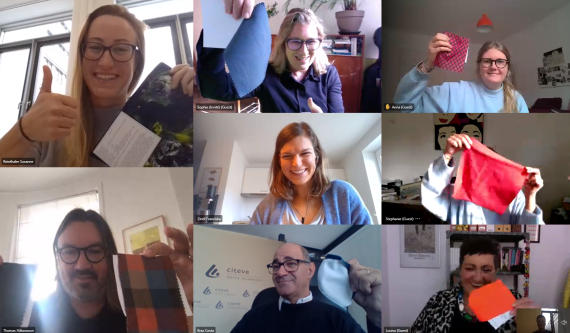 From Italy to Spain, Germany to Sweden, Portugal and France, this year's jury of textile experts enjoyed a buoyant and somewhat energized discussion of the applications received for ISPO Textrends. Making the most of digitalization, as we all have during this time,  the message was clear, 2020 has been an unusual year, but it wasn't holding the textile industry back. We may be down but we are not out was the message, achieving the traditional goal of awarding the best products coming through into the market.
If the jury can't get to the new developments for that tactility and touch required along with detailed information of the product, the developments would get to the jury members. A new judging format maintaining the tactility essential to material ingredients. 'Swatch sets' of all the products were created and sent out for individual assessment. Whilst the jury missed the traditional group judging and physical camaraderie, the discussion was back to near normal albeit via computer screens and online scoring.
With fewer applications submitted, 253 in total, the jury agreed that it was still an impressive amount considering this year's situation. Whilst there wasn't as high-level innovation and a thrill factor as previous meetings, the jury was impressed with the developments submitted. 
"I am positively surprised at what I have seen so far due to the fact we are in a very odd situation in the industry at the moment," said Thomas Håkansson, Freelance designer. Leading the way, Thomas outlined the overall mood of the meeting:  "I think in light of the current situation I found a lot of high level in general,  I am very confident that I have seen a lot of improvement in the sustainability aspect, I am also happy to see commercial fabrics that combine sustainability, efficiency, and a nice hand."
"This is the third time I have participated, and I have a little bit of comparison, as Thomas said referring to the situation, also for me it is different. Doing the judging by myself, it is very interesting to have the discussion about it afterward, to see the different points of view and think, ok yes, I didn't think of that," said Anna Mack, Auditor /Technical Assessor, bluesign technologies, adding that it was also nice to see so many environmentally friendly raw materials that are not so uncommon anymore.
The reduction in the thrill factor could be because much of the textile sector has been closed for three months, but this didn't deter, as looking closely at the samples it was clear to see that a lot of innovation, may not be that obvious,  but there were plenty of new developments cooking nicely. 
The growth of the Street Sports sector traditionally held the key to the fashion and functionality combination, as versatility within performance fabrics for outdoors/urban wear increased in demand. But for this season, other sectors took on a much more creative approach in terms of color use, structure, and finishes. Soft equipment, geared towards backpacks and shoes, highlighted interesting new developments from the core ingredients of the fabrics to the final structure and appearance, Creativity wasn't just confined to a visual aspect.
The creative thought process had also been noted by the jury with the winter season's ubiquitous ingredient of the season, insulation, always one to deliver high performance but traditionally invisible to the eye, coming through with a high level of innovation.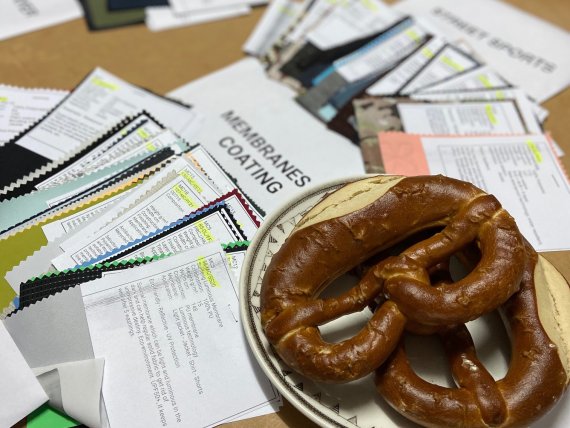 For the jury, for once sustainability wasn't so evident in one particular sector it was everywhere: in raw material, a finishing, a material, a dye, it could be a structure, in everything the 'S' word featured
"I think that the main point is sustainability is invading sports goods, so now I think the main part of the samples refers to something related to sustainability, using recycled materials, bio-based materials, or recycled raw material this is a very important point because you know sports want performance. This is a way to explain to the world, to explain to the industry that with sustainable materials is also possible to reach the performance. This is a very important message and this edition is rich on that, very rich on that," said Braz Costa, General Manager, Citeve.
Inclusion was the buzz word from Giusy Bettoni, CEO Founder of C.L.A.S.S, the leading sustainable platform in the textile sector. "You can see the move towards inclusion instead of separation, whereas in the past it was like this is sustainable and this is not. You could see that they are getting used to highlight the part of sustainability, this for me was a positive thing."
Bio-synthetics created a stir, as commercial offerings continue to increase and featured within the applications. This new direction in sustainability is appealing, but as with anything new Giusy outlined that it is important to know the measurement and reality of these products as we move forward: "it isn't about certification anymore it is about lab tests," she said.
Sophie Bramel, Technical Editor, World Sports Activewear (WSA) was also impressed with bio-synthetics making a statement, but she also highlighted the need for sustainability to accelerate to a new level. 
"What we need to do is go to sustainability 2.0, which means getting rid of blends. I was especially looking out for that, it's always problematic, and unblended fabric could be boring so that's something we have to find the right solution. I did see the natural fibers coming through, there was wool, organic cotton, and linen that I liked. "
Natural fabrics with performance were a feature throughout, with cotton, linen, and wool. Whilst wool is thermal regulating and anti-odor and an all-season favorite in the sports and outdoors sector, other natural fibers have in the past lacked the performance level, with topical performance finishes applied and fabric structures, this is changing. The issue with blends comes to the recycling or responsibly disposal of a blended product, it is more sustainable to have a pure fabric to follow either of those processes than with a blend, especially a natural based fiber with a synthetic.
"When you think about microfiber pollution, we should be focusing more on natural or cellulosic materials - there are a few very, very nice ones. I am a little bit tired of recycled polyester, I know it is a good choice, it is better than conventional polyester, but I have a hard time getting excited about a recycled poly because now we are there. We have beautiful hands, we have the performance," said Sophie, adding that the next generation of recycled polyester should be from textiles and not post-consumer plastic bottles.
The overall result from this season's newly adapted jury meeting was hearty discussions with a harmonious outcome, with each sector's awarded applications agreed on. As an industry, we have adapted during 2020 and proved our resilience too.
The outcome from the jury meeting confirmed that companies are looking to the future in a cleaner and more sustainable way, at all levels of the textile trend. As ISPO Textrends has maintained over the past seasons, sustainability is no longer a trend, it is an inherent part of the textile chain's DNA and the industry has taken that message on board.