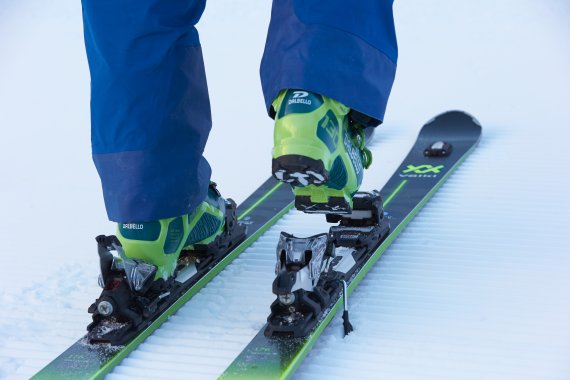 Felix Neureuther sums up the advantages of the new GripWalk system in a funny way. "You go like Bruce Darnell on high heels," says the German ski star. In fact, the curved GripWalk rubber sole makes it possible to roll off naturally even in bulky ski boots. But you don't just walk better, the anti-slip effect also helps prevent falls.
Almost as revolutionary as the new technology developed by the Marker/Dalbello-/Völkl Group (MDV Sports) is, however, the fact that a large number of competing ski brands are now also using the system. A groundbreaking cooperation between competitors in the service of the end customer, which was launched at the ISPO Munich 2019 on a Special area in Hall B5 (3 to 6 February 2019), will play an important role.
"Due to the very limited number of standards in the ski industry, unitary systems and cooperations such as GripWalk can increasingly ensure that comfort and safety are improved and guaranteed comprehensively. In this way they also contribute to the enhancements and optimization of the entire industry and the increased attractiveness of skiing," says Jonathan Wiant, President of Marker, Dalbello and Völkl, in an interview with ISPO.com, explaining the benefits for the entire skiing industry.
In order to reach as many skiers as possible, the company tried right from the start to get as many competing brands on board as possible: "Our goal is to advance our sport, make it easy for future generations to learn and also to help active skiers to practice their sport longer." This ultimately helps all players in the industry.
The cooperation and promotion of the new system is clearly paying off. "When we started offering GripWalk-capable ski boots in winter 17/18, customers were very unaware of this. Now dealers tell us that customers are already actively asking for it. I think it will be standard by winter 2019/2020.This shows that it is important that the industry should work together when it comes to tangible product improvements for the customer", says Christian Heise, Boots Product Manager at Fischer.
His traditional Austrian company is also involved in another alliance in the ski industry, which brings advantages especially for those involved.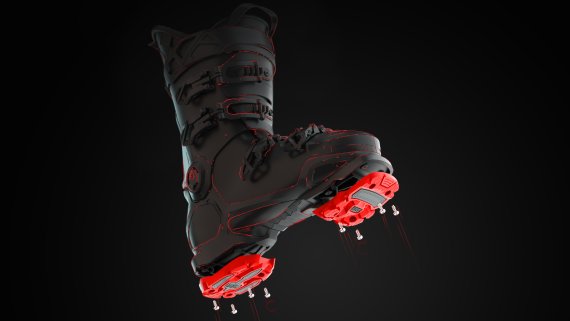 We are talking about the frameless pin binding for the increasingly popular ski touring sector. One of the most important components are the inserts in the toe of the shoe and on the heel as well as the corresponding pins. Mountain specialist Dynafit has invented the pin binding and meanwhile twelve other brands such as Scarpa, Rossignol, Head, Hagan, Tecnica, Lange, Scott and Fischer trust in the TÜV-certified inserts of the company.
"The cooperation provides us with the highest quality for our shoes in this safety-sensitive area," Heise praises. And it simplifies the often complicated search of the customer for the right product in other areas due to different standards.
"We should make it as easy as possible for the end user. Everybody in the industry may not forget that," warns Benedikt Böhm, Managing Director of Dynafit. Of course, it is a difficult decision to buy products from competitors. This is why cooperation always requires a sure instinct: "But there is also a great opportunity in being both a competitor and a partner. But perhaps the psychological strain in our industry is sometimes not yet great enough to work together in other meaningful areas."
Basically, despite all meaningful competition and the pursuit of exclusive innovations, the comprehension that one has to work together increases in certain areas. Especially when it comes to introducing major innovations such as GripWalk. "Attempts by individual companies to introduce a new system have always failed because of trade," says Robert Stanzl, Director Marketing & Sales of Tyrolia, who also relies on GripWalk.
The dealer is interested in having compatible products; ski boots and bindings from different brands must also be compatible. "The customer almost never buys a Skiset and ski boots at the same time. Compatibility is a basic requirement in rental as well, as more and more customers bring their own ski boots and the rental binding has to be compatible with them," explains Stanzl.
The same applies to Head, Rossignol and the Tecnica Group. Giacomo Bertocco, PR man at Tecnica, can imagine that competing brands could jointly improve "the safety and sustainability of products" in other areas as well. Currently Marker/ Dalbello/Völkl and the GripWalk partners in the ISO Committee are working on developing a new standard for alpine skiing.
This is based on the geometry and principles of GripWalk. ISPO Munich offers the opportunity for further discussions in the ski industry. Jonathan Wiant: "ISPO Munich as the world's largest annual sports fair naturally contributes to making innovations and cooperations such as GripWalk globally known and helps to show advantages and functionalities to retailers as well as end consumers and existing and potential system partners".