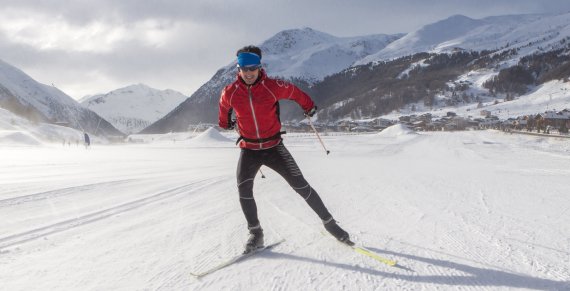 From the jogging track to the cross-country loipe: As an endurance athlete, it's the perfect transition from fall into winter. The sport is fittingly gaining in popularity in Germany as well, with 680,000 Germans regularly hitting the cross-country skiing trail. Unlike skiing, even a little bit of snow is enough for a run on the loipe.
And in places with higher demand, there's also better supply for customers. The industry and its companies are adapting to a discerning clientele. We present five hot tips to make cross-country a pleasure this winter.
The ski skin has been experiencing a comeback for some years now. The boards with the (synthetic) fur under the shaft area make waxing (almost) completely superfluous.. The little hairs form a barrier and thus provide a stop on the ascent, while on the descent they flow smoothly in one direction, allowing for a quick ride down into the valley.
These practical boards have evolved into an absolute bestseller among hobby skiers especially. However, there are also high-tech versions with two offset strips of fur (Twin Ski by Fischer). The costs are comparable with a set of conventional cross-country skis.
The trend is also headed towards interconnectivity in cross-country skiing. The heart rate monitor watch is the ideal training companion for cross-country skiers – especially when it has an integrated GPS tracker. "That way you can always check how long you've been out and how many kilometers you've covered," says Peter Schlickenrieder, German cross-country skiing team manager.
Of course, you can also sensibly control your exertion and calculate how many calories you've burned on the loipe. If you want to see how you measure up with others, you can use the app by Strava. It not only records the completed tour, but also allows the creation of route segments. Now, when other athletes with the app complete the same course, Strava detects it and creates a ranking list.
Just like with running training, cross-country skiers can also connect watches by manufacturers like Garmin or Polar to an online training tool. This allows for sensible stress control, or lets you inform your personal trainer about your units and improve them step by step.
If you want to get more professional on the slopes, you can "sign" a personal cross-country skiing coach. The endurance network of former cross-country skier Thomas Freimuth provides custom-made training plans, for example.
A variety of packages are on offer, from Startup for Beginners (69 euros per month) to Premium (249 euros per month). For the latter, the training plan takes special care to take work-life balance with jobs and families into account. All plans are custom designed; mechanical routines are taboo.
You can even go cross-country skiing at 86 degrees in the summer – and in the winter if snow should fail to materialize: The skiing hall in Oberhof, Thuringia makes it possible. It's the only indoor arena in Germany where you can practice Nordic skiing. An almost two-kilometer circuit with climbs and descents of up to 12 percent provides perfect conditions, 365 days a year.
Thousands of recreational athletes use the hall every year, but those numbers still have room to grow, according to the operator. After all, there is a unique opportunity here to train together with the stars: The hall is also used by top cross-country skiers from Germany and abroad. France's biathletes around Martin Fourcade started the winter here. Naturally there's also a ski rental in the hall, and you can book a cross-country skiing course or a waxing course. One hour of training costs €15.