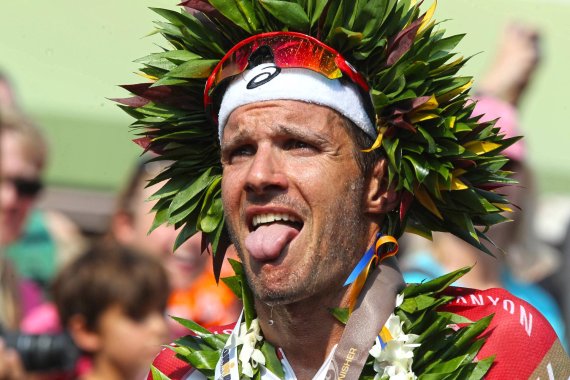 The Ironman Hawaii: No sporting event is tougher than the unofficial World Championship in Kailua Kona on the US island group. The athletes swim 3.86 kilometres, cycle 180.2 kilometres and run marathon (42.195 kilometres).
In the men's event on Saturday, October 12, 2019, Jan Frodeno made a big comeback, clinching the sixth consecutive victory for a German starter.
Anne Haug celebrated her first women's victory at her second start in Hawaii at the age of 36. ISPO.com shows how the Ironman Hawaii 2019 went for the favorites.
Last year Jan Frodeno had to withdraw from the Ironman Hawaii due to injury, but now the 2008 Olympic champion is back on the triathlon throne! With 7:51:13 hours he pulverized the world record of Patrick Lange from last year. It was his third and Germany's tenth victory in the men's event in Hawaii.
He has made a name for himself far beyond the sport. Frodeno is considered a winner in all situations. The sponsors are adoring him and strengthening his name recognition. The 38-year-old has a total of 343,000 instagram followers - the highest value among the Ironman favourites.
Successes: Winner Ironman Hawaii 2015, 2016 and 2019, Olympic Champion 2008, Athlete of the Year 2015, Bambi in the category Sports, Laureus World Sports Awards Winner 2016, World Best Time over Long Distance at Challenge Roth: 7:35:39 hours (2016)

343,000 Instagram followers

Sponsors: Canyon, Asics, Mercedes, Ryzon (ISPO Brandnew Winner 2019), Oakley, Allianz, Breitling, Bahrain Endurance, Wahoo, Sram, Zipp, Maurten, De Boer Wetsuits
Sebastian Kienle won the Ironman Hawaii in 2014 and was the predecessor of Frodeno and Lange. And as such, the 35-year-old was still one of the favorites.
He won the Buschhütten Triathlon five times (2008 to 2012), and on Hawaii he swims, runs and cycles in the front group regularly. This was also the case in 2019: 10:52 minutes behind Frodeno, he finished third.
Successes: Winner Ironman Hawaii 2014, Second Ironman Hawaii 2016, Winner Challenge Roth 2018

150,000 Instagram followers

Sponsors: Hep, Scott, Red Bull, New Balance, Polar, Orca, Power Bar, Play Itas, Oakley, Sram, Zipp, Normatec, Tacx, Muc-Off, Livigno
The 36-year-old was considered the big challenger of the German triathlon stars. In September 2019 he won the Ironman Italy with his personal best time on the long distance and course record (07:46:54 hours). On the bike he already set a track record at the Ironman Hawaii in 2018. After training with the cycling team of Team Ineos (once Sky) he seemed to be even stronger.
But it wasn't enough for the big shot in Hawaii in 2019. In the end, the Australian finished fifth, more than 15 minutes behind Frodeno. The Germans' toughest competitor was the US American Timothy O'Donnell, who finished second 8:28 minutes behind.
Successes: Winner Ironman Italy 2019 (with track record) and Ironman Australia 2019

43,000 Instagram followers

Sponsors: GebioMized, Staps, Pinarello, Nike, Kask, Castrelli
If you win twice in a row, you can also win a third time. That was Patrick Lange's motto. He is one of the great German triathlon stars - also because he learned from a great man: in 2005 Lange's coach Faris Al-Sultan won in Hawaii. Al-Sultan is also the national triathlon coach for the Olympic distance.
Lasg year, Lange was the first triathlete ever to break the eight-hour barrier. He used the optimal conditions on the wind-prone island for the record of 7:52:39 hours.
This time, however, he didn't even cross the finish line. On the bike, Lange, who, according to his coach Al-Sultan, had already complained of a fever the day before, blacked out. He had to stop his race.
Successes: Winner Ironman Hawaii 2017 and 2018 (with course record 2018), third Ironman Hawaii 2016

195,000 Instagram followers

Sponsors: Canyon, Adidas, Audi, Castelli, Garmin, Ekoi, Ceramic Speed, Erdinger Alkoholfrei, Normatec, Orthomol Sport, Sailfish, Schwalbe, Selle Italia, SRM, Swiss Side, Ultrasun
Anne Haug was already third in 2018. As a 35-year-old who has only been on the long distance since the year before, this was a remarkable success.
In 2019 she now delivered her masterpiece: With 8:40:10 hours she distanced the ten years younger Brit Lucy Charles-Barclay on second place. The Australian Sarah Crowley finished third.
With a new German best time Haug last won the Ironman Copenhagen. Despite injury problems during the season she triumphed in Hawaii.
Successes: Third Ironman Hawaii 2018, winner Ironman Copenhagen 2019 (with new German best time, 8:31:32 hours)

28,500 Instagram followers

Sponsors: Ceramic Speed, Cervélo, Club La Santa, DT Swiss, Maisel's Weisse Alkoholfrei, Global Fruit Point, NFT-sport, Sailfish, Sportsmed-Saar, Staps, Steinbach und Partner, Scan Automobile, My Position, Uvex, Wolfpack
Daniela Ryf has won the Ironman Hawaii the last four years. The Swiss was the undisputed woman in the triathlon field - in Frankfurt she even finished seventh in the overall. standings. And out of 16 long distances that Ryf completed in her career before this year's Ironman Hawaii, she won 14. Only in 2016 in Frankfurt she had to drop out. A word the 32-year-old doesn't know in Hawaii.
Also this time Ryf crossed the finish line, but on the unusual 13th place with more than 34 minutes behind the winner Anne Haug.
Successes: Winner Ironman Hawaii 2015 to 2018, Winner Challenge Roth 2016, 2017, Swiss Sportswoman of the Year 2015 and 2018

169,000 Instagram followers

Sponsors: Red Bull, Gaz Energie, Asics, Felt, DT Swiss, Mercedes, Scatta, Breitling, Nutri Athletic, Bahrain Endurance, De Boer Wetsuits