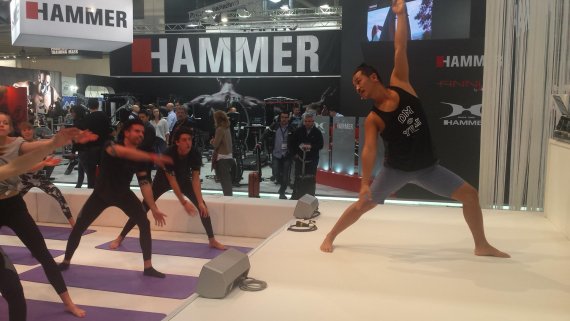 Inside Yoga: fitness training and music.
Young-Ho Kim grew up in South Korea and has since become one of the most well-known yoga teachers in Germany. He has dozens of followers when he demonstrates his poses on the stage or teaches classes. His shows are usually sold out – he has brought yoga up to a new level.

At ISPO MUNICH 2017, he distorts his body into poses he calls eagle, dog or cobra, while the participants, including well-trained fitness athletes, sweat up a storm. A special challenge: standing on one leg while lifting your other leg up behind you with your upper body parallel to the floor: even top athletes get wobbly legs and knees in this pose.
Kim has redefined yoga: "We respect tradition, but we don't uphold it." His Inside Yoga is based on three pillars: "Evolution, because we always want to develop ourselves further. Music, to reach the people. And, I always say, 'All you need is inside,' you are your best teacher."
Namaste: "I'm cool, you're cool"

Kim sees yoga as fitness, sport and music: "I want to help people find their balance. Sometimes we need more energy, sometimes it's important to relax. We need to combine the two." Kim combined them for 160 days in 2016, with 20 people on his team – a real success. "Just like in competitive sports, it's all about super compensation: sometimes you need to relax in order to refill your energy reserves, and then give it all you've got again."
Kim explains his definition of Inside Yoga during his yoga class. After most of the poses he says "namaste," a Sanskrit word that everyone connects with yoga. But during a short break he adds: "Namaste means the light inside of me greets the light inside of you. Or, in other words: I'm cool, you're cool." A new definition of yoga tradition.