ISPO.com: Firstly, congratulations on climbing Mount Everest. Can you tell us a little bit about that? How is it now after you were able to reflect on that day?
David Göttler: Many, many thanks, first of all. This year really couldn't have been better for me. In the end, especially that one day when everything had to fit perfectly. And it did. I was all alone at the summit and then back to the famous Hillary Step I met no one. I think that is very rare on Everest. No idea about the last time someone without oxygen, without Sherpa, really all alone was up there for this long time. For me, it was somehow also the reward after 2019, when I turned back 400 meters before the summit because there were too many people. It is super hard to describe what is going on in one's mind up there.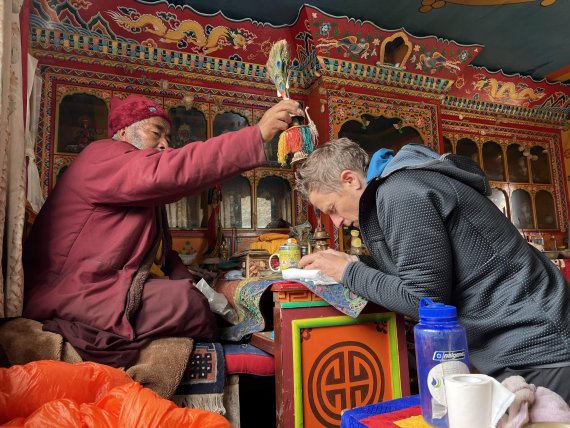 What was it like to stand on the summit itself? 
I was at the summit for about five or six minutes, because I wanted to enjoy it. Of course, I was happy and felt a certain relief. At the same time, I was tense and had a lot of respect, because you have to come back down in one piece. Although the way back takes only half as long as the ascent, you are totally at your body's limit at the same time. You walk 20 meters and have to sit down again and rest. From my point of view, the biggest mistake in mountaineering is to draw the line at the top. That's only half-time, we've only made it when we arrive back at base camp in one piece.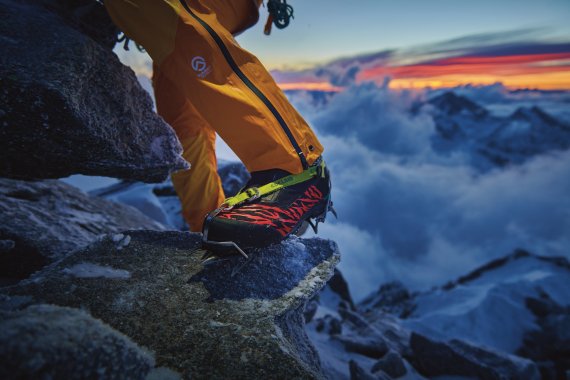 What was it like for you to be out on your own, without a partner?
It has its advantages and disadvantages, I would say. One advantage with a partner is, of course, that you can talk, discuss circumstances, and design strategies together. Without a partner, you have to approach decisions in a completely different way, even if I have exchanged a lot of information with other alpinists beforehand. 
I never said that I climbed Everest solo. I read that sometimes, but then I always contradict it. On Everest, we no longer have solo mountaineering. I'm solo - with 600 others. That is something different from when I am alone on a mountain. Nevertheless, without a partner, I have to manage risk differently. Up there, no one will help you if something happens. It would be naïve to believe that at 8600 meters the mountain rescue service would come out, and I don't expect that at all.
Did you suffer any injuries?
Fortunately not. I didn't get any frostbite. On your hands it is more manageable, but the toes in the shoes are always the big issue. So I was absolutely happy that the system I had worked out with The North Face beforehand worked so well. 
Of course, I felt my lungs due to the altitude, because the breathing rate up there is just abnormal. You have to be very sensitive to your own body and sensation when you're on your own. Because there's no one else who can check to see if you're still okay.
And to say one more thing: I've already turned around twice. That was my third attempt. The same goes for the preparation, of course. I had a lot to keep physically fit as well as well-prepared as possible in terms of equipment. I turn around incredibly often when something doesn't fit because I have gained experience over the years. This should be emphasized for less experienced people. Otherwise, it looks like you just need luck. You need that. Just like all the other building blocks to be able to do mountaineering as long as possible without accidents.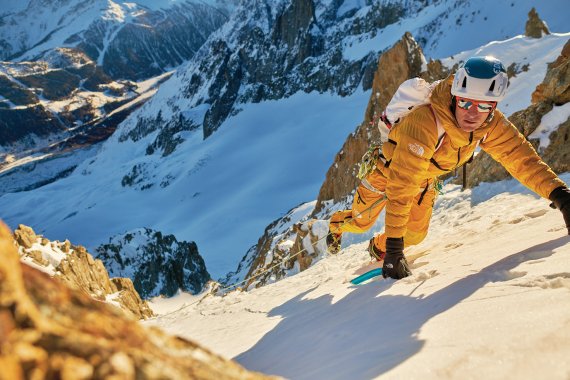 Since you've already mentioned the feet: What role did the material and specifically did the shoes play?
The equipment is super important to me. I look meticulously at every detail and try to get the best out of it to make my life easier on expeditions. Lightness is key here because I have to carry everything myself, so weight is incredibly crucial for me. I go without a sherpa, so I try to optimize that. But it's a tightrope walk. If it gets too light, then it tends to break down and doesn't protect as well, and maybe your toes freeze. So you have to find a good mix between light, stable, and warm enough. That took many rounds of prototyping, also together with other athletes. I had my specific requirements for the shoe, which developed from my experience over years in the expedition business.
The result was the Torre Egger, with which you were on Everest. What is special about the shoe?
For me, the Torre Egger from The North Face is a shoe that does not yet exist in this shoe range. Simply because of the layer system it is made of. For my expedition, I made the shoe warmer with a gaiter, and also lighter. In principle, however, it is exactly the shoe that is also in stores now. 
What is new about it is that I can adjust the temperature by taking a thinner inner shoe or a warmer one. This system with the inner shoe used to be only in shoes for 6000 meter altitude and higher. Here we need to do a little education because the Torre Egger is a shoe with a removable liner, but it has the same walking comfort as a technical mountain boot. The sole is more flexible than high alpine boots, in which you always walk rather out of round. The advantage is also that I can dry it and take it with me in a sleeping bag at night.
When we started the project, I was convinced that we wouldn't manage to build a lightweight boot that integrated this removable liner. But now it's hitting stores.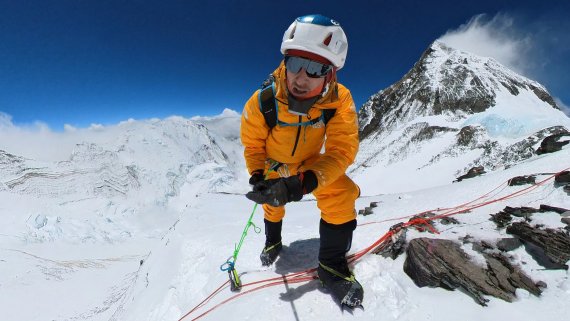 How were you involved in the development process? 
We were three athletes who were intensively involved here. It was great for me because I've been in the expedition business for a while and therefore have special requirements for a shoe. So we tried out the prototypes and then fed back feedback. It was things like: the material works great here, but not so well in other places. Is something pinching? Is there anything else we can change, like putting the closure here or there? I love this process and like to try things out at home to optimize before we go back to the workshop. In the same way, I think about how my own needs might differ from those of the end user.
Speaking of the end user, what is the added value of the Torre Egger?
Normally, they would have to buy two different shoes for different temperature ranges. With the Torre Egger, however, you can cover a variety of activities with one shoe, from technical climbing to alpine mountaineering. 
If I now only go hiking in the summer, then I can certainly find a lighter, easier, and above all cheaper shoe. But as soon as you want to be on the road with crampons somehow and make virtually all facets of high-altitude tours, then the shoe is already one that is recommendable. And I'm really curious to see where the other athletes will take them.