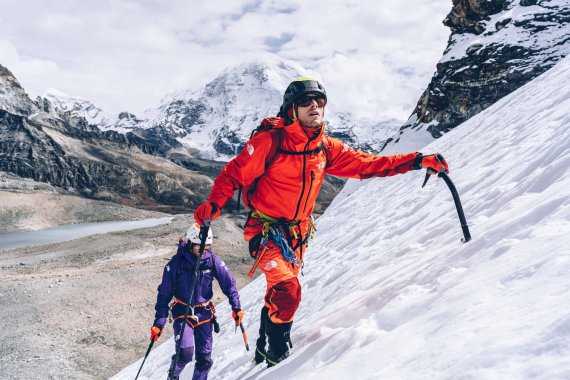 David Göttler: For me, the time on the mountain is incredibly important, and also to experience it together with my team partner. I'm not a solo mountaineer you know, I really enjoy sharing this experience.
Especially at altitude, I also have to deal with fear, particularly from 8000 meters onwards. Each step becomes more and more difficult mentally; with each step I have to convince myself to do two more after that.
But these are also the things that motivate me. And if the expedition goes well, the motivation lasts even longer.
My initial spark is always the end goal, for example climbing Everest without porters or oxygen. But then I very quickly enjoy the process of preparation and training. In the process there's always an incredible amount of things to learn. And as long as I learn something, for me it is time well spent in my life. So for me, the motivation doesn't just hang on this one final point of arriving at the summit.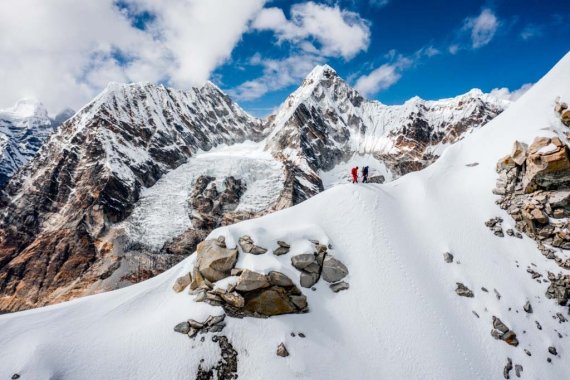 Training and Equipment in Alpinism
I want to move forward on the mountain as quickly and efficiently as possible. Lightweight gear plays an important role in that. The North Face closely involved me and a team of other climbers in the development of the new Summit Series Advanced Mountain Kit. So I was actively involved in, for example, installing only half a zipper so the jacket wouldn't blow open. The result is now a sophisticated layering system, from baselayer to glove, that allows me to be very well protected and flexible at the same time.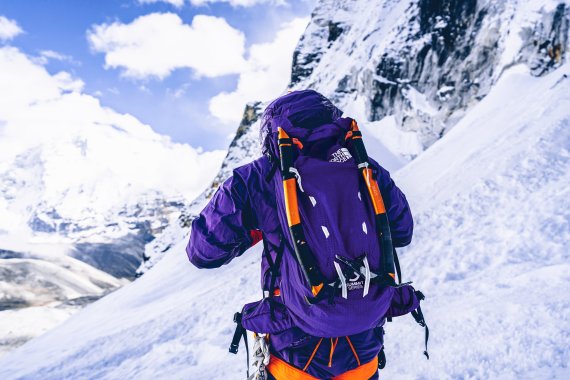 Actually, I train all the time. In 2016 I went on an expedition with Ueli Steck and the year before I started to train specifically with Uphill Athlete. Since then, my training has been totally structured.
Of course you don't have anything in your training plan for two or three weeks after an expedition, but otherwise my coach and I exchange information on a daily basis. I upload my workouts via my watch, we talk via WhatsApp and then have a weekly video call.
Even though I'm very self-driven, it's good to be held accountable in some way. I've always done what I loved to do. But if someone from the outside says, "Why are you doing the same thing every day? You're not going to get better that way, you need to alternate your workouts," that's when you really develop.
Flying High with Kilian Jornet
There aren't that many high-altitude mountaineers who share the same style as me.  In fact, there are only a few who bustle around in the scene. Kilian Jornet and I had been in loose contact for a while.
When he was passing through Chamonix, where I live in winter, on time, we went running together. My initial thought was just "Oh my god!" But then we went for a run for an hour and realized that we had some approaches that would work together very well. So that's how it ended up that we did an expedition together for the first time this spring. And it will certainly not be the last time.
Of course we exchange ideas about what is possible and what we want to do, but nothing is ready to be announced yet. It has also become a bad habit in the scene that an incredible amount is announced in advance. Reinhold Messner recently spoke of "announcement alpinism" and I have to agree with him. On expeditions or in general with top sporting performances, it should always be clear to everyone that everything has to fit in order to reach the summit, for example. Of course, every now and then it doesn't work out the first time.
Sometimes things are announced that almost make me lose faith. As everyone can promote themselves, these announcements are then multiplied, just because it reads well. That's why I've become very careful with announcements of my own expeditions.
Failing Beautifully without Pressure
I wouldn't say I feel any pressure myself. I've grown into this expedition and professional alpinism too naturally for that. I've been learning this slowly for more than 20 years.
However, I think it is unfair to the public to create maximum media fuss in advance when you haven't achieved anything yet. Of course I can announce a project, but then I also have to very realistic and communicate that the chances are, for example, a maximum of ten percent, because there are so many factors that have work out. I myself also fail incredibly often.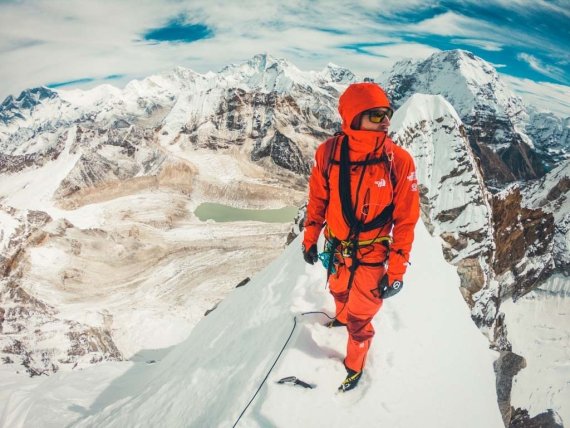 Of course I'm disappointed, but I still don't regret anything. Besides, failure is generally part of the game for me. Especially when we want to develop further, push boundaries and enter new territory for ourselves.
It's such an absurdity of our society that failure is always equated with losing and a loser status. Yet it is part of the process: No achievement of mankind has come about without failure.
High-altitude mountaineering in particular is like a giant puzzle: I have to feel good on the day, for example. That was also the reason why it didn't work out with Kilian in the spring. At 8000 meters, neither of us felt good because we had caught sunstroke the day before.
The Mountaineering Scene, Social Media and Covid
At the moment, the most difficult thing for me is to classify what else is happening on the high mountains. There are so many differences. There are those who are on the move with oxygen and with an incredible amount of manpower. And then at the other end of the spectrum is the individual climber like me, without oxygen.
When I doubt myself  and wonder if I've forgotten how to climb because everyone's getting to the top and I'm turning around here again, I have to zero in on myself. With oxygen, you're in a completely different style - you can almost say a different sport. But it's communicated the same way from all sides.
That's one thing I'm trying to clear up, to look at our sport in a more nuanced way. If we talk about professional sporting achievements and want to be a role model in the sport of high-altitude mountaineering, then that is only possible if we relate that to expeditions that have come about without oxygen. Because as soon as oxygen is involved, it's clearly doping to me.
For the record: I have nothing against people who go up with oxygen, guides, and manpower. Who do everything they can to get up there. That's a memorable day for those people, the highlight of their lives possibly. Nevertheless, no one will write that this is an outstanding achievement in alpine history. On the other hand, in high altitude mountaineering it is to some extent. In the meantime I have learned to classify it better for myself.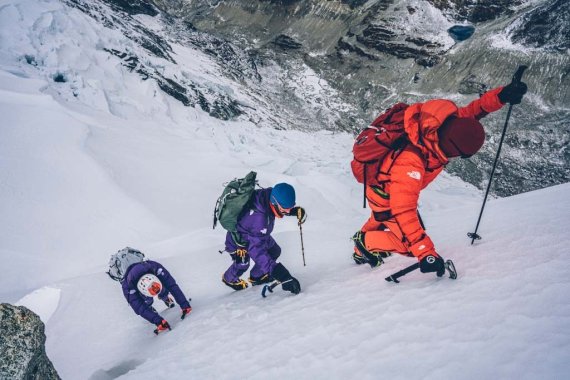 Generally better than I thought at the beginning. I live in Spain, and for the first two months you were only allowed out of the house to go shopping. Then we did that online and I actually didn't open our yard gate for six weeks. I was completely relaxed and I was doing really well. I was doing a lot of yoga and putting my motivation into new exercises.
I was also really relaxed about social media. After all, everyone had to stay home and no one could do anything cool. Since I've experienced it so blatantly, I don't put as much pressure on myself when I see what my buddies are doing. You only ever see the best day of so many of them on social media. But they all have their normal days, too, and that's something I've become aware of again.
Learn more about David Göttler and his projects at altitude.