Health and an active lifestyle are in vogue - and not just since the end of the
COVID 19 pandemic. One beneficiary: sports tourism, which continues to grow strongly. The global sports tourism market is estimated at USD 587.87 billion in 2022 and is expected to reach a growth rate of 17.5% by 2030. Europe is the largest sports tourism market in the world, accounting for 38.01% of revenue. The range of activities on offer includes everything from sports events and training camps to active vacations.
Sports tourists love to be active outdoors and celebrate many different outdoor activities. According to the yearbook of sports statistics, they are divided into three segments:
Active vacationers* whose main motivation is to participate in sports. These include hobby sports such as golf, sailing, surfing and other outdoor sports, as well as higher-intensity sports such as cycling or climbing.

Event tourists who attend sporting events and activities.

Recreational athletes who want to practice sports activities during their beach vacation, for example.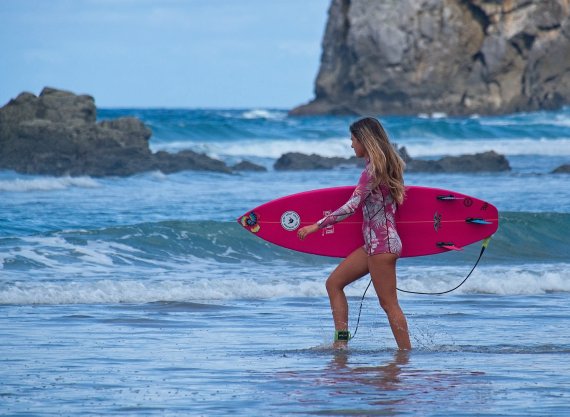 In 2021, Spain received a total of 4.8 million sports tourists, of which
64% of them actively practiced sports themselves and

36% attended events.
The revenues of the Spanish vacation regions from sports tourism came to
57% from active tourists and

43% from event tourists.
Although almost 80% of travelers came from Spain itself, the approximately 20% of foreign tourists* contributed to half of the revenue - which shows how important they are in qualitative terms. This was different before the pandemic: in 2019, 33% of international sports travelers provided 68% of total sports tourism revenue in Spain. In addition, event visitors* accounted for about two-thirds. So, while sporting events were the main driver of the sector before the pandemic, there was - at least in the short term - a trend towards domestic active vacationers. It remains to be seen whether this will be confirmed once the pandemic is over.
However, considering the general trends in the tourism industry such as increasing environmental awareness and flight shame, which are now important aspects for many travelers when planning their trips, the trend toward sports vacations in one's own country could endure due to climate friendliness.
Another trend is that more and more people are integrating sports and physical activities into their daily lives. For example, 4 out of 5 Europeans in the Outdoor Consumer Report 2021 by Deloitte and OutDoor by ISPO, four out of five Europeans said they had engaged in an outdoor activity in the past year. But what does this mean for organizers and brands? One thing is for sure: The increasing importance of sustainability, sports, and physical activity in daily life has a direct influence on vacation design and thus holds opportunities for the sports industry.
What will sports tourism look like in the future and what factors will influence it? To answer these questions, leading industry experts discussed at a keypanel at the international tourism trade show FITUR. Christoph Rapp from ISPO Munich, José Pablo Vázquez from Visit Valencia and Agustí Pérez from the Ironman Group emphasized the increasing importance of sustainability, digitalization and individualism. But how can companies benefit from these megatrends?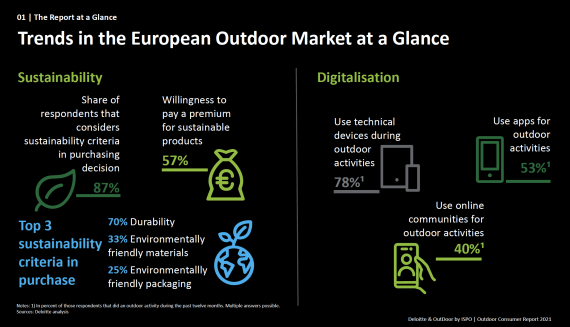 Like many other areas of sport, environmental change is also shaping sports tourism. Consumers demand sustainable solutions from companies and are willing to pay more for them. However, there is still a lot of room for improvement when it comes to environmental protection, especially at sporting events. It is not enough to ban plastic cups. Rather, there is a need for deeper awareness and change on a large scale. Agustí Pérez, Senior Regional Director South of the Ironman Group, called for increased collaboration with administrations and more sustainable processes, saying, "Both at the institutional and organizational level, despite a pandemic that has slowed down the rhythm of decision-making, we need to make all processes around the staging of events sustainable. From laws, to collaboration with administrations, to the demands of the athletes themselves. This is the only way to create truly sustainable experiences."
Digitization has also taken hold of sports tourism. More and more travelers are using online platforms and apps to plan and book their trips individually. Vacationers are increasingly using electronic devices such as smartphones and smartwatches for outdoor activities. According to the Outdoor Consumer Report, more than half of those surveyed use apps to track their activities and collect important performance data. The goal of operators and sports brands should therefore be to create a seamless digital experience for travelers.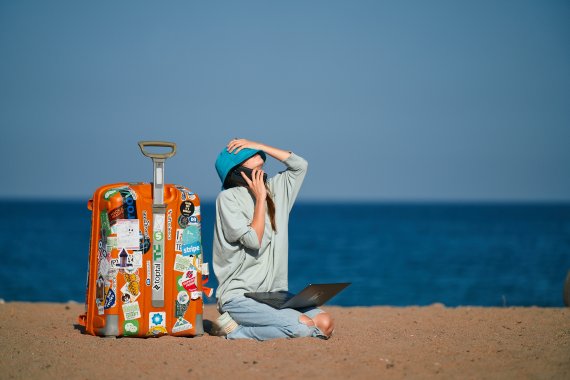 Individual experiences have become increasingly important in tourism. The trend is away from mass tourism and toward holistic experiences tailored to the individual needs and interests of travelers. Here, sports such as ski touring or trail running offer ideal opportunities for nature activities away from the mainstream.
Christoph Rapp, International Sales & Retail Manager at ISPO Munich, emphasizes that creating such experiences not only satisfies customers* but also holds huge potential for revenue. It is clear that destinations, especially in the Alpine regions, need to adapt and expand their infrastructure to respond to this trend and meet the demand for individual experiences - without losing sight of sustainability.
Although the COVID-19 pandemic has put a damper on the sports and tourism industry, the potential of sports tourism remains high. Especially due to the increasing interest of consumers in health and active lifestyles, operators and brands should proactively leverage the trends in sports tourism by finding innovative solutions that take into account sustainability, individualization and digitalization at the same time.