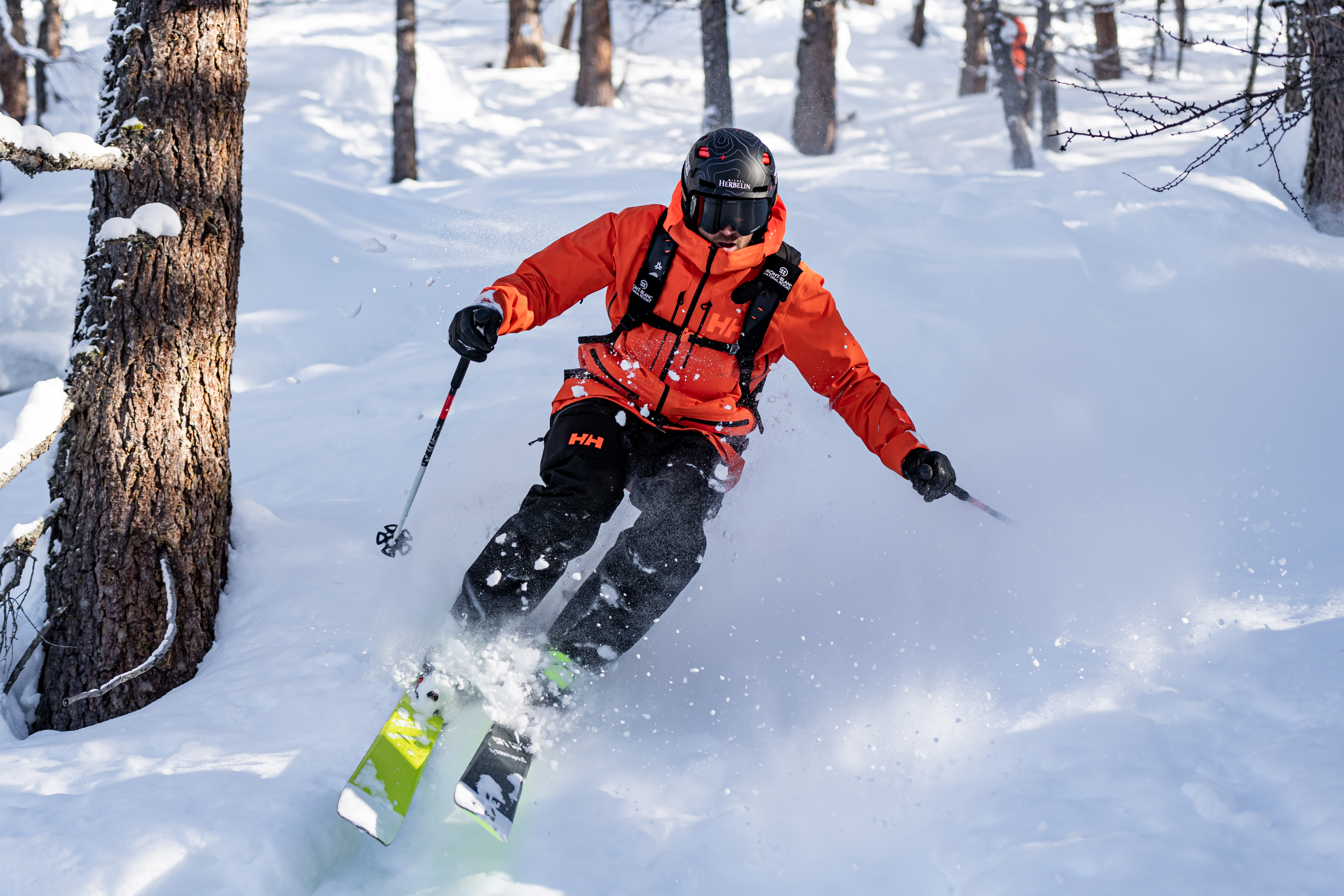 LIFA INFINITY PRO™ is Helly Hansen's answer to the search for responsible, waterproof and breathable apparel for outdoor and winter sports. At the same time, the brand performs a masterpiece of advanced textile technology and design. The three-layer fabric construction is based on the original LIFA® technology developed by Helly Hansen. This technology was already developed for baselayers in the 1970s and has been continuously improved since then. Now it has been turned into water-repellent protection.
What counts is an intricate combination of different layers: The new LIFA INFINITY™ membrane has a highly breathable, unique microporous structure produced in a solvent-free process. Combined with a lightweight outer material made of 100% water-repellent LIFA® fibres, the result is a three-layer fabric that keeps the professional dry and comfortable - completely without chemical additives. At the same time, caring for your gear is incredibly easy as no chemical refresh to make it waterproof is required ever again. In short: With LIFA INFINITY PRO™, Helly Hansen presents high-performance, weatherproof and waterproof gear that is also better for the environment.
"What I am really proud of, is that by using an old technology we managed to create something new, which is better for the athlete, better for the performance and better for the environment", says freeride pro and Helly Hansen ambassador Aurélien Ducroz. The feedback of their athletes and professionals was important to the brand as they took the gear out and were putting the newly developed products to the test from the professional perspective of someone who has to rely on their gear every day.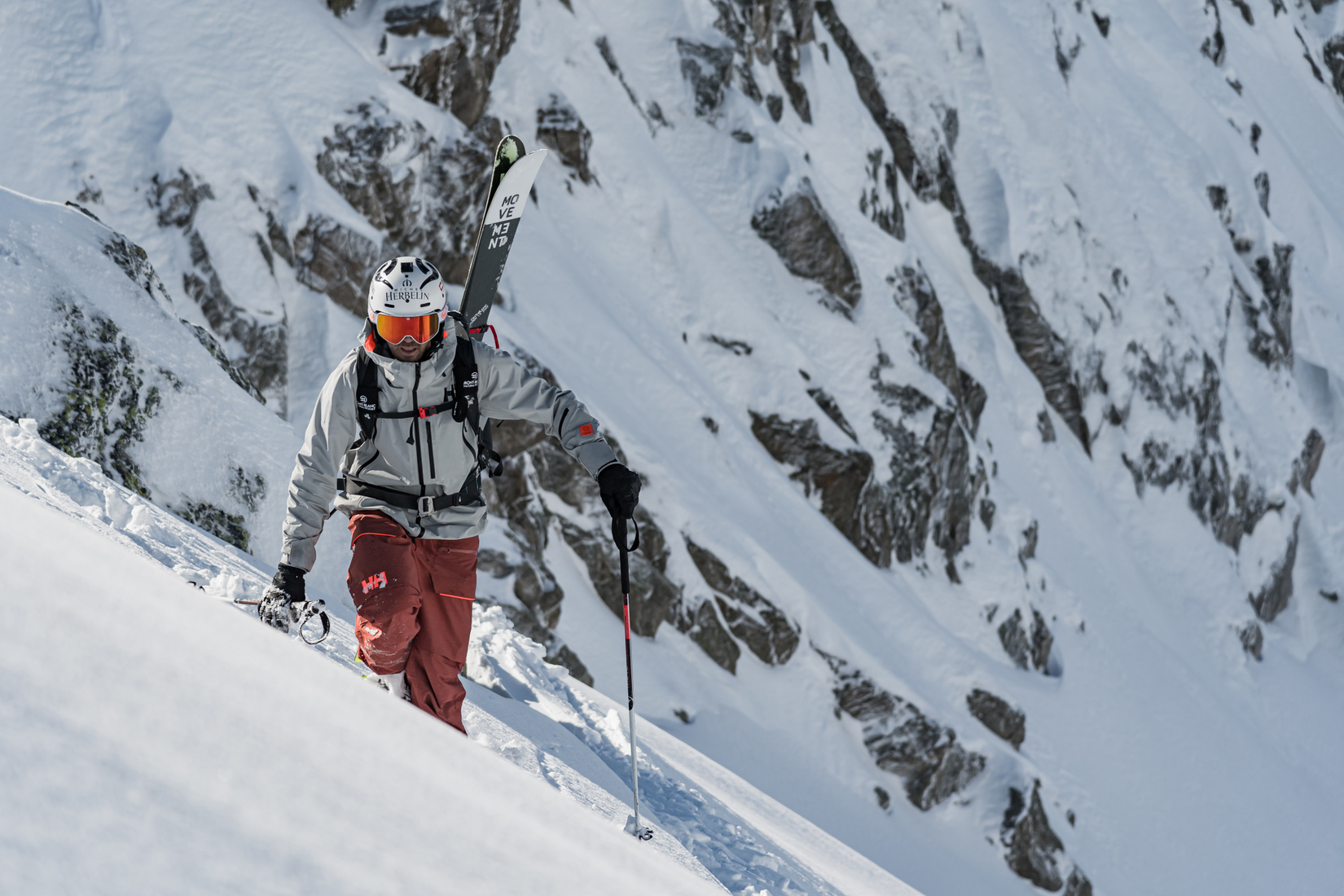 "We worked with nearly a dozen ski professionals to develop a new technology that provides the highest level of waterproof/breathable performance while also being responsibly made," said Philip Tavell, Category Managing Director at Helly Hansen. "LIFA INFINITY PRO™ technology is based on over 140 years of knowledge and experience and is Helly Hansen's next step towards a more sustainable future that simultaneously protects wearers in the harshest conditions. Also it helps people feel alive and is more environmentally friendly." Aurélien Ducroz can only agree with his feedback while testing: "I have been really surprised by the breathability and the waterproofness of the jacket, and I am very happy with it. On a pure freeride trip with a lot of snow, everything was still dry at the end of the day. There is no compromise on the performance of the jacket, although it is much more responsible, and for me, this is the right way of thinking."
Helly Hansen's LIFA INFINITY PRO™ technology is both designed for performance and driven by a sustainability mindset for the production of textiles. LIFA® fibres have a lower environmental impact and are permanently water repellent, even without added chemicals. Click here to find out more about the properties of LIFA® fibres. The LIFA INFINITY PRO™ technology saves energy as no tumble drying is required to reactivate water repellent finishes. In addition, each garment is solution-dyed. This means that the colour pigments are already added during fibre production. This process produces no harmful waste water and the colours are indelibly integrated and remain radiant throughout their life.
In its second winter season, Helly Hansen has greatly expanded the use of LIFA INFINITY PRO™. The brand's most sustainable and innovative technology to date will now be used in significantly more styles in the 2021 autumn/winter collection - including the products of the Odin collection. The highlight product, the Odin Infinity Insulated Jacket, is equipped with LIFA INFINITY PRO™ and was awarded an ISPO Award as Gold Winner and the Sustainability Achievement in 2021.
The insulated jacket was developed with feedback from search and rescue teams and - thanks to its high-performing LIFALOFT™ insulation - is 20% lighter, but still warmer than standard thermal insulation. This is why the jacket is a popular garment for mountain rescue in particular, as it keeps its wearers warm and protected even in unforeseen weather and on long missions up the hill. Of course, recreational athletes also benefit when ski touring or going on longer missions outdoors. The jacket is helmet-, backpack- and harness-compatible, for example using two-way zips for better ventilation and easier use when wearing a backpack. It also has a removable, comfortably flat snow skirt and large front pockets for storing accessories or snacks.
Waterproof, breathable and responsible  - an unbeatable combination when it comes to weatherproof and performance-oriented outdoor clothing. With years of experience in demanding conditions, Helly Hansen has a wealth of expertise in innovation - most recently implemented with LIFA INFINITY PRO™ - a technology that requires no chemical treatments at all to add waterproofness, setting a new industry standard for waterproof clothing. For 2021, the new technology has been integrated into the multi-award-winning Odin Infinity Insulated Jacket, which is especially suitable for outdoor professionals and ski touring.
Helly Hansen's Ullr Freeride collection also gets an update with LIFA INFINITY PRO™ in 2021. Various styles such as the Elevation Infinity 2.0 Jacket, the Elevation Infinity Shell Jacket for women, and the Ullr Chugach Infinity Powder Suit for deep powder days, are equipped with the new sustainable cutting-edge technology. The jackets feature a Life Pocket+™ which keeps your smartphone charged longer in cold conditions. A large chest pocket and two further pockets are also part of the design. In addition, the women's jacket has a more feminine fit, developed with feedback from female professionals and athletes.