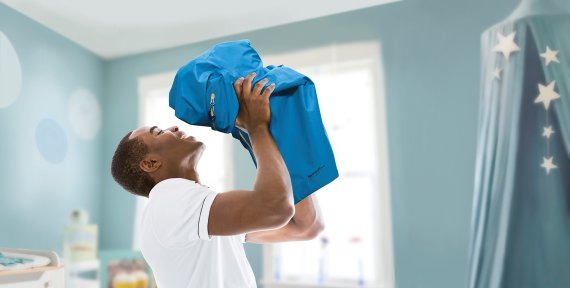 "Eco-sins in the wardrobe!", "Environmental sin fashion", "Plastic residue found in children's urine!" - these are just a few headlines from recent years dealing with the environmental pollution caused by the textile industry and by outdoor clothing in particular. The German membrane manufacturer Sympatex was one of the first companies to recognise the problem years ago and began to take consistent countermeasures. The ambitious goal: to close the textile cycle and become CO2-neutral. At ISPO Munich 2020, Sympatex is now presenting a first: its own sustainable functional jacket, as well as new partners for the recyclable, PTFE- and PFC-free Sympatex membrane "Closed textile cycles" are also the topical focus of the new "Circularity" campaign.
Ever since Dr. Rüdiger Fox took as Managing Director at Sympatex Technologies GmbH in mid-2016, the company has made sustainability the core of its corporate strategy. The reason is simple: the textile industry is one of the dirtiest industries in the world. It starts with the production of basic fabrics and ends with the "recycling" of textiles that are no longer needed, which often end up in landfills or are openly incinerated in third world countries. Sympatex has therefore identified four ecological issues on which to focus: water pollution, CO2 emissions, the intensive use of chemicals and the overfilling of old textiles. The company therefore sees solutions in water conservation, CO2 reduction, reduction of chemicals and recycling.
A closed textile cycle is essential to achieve these goals. Its ecological advantages are obvious: instead of throwing old textiles away at the end of their use, they are returned to the cycle and completely processed into new textiles. However, this requires materials that are as pure as possible. In recent years, Sympatex has steadily increased the proportion of recycled and recyclable laminates on the way to a closed textile cycle. In May 2019, the company drew a positive recap of its own "Agenda 2020", which was drawn up in January 2017: Over 80% of Sympatex's Apparel portfolio is now made of single-variety recycled laminates. The breathable, windproof and waterproof Sympatex membrane is 100% recyclable, climate-neutral and free of PTFE and PFC.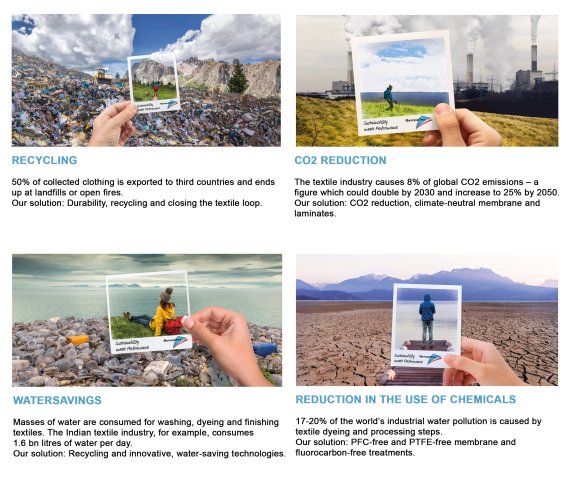 Sympatex is also making progress in the area of CO2 reduction. According to a study by the Quantis & Climate Works Foundation, the textile industry accounts for 8% of global CO2 emissions. As the first signatory to the UN Fashion Industry Charter for Climate Action at the end of 2018, Sympatex committed itself to reducing CO2 emissions by 30% by 2030. Since 2017, the entire annual production of Sympatex membranes has been climate-compensated. Since September 2018, Sympatex has also been B-Corp-certified – one proof of exemplary corporate management in the interest of society.
But Sympatex is not yet satisfied with these successes. As one of 500 B-Corp companies, Sympatex committed itself in December 2019 at COP25 to becoming climate-neutral by 2030. In addition, further measures are being taken to close the textile cycle. The first step is the realisation that consistent ecology begins with the design process, as the design determines the majority of the end product's ecological footprint. In order to manufacture high-quality textile products old textiles only, Sympatex has developed seven steps that are necessary to completely close the textile cycle, in line with the motto "Design2Recycle". Sympatex has been consistently pursuing this goal for several years, for example as co-founder of the European textile partnership "wear2wear™".
In 2017, five European partners joined forces for this innovative industrial partnership to produce new functional textiles using textile fibres from used clothes with state-of-the-art equipment. This high-quality, responsible clothing meets high standards of waterproofness, breathability, protection and comfort. At the end of their life cycle, the textiles can be fully recycled again.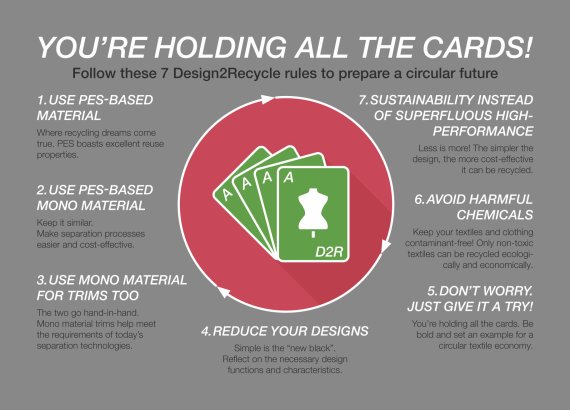 As a result of the wear2wear™ cooperation, Sympatex is presenting its first upcycling functional jacket at ISPO Munich 2020. The new "rEvolution Hybrid" jacket lives up to its name: a three-layer high-performance jacket made from 30% recycled old textiles and 70% recycled PET bottles - that is truly revolutionary. And yet it's just the beginning: by 2025 at least 50% and by 2030 100% of the Sympatex portfolio is to come from closed textile cycles.
In addition to the "rEvolution Hybrid", Sympatex is also presenting a number of new customers at ISPO Munich 2020 who are introducing sustainable lines using the Sympatex membrane at the trade fair: Wear Colour, Roeckl Sports with the Eco Series, Ziener with the Ex4 line and Element with three stylish functional jackets. In addition, there will be numerous existing customers such as Billabong, DC Shoes, Rossignol and Zanier, who will continue to follow the path of sustainability with Sympatex.
Just in time for ISPO, Sympatex is also launching its new "Circularity" campaign: the emotional motifs capture the moment when parents happily hold their newborn child in their arms after birth. Instead of a child, however, they lift a recycled Sympatex functional jacket. With the "Circularity" campaign, Sympatex wants to raise awareness of the fact that it is already possible to purchase environmentally friendly, recycled and climate-neutral clothing without having to compromise on performance.
But that's not all: Sympatex has developed the children's books "Sam und der Plastikplan" and "Sam und der Klimaplan" to educate even the youngest children. A third edition of the series entitled "Long lives the King's Jacket" will be published in time for ISPO 2020.
The "rEvolution Hybrid" jacket and sustainable Sympatex functional laminates will be on display at ISPO Munich from January 26 to 29, 2020 at the Sympatex booth in Hall A1, Booth 300. The jacket will be presented for the first time on Tuesday, January 28, 2020, from 1 to 2 p.m. at the Press Centre West at a joint press conference with wear2wear™ founding partner Schoeller Textiles.
More information about Sympatex is available at www.sympatex.com