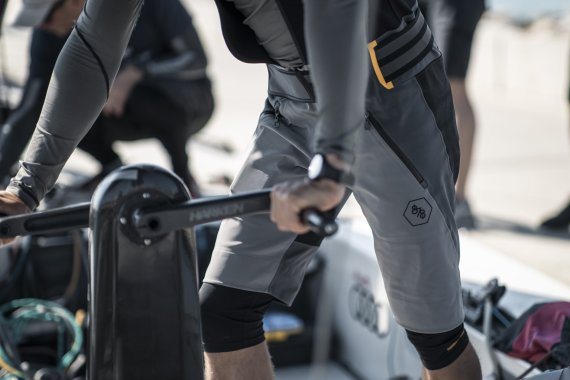 Due to technical innovations, the sport of sailing has developed rapidly in the last five years. One example is foiling, which lifts sailboats out of the water and, due to lower resistance, increases speeds immensely, for instance in the most prestigious sailing race, the America's Cup. Ever-increasing speeds also call for forward-looking innovations in the apparel sector. As in other sports, the use of smart technologies and wearables represents particular potential. 
This is where Hungarian smart sailing apparel manufacturer 878 Co. comes in. Designers, engineers, athletes, and industry experts have joined forces to make the best use of high tech to achieve what every sailor strives for: to reach and expand their horizons.
Professional sailing is based on the best possible use of data, its calculation and analysis. Each team member must have access to key information to perform their tasks as quickly and effectively as possible and make decisions correctly. As a portable innovation, 878 Co. has built a foldable screen into the ProRacing jacket, linking it to the boat instruments via Bluetooth and a small transmission unit on board. Even in strong sunlight, the screen is easy to read and operate, and it can display different data points, adapted to each team member.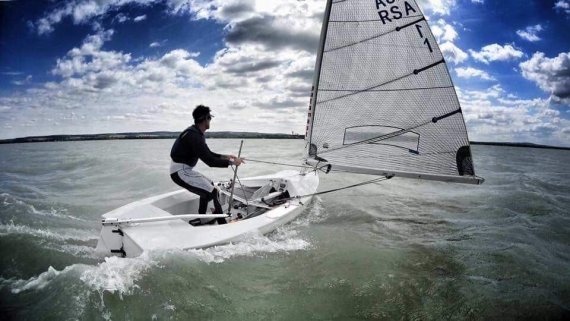 Professional sailors have also already recognized the competitive advantage of the 878 Co. ProRacing jackets. South African Ian Ainsley describes it as follows: "In sailing, we play on the most variable field of any sport. Not only does the field move under you, but the field boundaries change. Every wave and every breeze is different from the last. Constantly, you have to make intuitive decisions about how to climb the ladder one rung higher than the competition. Being able to reduce the guesswork on some of the variables, while not sacrificing how hard you sail or where your eyes scan the environment, has obvious advantages. I'm looking forward to further refining the product and trying it out in a big competition soon."
And when Italian sailing pro Niccolo Bianchi is asked about his favorite feature of the 878 Co. jacket, he replies, "Definitely the ability to keep me dry and efficient in competition, but also the great help of having the numbers that matter close at hand thanks to the integrated display. The other thing is graphene."
But 878 Co. is not only pioneering the incorporation of smart technologies into its sailing apparel, it has also used special materials and components for the fabric of the clothing that can withstand any weather and still be particularly comfortable to wear. The brand's sailing jackets and sailing pants are made of a graphene-Dyneema blend that is particularly robust and waterproof, while at the same time extremely stretchy, lightweight, and thermo-regulating, adapted to the outside temperature. In other fields, graphene has already been called a super material and the invention has been awarded the Nobel Prize. It is made of carbon, is ultra-light, but not quite easy to process. The material's thermal conductivity increases as it comes into better contact with the skin, which is why very thin layers of carrier material were used.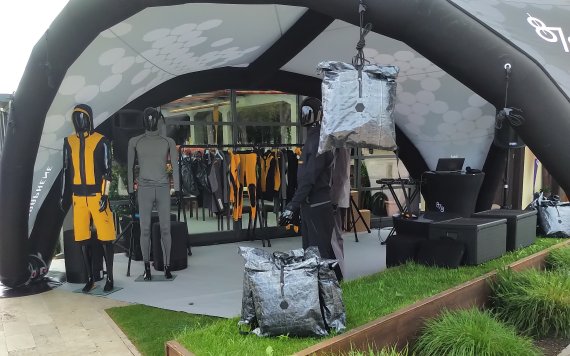 Graphene is mixed with Dyneema, an extremely robust and tear-resistant polyethylene fiber that is also very abrasion-resistant and normally used in motorcycle protective clothing, in ropes for climbing and the like. In sportswear, graphene has so far found little or no use. Until now, due to the smart sailing clothing made by 878 Co. 
For designer and 878 Co. partner Lilla Majer, working with graphene was particularly exciting: "It was the first time I had worked with graphene. From a design perspective there is not much difference, but there are huge differences in production. We work with two different types of graphene fabrics, one is a fully waterproof 2 or 3L laminated fabric with graphene membrane. This is woven, while the other is a jersey with graphene threads woven into it. Both are super interesting materials at the highest level of quality."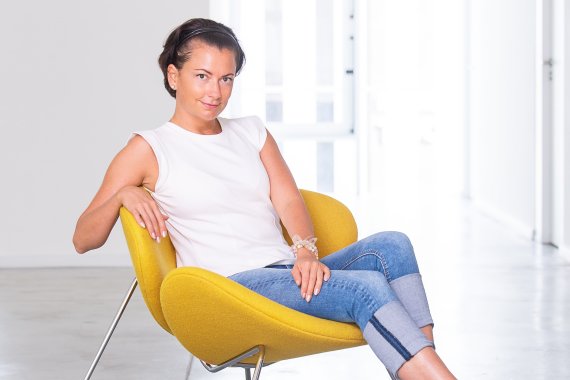 Professional sailor Niccolo Bianchi is also excited about graphene: "This material can have a huge impact on professional sailing. It's ultra-light, super strong and its thermal conductivity is something no other material can offer. This makes it a real wonder material to create the most comfortable sailing gear."
The use of 3D technology allows 878 Co.'s garments to be precisely fitted and tailored to the sailor. "I prefer a close-fitting cut that reduces windage. Nevertheless, I can move totally comfortably aboard," says Niccolo Bianchi, describing the comfort of the 878 Co. ProRacing Jacket.  
The Hungarian brand develops, designs, and produces in its own factory, relying on purely digital technology. 878 Co.'s sailing apparel is manufactured in Székesfehérvár, Hungary, in the company's own factory equipped with the most advanced machinery in Europe. The digital 3D design process is also carried out there, and special production technology solutions are used to work particularly effectively, but also sustainably. Only chemical-free and environmentally friendly materials are used in the production of clothing, and water consumption is minimized. 878 Co. sees it as part of their social responsibility to donate a portion of their profits to water and ocean cleanup initiatives. Thanks to fully digitized and computerized production capabilities, 878 Co. operates as a waste-free company.
At the same time, it quickly became clear that employees also play a critical role in making ideal use of these digital technologies. "It didn't take much time to realize how urgent it was to train our colleagues. They were practicing non-stop. We didn't have much time, we were always in a hurry, but a smooth sea doesn't make a good sailor, after all," says lead designer and partner Lilla Majer.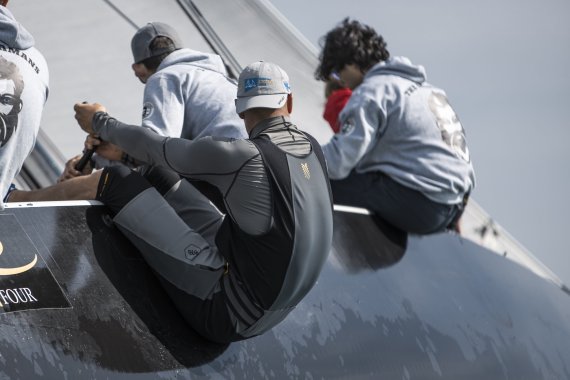 Already in the planning and development of 878 Co.'s sailing clothing, the sailing community and its members were involved, first and foremost the Hungarian sailing champion as well as world and European champion and captain of the Hungarian SSL team Zsombor Berecz, who was instrumental in the testing of the 878 Co. ProRacing Jacket. "It's always good to have some kind of card in your pocket against your opponent, even if it's just good-looking sailing apparel. But this one has the functionality, comfort and design down to a tee, making it the ace of sailing apparel brands," said Zsombor, describing 878 Co.'s sailing apparel. South African sailing pro and technical coach of the Dutch Olympic team Ian Ainslie also appreciates 878 Co.'s progressive approach. "I really like the way 878 Co. has come to the market with a fresh perspective, not just trying to make an iterative improvement or relying on a copy/paste of other apparel brands. Their vision to look for solutions that take advantage of new technologies is unique."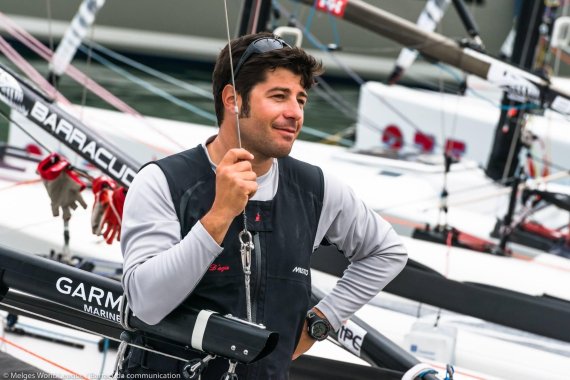 Niccolo Bianchi couldn't agree more, "I believe 878 Co. will provide new quality standards by raising the bar a lot in this niche market. The material is newly developed and will bring big changes to the competitive sailing industry. It is the first time that such a high level of protection against maritime influences such as water and salt, in combination with an absolute lightness of the garment could be achieved."
For more information on 878 Co.'s products, its innovative use of graphene, and a comprehensive interview with brand ambassador Zsombor Berecz, visit 878 Co.com.