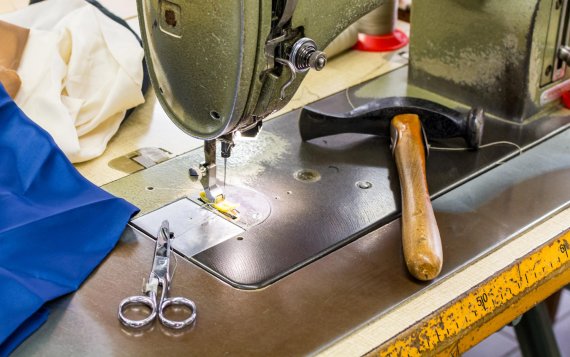 Shopping is fun. When it comes to clothing, people tend to spend lots of money. How often do we admire ourselves in the dressing room mirror, convinced that we have found the ultimate piece of apparel, one that will be of use at all times, for many years to come. As if there were a need to talk yourself into the purchase.

Yet as soon as the coveted piece is in the shopping bag, it soon slips your mind and ends up being discarded. According to a report by the Federal Office of Statistics German households threw away 100,000 tons of textiles and clothing in 2010 alone. The production of new apparel also generates an enormous amount of textile remnants and waste; however, there are no concrete statistics.
Though the attitude is changing.

Looking for apparel with higher quality
The throwaway trend is ebbing. A growing group of consumers is becoming more aware of responsible purchasing. They sort their waste, prefer to shop in whole foods stores than in discount markets, and look for apparel with higher quality and able to withstand more than one season of wear. They realize that it is better to patch climbing pants or shorten a skirt, than constantly replacing their wardrobe. There is no need to make the mountain of waste any higher.

Many sporting goods companies offer repair services, such as the Gore Company. In repair centers, like the one in Pasching, Austria, GORE-TEX® products get a new lease on life. After the repair, the seams and membranes are professionally re-welded, thus ensuring that the product is once again weatherproof. It doesn't matter whether a zipper was broken, stretch material overstretched or the garments was simply missing a zipper pull.

Adhesive patches in standard sizes
In addition, on its webpage the company sells a handy first aid kit for impromptu repairs at home or on the road. The customer receives adhesive patches in standard sizes that do not require any cutting and are suitable for a range of materials. The patches handle up to five washes. 
The Swiss company Mammut promotes a professional repair service for its products, if they have suffered any "external impact". This includes rock fall, sparks or rips caused by sharp stones, as well as general wear and tear, or fading caused by the sun. A graphic on the website shows the warranty and repair procedure, processed through sports retailers.

VAUDE: In-house repair service
VAUDE also offers an in-house repair service managed with the help of its retailers, and promotes this as the "opposite of the widespread throw-away mentality". If a buckle or button is missing on your favorite piece, or something else is broken, there is really no need to discard it: there are "replacement parts for just about everything". 
Patagonia also offers a repair service for "everything that has been damaged". In addition, the company has launched a platform in cooperation with eBay, allowing customers to buy and sell used Patagonia apparel. To date this service was only available in the USA, but an expansion into Europe is said to happen shortly. The California-based Outdoor specialist has worked with organic cotton since 1996; more than 70 percent of its current products contain so-called e-fibers such as hemp, wool processed without chlorine, tencel or recycled and recyclable polyester.

TORAY: Return used polyester clothing

Thanks to a joint effort with TORAY as early as 2008, nylon, which has a structure that makes it difficult to reprocess, could be recycled and reused. The manufacturer asked its customers to return used polyester clothing to avoid the cast-offs ending up in landfills. However, "recycling should be the last resort. You should recycle it only if repair or further use is no longer possible," is the maxim.
So-called upcycling also follows this trend. Production does not use any new resources, but old stuff turns into new, high-quality products: tablecloths turn into dresses, jeans come back to life as vests, ski suits become hoodies, truck tarps return as bags, sweaters are reinvented as cellphone covers.

The small New Yorker brand Kindred, for example, turns beloved, used adult fashions into one-of-a-kind pieces for children. Eugenie Schmidt and Mariko Takahashi from Berlin have their eye on the world of women's fashion. Customers can locate their donated garments on the company website with the help of a barcode, and follow along as the old piece is infused with a new life and look by the designers.

Turning waxed jackets into laptop bags
Another Berlin-based company is the alteration tailoring studio "Bis es mir vom Leibe fällt" (roughly translated: "until it falls off me"). Elisabeth Pratner and her team patch your worn favorite jeans, turn waxed jackets into laptop bags, reinvent Grandma's old knit jacket as a hip sling bag, or tailor trendy mini dresses from used ball gowns.
Even burlap bags or old sheets have something left in them, and receive a creative "wake-up kiss. We are dedicated to repair in the broadest sense of the word. We maintain and restore items that are already in existence," is the philosophy of the designers. "Every repair turns the piece into a one-of-a-kind. The damage becomes an inspiration and opportunity for change." 
The Netherlands spawned the concept of Repair Cafés: a place for people to get together to fix a broken toaster or cellphone, or even repair a frayed hem on their pants. Experts with technical knowledge and handcrafting abilities are on hand to help. Martine Postma launched this initiative, and organized the first Café in Amsterdam in 2009. Today, her foundation receives inquiries from all over the world, from people wishing to launch Repair Cafés in their countries.