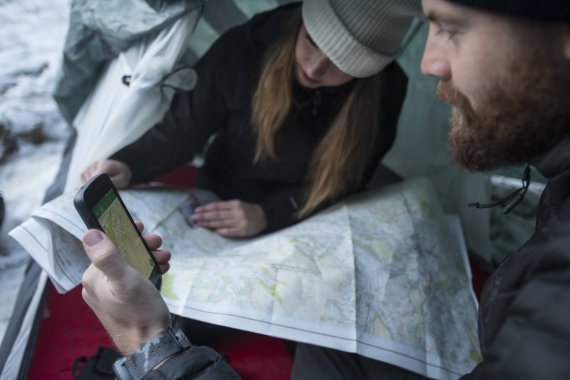 If you are a fan of the outdoors, you probably take various devices  – from your cell phone to a GPS device, camera, etc – along with you. "We've been in talks with people from the outdoor community for years," says Charlie Henderson, Chief Brand Officer of the Bullitt Group, which developed the Land Rover Explore (now available for 649 Euros).
Many outdoor fans – whether mountain bikers, hikers, mountain climbers, or ski tourers – kept asking for a device that combined all technical requirements in one, that was built for the outdoors, but was sleek enough to be an everyday phone as well.
"We designed the Land Rover Explore as an outdoor smartphone from the very beginning," says Henderson. Compared to a normal smartphone, for example, it has a screen that can be operated even in pouring rain or with gloves, is waterproof, drop proof and a high-performance battery.
To make sure the outdoor phone really met the various requirements "in outdoor use," it was subjected to constant testing even during development: "Our team is made up of so many people who live this outdoor lifestyle, from trail runners to cyclists, even absolute snow sports fans. They're outside whenever they can be," the Chief Brand Officer says.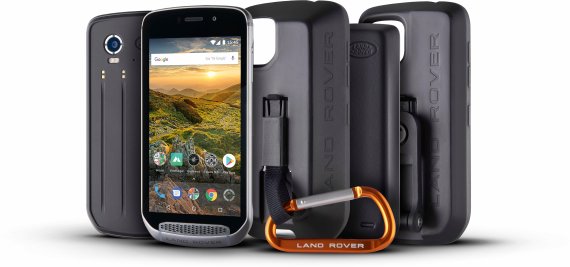 The outdoor focus in both the hardware and software of the Land Rover Explore. An overview here:
Overview of the Land Rover Explore hardware
Waterproof and drop tested for any outdoor environment

Tested in extreme temperatures

Screen can be operated when wearing gloves, and is easy to read even in direct sunlight

Long battery life to keep you on the trails,

The Land Rover Explore

launches with the Adventure Pack, bringing GPS handheld capabilities to the smartphone straight out of the box

Night vision mode: Red screen light helps to view the surroundings and the display simultaneously.

Additional bike pack to mount the phone to your handlebar or stem
Software: Apps, dashboard, and map material
Dashboard: A kind of digital info panel with personalized data. For example, weather in various locations, snow depth, zero degree limit, tides, water temperature, wind strength, last snowfall, etc.

The Explore Hub presorts apps for outdoor fans and always suggests new apps

ViewRanger app offers access to detailed topographical map material with additional augmented reality view

All regular functions of an Android phone
Henderson explains that the aim of the development was also to make the phone work in everyday life and fun to use. That is why importance was placed on an elegant design. Two SIM cards can be installed at the same time. That way, for example, the smartphone can be used in the US and in Europe without having to switch out your SIM card. The Land Rover Explore costs 649 euros and is available without a contract.
The Land Rover Explore is not only designed to appeal to outdoor professionals, however, but also to anyone who likes to go outdoors, because the outdoor smartphone "can provide security," says the Chief Brand Officer. For example, the weather in the Alps or Great Britain sometimes changes within minutes, and the Land Rover Explore can be an enormous help finding your way around.
Via the Open Innovation Project by ISPO, the Land Rover Explore is available to test for free for four weeks. The ten most active testers are allowed to keep the phone.