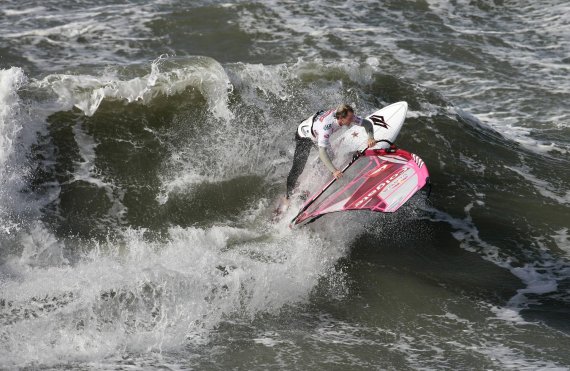 ISPO.com: Mister Naish, first of all: How are you? Last year you suffered from a broken pelvis. What happened?
Robby Naish: Just a very unusual landing, when I was kitesurfing. Nothing extraordinary, not a big crash. I just came out of position, when I came down landing quite fast and quite hart, but very normal. But my back foot slipped out of the footstrap at the point when I hit the water.
And when you're travelling that fast water is pretty hard. So my front leg went with the board and I was powered onto my board, the back leg basically stayed in the water and kind of split me in half. It broke my pelvis, it's called an open book fracture, right in the front.
Sounds horrible...
It was pretty terrible. I have a metal plate and four screws right in the front of my pelvis, straight under my belly button. A lot of people think it's my hip, but the hips are fine. An unusual sporting accident. It's more like a trauma accident, when you get in a car or motorcycle accident.
Where did it happen? Back home in Hawaii?
Yes, in Maui.

Robby Naish: "My first real injury"
How did you manage to get out of the water with a broken pelvis?
I could get myself back to where I started with the kite and came onto the beach. You bleed a lot internally with such a fracture. That's the dangerous part: You can bleed to death pretty easily. But they took me to the hospital and with a private airplane to Honolulu. The recovery was pretty long. Which is interesting, because it was the first real injury in my whole career. I was out of the water for many months.

Hi everyone! I thought I would get the word out myself before rumors start spreading. I have been injury free pretty...

Posted by Robby Naish on Tuesday, May 3, 2016
But you've already been competing in the Aloha Classics in November – only six months after your accident.
I tried to get back as quick as possible. I thought it would be nine months or a year, but I could make it pretty quickly.

"Excited to come back to ISPO MUNICH"
We're going to see you at ISPO MUNICH 2017. How important is ISPO for you as a business man?
I'm excited to be back at ISPO. In the beginning of my career, I have been to ISPO every year for many years. The windsurfing industry in it's early days, in the 80ies, has always been at ISPO. My company, Naish, won the ISPO BRANDNEW 2000 when we launched the first kitesurfing-kites. Since we were still new to the sport of kitesurfing at that time, winning this award was a great honor and a real boost for our brand.
However, that was a long time ago, the business has changed and I'm excited go back. It's good for core-industries to be back at that show since of all the global sport shows, ISPO is for sure the most famous and important one.
You mentioned that the water sports business has changed. How would you describe the situation in surf, kite and SUP? How is the development?
Like in any other industry the hardware is difficult. Margins are always different from a business standpoint. From a participant angle we're all doing great. Even in windsurfing, although the industry is nothing like it has been decades ago.
The surf hardware market is flat at the moment, but the surf sport in general became very trendy: clothing, accessories and surf culture are selling quite well. Compared to several years before, the industry has experienced a real consolidation. There has definitely been some shake-up in some of the major brands. It's still exciting and great to be a part of it.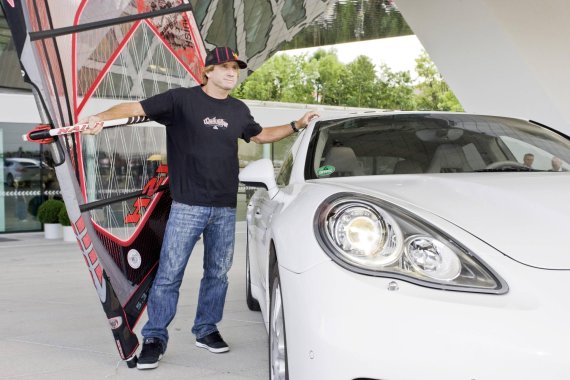 Naish: "Nothing negative about SUP"
What about Kitesurfing?
Still very healthy, for my brand as well. SUP is huge. It has become much more a mass market kind of sport, not just a trendsport for sporty people. It has become something people do recreationally. They buy a board and just go paddling around on a lake with no intension of racing or catching waves. We are bringing more and more people out on the water and putting them in a healthy outdoor environment. There is nothing negative about it.

Do you think SUP reached its climax or is it still growing?
It is still growing, even in the US, where it has been around a few years longer than in Germany. However, it's not growing for the trend manufacturers like Naish, who went in early and are selling more to the high-end sport client. Yet, when looking at the general numbers in terms of the participants, the number of people buying a board and getting on the water is growing constantly.

The newest trend: Hydrofoiling
Does it work for you as well in terms of earning money?
Not for me at the moment, because we are not part of the growth sector of that market. We are more on the high-end sporting side, which is racing, waveriding and high-end recreation. When we first started there was not so much competition however now there are hundreds of different brands competing against each other. 
Do you see any new trends on the water?
Yes, there are. As soon as you start to think that there will be no new trends coming up, something new comes a long. Wakeboarding is still very popular. There are more cable parks in Europe than you can count. Hydrofoils have become very popular, especially in sailing. If you look at the America's Cup for example: all of the different classes add hydrofoils to their boats.
Hydrofoil-Kitesurfing has become popular as well, Hydrofoil-Windsurfing is going to be quite big, and even Hydrofoil-SUP and -Surfing in a very small scale is going to become a part of the future.
More information about Robby Naish and his company online: www.naish.com