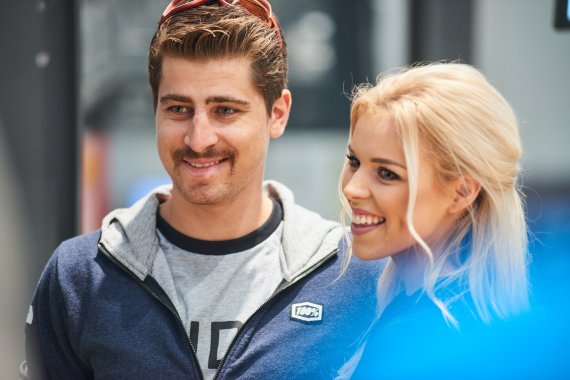 It was quite an unsual sight: Peter Sagan without his ride. Usually you see him with a bike under his butt, quite frequently he rides on the rear wheel. The so called Wheelie is Sagan's identification mark.
Sagan is the entertainer of the cyclist scene. During his visit to the Health & Fitness Forum in Hall A6, however, he was pretty well-behaved. A bit tired maybe. But that was not surprising, since he had just come all the way from Argentina.
"I would probably have never become a racing cyclist without my brother."
Last Sunday he had finished the round trip Vuelta a San Juan with his German team Bora-hansgrohe. His brother Juraj, who is one year older, rides for the same team. "Without him, I would probably never have become a racing cyclist," said the 29-year-old.
Sagan began his career at the age of nine - back then on a mountain bike. For years he switched back and forth between MTB and road, until at the age of 23, he finally decided on the very narrow tyres. Nevertheless, he had started again in the mountain bike competition at the Olympic Games in Rio de Janeiro. Now he's back to mountain biking - he could imagine starting again on wide tyres at the Olympic Games in Tokyo, he said.
At the same time, he is extremely successful on the road bike:  triple road world champion, victories at Paris-Roubaix and the Tour of Flanders as well as eleven stage victories at the Tour de France, where he has already won the green jersey of the best point six times.
"The real artistry lies in being second or third, and still offering a great show."
The sporting successes were joined by a remarkable talent for entertainment. In a recent interview, he admitted openly: "The show is more important than victory. The art is to finish second or third and still deliver a good show." Almost logical that an asteroid was named after him ("Tourminator") and that there is also a Peter Sagan special stamp.
A year ago, he was invited to the Pope's audience and handed over a world champion rainbow jersey and a bicycle to the head of the church, both gifts had "Franziskus" written on them - how great would it be to see the recipient with that present in action!
Recently, he wrote his first book with the programmatic title "My world". In the future, Sagan plans to open a cycling museum, a big project with hotel, restaurant, gym and spa.
No wonder that such a busy guy also has his own sports fashion line: The Italian manufacturer Sportful has designed two different kits, accessories and casual shirts with Sagan, so that every leisure cyclist can now dress in the style of the ex-world champion.