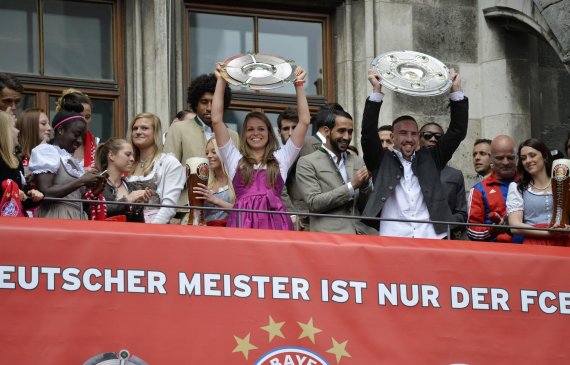 The media center on Säbener Straße: On the brown leather couch in front of the championship shield poster, where head coach Carlo Ancelotti or Captain Philipp Lahm may otherwise ask for a talk, now sit Melanie Leupolz (22) and Sara Däbritz (21). 2016 German champions, 2016 Olympic champions, 2013 European champions. By their side: club manager Karin Danner, with the FC Bayern women for four decades. The entire team will be guests at ISPO MUNICH on Monday, February 6, 2017; the Bayern women's visit fits with that day's ISPO ACADEMY focus topic: women in the sports business.
ISPO.com: Melanie Leupolz, Sara Däbritz, how has the Olympics win changed your lives?
Melanie Leupolz: So, it hasn't changed my life. It was a huge success for us, sure, we were happy, but it hasn't influenced daily life afterwards. 
Sara Däbritz: I'm still the same Sara. And I'm still proud when I think back on it, but otherwise: all the same.
Leupolz: In the beginning there were lots of interviews, lots of honors, the meeting with the Federal President remains a special memory. That shows the appreciation that women's soccer enjoys. But as big as the media interest was, it's leveled out again.  
Women's soccer: "The market value is climbing from the Olympic win"
Haven't you been able to monetize it? The German Olympic Sports Confederation does pay a reward for gold.
Däbritz: They didn't have that for us, soccer is outside of that. But we did get something from the German Football Association (DFB). 
Leupolz: As a women's soccer player, you're glad when something comes into your account. And yes, the DFB was very generous.
Did you land new sponsorship contracts onshore?
Däbritz: No, I've have a contract with Nike for two years. Nothing's been added to that since the Olympics.
An average of 600 spectators come to the Bayern women's home games

Leupolz: I'm with Adidas, I have Allianz as a partner, but I had with both of them before the Olympic Games.  Since then, there keep coming new sponsorship inquiries for me, but I check them thoroughly. If I do something, it has to fit me.
Does FC Bayern profit, Ms. Danner?
Karin Danner: The club is very proud to have five Olympic champions in our ranks. And sure, the market value for the players has generally risen. But it doesn't have any effect on the league operations.
How many spectators come to home games? 
Danner: At normal league games, we have an average of about 600 spectators, more at big games. At the Champions League quarterfinals on March 23 against Paris St. Germain, one of the top teams in Europe, naturally we want to entice as many spectators into the stadium as possible. Ultimately, we also want to get more presence in the club, become more interesting for advertisers, achieve more media presence, and thereby generate higher spectator numbers in the end. Sometimes something has to happen, a statement, a sign, then it gets going. 
"The sponsors say, 'We want to have your women'"
What's happened with the Bayern women?
Danner: The two-time double championships that we were able to celebrate together with the men on the balcony of city hall in 2015 and 2016 helped us a lot. There you saw what appealing figures we are, what images we've brought all over the world. By now, we enjoy a high appreciation in the club. Our men have discovered their love for women's soccer. And now something's happening. 
Even with sponsorships?
Danner: Yes, at FC Bayern we're very well positioned with regard to sponsorships. Allianz has come out in clear favor of women's soccer, and especially our team. Allianz isn't just a title sponsor for the women's Bundesliga, it's also been a jersey sponsor since 2013. That was a door opener, even for us at FC Bayern, that such a big sponsor would tell the board, 'We want to have your women!' Or Body & Soul, they're also partners for the pro's – and now they're with us, too. More and more inquiries keep coming in, specifically for the women. We're also considering if and how we can market ourselves individually, too. For the men, in the professional sector, there's often not much room for new sponsors – we still have some room for improvement.
Melanie, can you live off of women's soccer?
Leupolz: Yes! Now, definitely, from the Olympic win. You can even set some money away, even as a normal Bundesliga player.
What do female soccer players earn? Nobody's set for life

But you're not set for life?
Danner: No female soccer player in Germany is. I'm glad that now the women can earn decent money with us, and at the same time can still set up a second mainstay. Some work at the same time, many study, for example these two here.
Namely?
Däbritz: Economic psychology, second semester. It's good for my brain. Soccer alone isn't enough for me. Later, I could picture myself working in human resource development or the marketing sector.
Leupolz: I got certified in sports marketing at the Bavarian Academy of Advertising, now I'm studying business administration with a focus on international management.
Melanie Leupolz: 110,000 Facebook fans
You have a personal contract with Allianz, could that be an option?
Leupolz: Yes, possibly. I did an marketing internship there, I liked that a lot. You have to make use of your time as a pro soccer player to contacts for the period afterwards.
Danner: I've been here for so long, I've seen so much, but this is a new age group that has everything on the screen. They're in demand out there, and they have everything they need for the working world later: stress management, responsibility, advanced training – they're fit for the companies and have quite a lot over other professional newcomers.
For example, presence on social networks. Melanie, you have easily 110,000 fans on Facebook, and close to 100,000 on Instagram – that makes you interesting for sponsors. 
Leupolz: I primarily do it for my fans, who are especially active on those channels. But sure, the popularity is definitely interesting for advertising partners, too.  For example, super.good.food recently sent me a couple of packages of oatmeal, and they wanted a post for that. You have to see if that's worth it. Then I did it because I can identify with them. The sponsors are impressed by authenticity, and naturally they're happy to get a couple thousand Likes – but again: that's not why I do it. My fans on social media above all want to get to know the private Melly.
You frequently post pictures together with your boyfriend, Gummersbach handball pro Kevin Schmidt.
Leupolz: That's part of it to a certain extent.
Däbritz: The fans want to get to know us in our normal lives, and sponsors benefit from that, too. 
Danner: That's not my world, but I can see how sensible it is for the girls to do it. And when you see what kind of numbers are circulating there: Right now we with the Bayern women have 3.8 million Facebook fans – it's crazy how many people you can reach there. And yet you still don't fill up the stadium. We still have plenty to do.