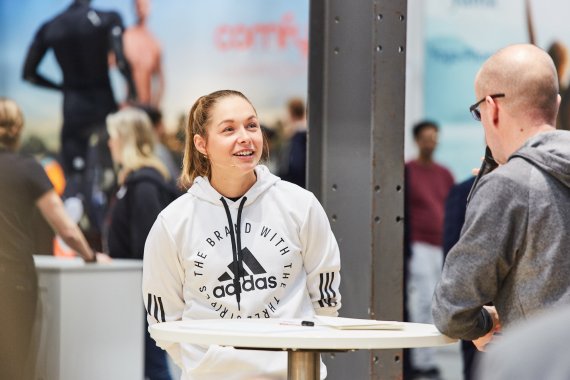 The number of listeners at the one-hour speech of the fastest woman in Germany at the ISPO Munich grew minute by minute. Relaxed, authentic and refreshingly open, Gina Lückenkemper revealed some of the secrets of her success, which made her the first German woman in over 25 years to sprint the 100 meters distance in under eleven seconds.
With silver at the home Championships 2018 in Berlin, Lückenkemper became the new German athletics heroine - but in the year of the World Championships in Doha, Qatar, this should by no means be the end of her rocket-like ascent.
"A time of 10.95 seconds sounds pretty awesome - I could even start with men at the West German Championships", Lückenkemper said with a grin and added: "But I'm only 22 years old and still have potential upward. So far, I've primarily learned to walk properly."
This remark of the Supersprinter, like many others, made the audience laugh. What Lückenkemper meant by this, is the concentration on her running technique training, which is now supplemented by strength training twice a week: "We decided on this very consciously to prevent me from getting exhausted too early and from overtaxing myself."
Nevertheless, the daily training puts a strain on Lückenkemper in such a way that she needs a very special kind of regeneration: "The midday nap is essential for me. My head needs it." And reagrding the head: Another basis of her success is daily neuroathletics training.
Lückenkemper works according to the methods of the book "Training begins in the brain" by Lars Lienhard. The sports scientist already helped the German national soccer team on its way to the 2014 World Cup title in Brazil and has been accompanying the sprinter since 2016.
"At that time, I had pain in my flexor for more than four weeks and our great team of doctors just couldn't get it off. Then I went to Lars and was free of complaints after half an hour. I didn't have any problems at the Olympic Games in Rio", reported Lückenkemper.
Neuroathletics training has nothing to do with hocus-pocus or miracle medicine. It is more a matter of keeping the main nerve cords to the brain intact with special stretching exercises: "You have to imagine these nerves to be like a garden hose. If there's a bend in it, the head says it hurts." By the way, Lückenkemper has remained injury-free since the beginning of neuroathletics training.
The sprinter then presented some of the simple exercises for different body regions, which are also possible while sitting, with a model in the Health & Fitness area in Hall A6. Lückenkemper now also works with Lienhard on visual training: "The visual system is extremely important in sports. If it doesn't work in your brain, you can't perform."
The economics student at the University of Bochum therefore always has a 9-volt block battery with her during training. With it, she shocks her tongue: "It activates learning processes in the brain." Sounds crazy, but seems to work.
In the meantime, however, the training conditions are suitable for her. Nevertheless, Lückenkemper moved from Leverkusen to Berlin so that she could continue to run in the shoes of her sponsor Adidas. Lückenkemper is probably the only German athlete who can make a good living from her sport.
This is another reason why she is picky with her sponsors and partners: "I don't want to be an influencer but an athlete. I don't have discount codes like Gina 20. I don't think that's authentic."
In addition to her ultra-fast times, this certainly has something to do with her talent for communication: "I like to talk. That's what I like to do most next to sprinting." The listeners at the ISPO Munich, in any case, were completely thrilled.