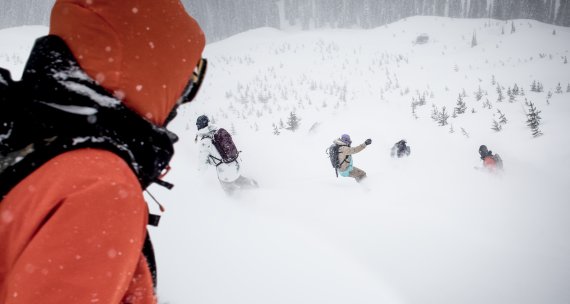 For years, Marion Haerty has been one of the best snowboarders in the world. In 2017 she won the Freeride World Tour, in 2018 she became second. This season, starting in Japan at the end of January, the 26-year-old is again one of the favorites. Prior to the world championships, she presented her new film Pulp. To ISPO.com. she explains what it is all about.
Mrs. Haerty, before you get serious about freeriding, you presented your film Pulp. What is it all about?
Marion Haerty: It's about the simple, carefree times on the board. It's a tribute to snowboarding with friends, parties, fun and fat lines, with my friends Austin Smith, Blake Paul, Spencer Schubert and many more.
We shot on Hokkaido in Japan: the perfect spot for powder boarding! But it's not so much about performance, it's about us having fun in the snow, on the board - and how we share those good moments. Actually, it's about happiness.
Is it your first video?
The first with The North Face, my sponsor since last winter. But for this and the upcoming winter we already have more projects in mind. It's all super exciting for me. When we as athletes have an idea, the marketing people listen to us and try to implement it - I didn't experience that before! You can really feel the "good vibes".
Is this your first big sponsor?
I was at Ripcurl for almost six years before that. But with my new vision of the Big Mountains it was time to switch to another brand - and The North Face fits perfectly.
A nice side effect is that you can now make a living with snowboarding.
Right now, I really can't complain. The world champion title in spring 2017 has already changed my life.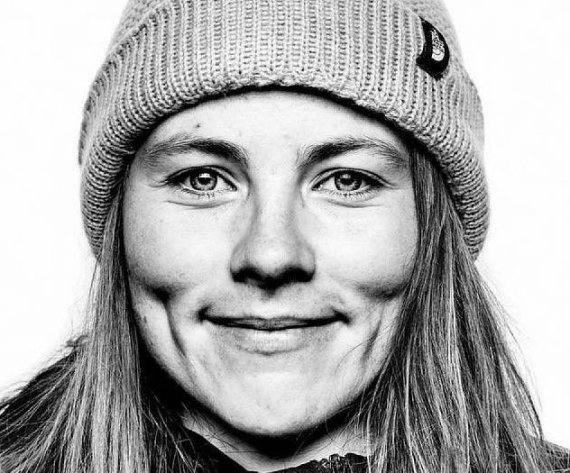 Did the call come from North Face after winning the Freeride World Tour?
No, shortly before. 
Could you live off snowboarding before that?
Not at all! It makes a huge difference. I never thought there'd be such a big difference. Now I can fully concentrate on my snow projects. I also want to improve my level on the Freeride World Tour. I already have a world champion title, but I think there is still room for improvement. I still feel a lot of energy in me.
How did you finance yourself in the time before North Face? Your job's a lot of work, isn't it? Competitions in the most remote places, training, equipment, accommodation...
The time before the world champion title was always about finding a good job for the summer. I wrote articles for the French sports newspaper "L'Equipe" and worked as a wakeboard instructor in Lacanau on the French Atlantic coast - a very relaxed place, the perfect mix of surfing, working and lifestyle.
In 2016 you made it from the qualifier event directly into the main field of the Freeride World Tour...
Within a week I won three qualifiers - and was then in the main field. Before that I had been in the Slopestyle World Cup - that was a big change.
The final of the Freeride World Tour traditionally takes place in Verbier. The men ride from the top of the mighty Bec des Rosses, the women from the shoulder of the Bec des Rosses, so to speak, one floor lower...
… but also from there it is quite scary ...
At the beginning of the Freeride World Tour women should not even start at the same event as men. Former world champion Aline Bock and Anne-Flore Marxer finally successfully worked to ensure that the two at least ride on the same mountain. How important is it that women and men start together?
I'd love to start from the same point as the men!
The Bec des Rosses?
I've wished for this all my life. On the other hand, I understand that it can be dangerous for us. But maybe one day we will start from the same point - when women have improved their level. But at the moment I don't want to waste so much energy in this discussion, but rather concentrate on my competitions.
I see. One more question: Did you privately ride off Bec des Rosses?
Two times already.
And? Scary?
Oh yeah! But it's crazy: I like tracks on which I can go really fast and jump off cliffs.That's why Verbier is my favorite event. It's a bit like at my home Chamonix, where I always train in winter. 
Your compatriot Jeremie Heitz was for many years the fastest on the Freeride World Tour. Do you have any role models that you emulate?  
I like to watch Victor de Le Rue and Sammy Luebke, and I hope that one time I can jump such crazy tricks and backflips. 
You're working on the backflip?
Yeah, for a while now. I also work a lot on my head - the mental part is just so important. Maybe I'm still too emotional. I often stand at the start and think, "Damn it, I don't believe in myself!" And I know I can do it. I'm now trying to put the pressure aside and just have fun being in the moment.
Do you have a mental coach?
Yes, I call him when I think I need him, when my heart is too heavy and I am too stressed. I'm getting a lot out of talking to him. It's also about hypnosis. Thanks to him, I can relax myself quite well. When you're in the Big Mountains, you need to be very focused and present. If you make a mistake, it can be very dangerous. That's why I'm trying to organize my emotions.
Do you have any ritual, for example at the start?
I like listening to music. Two days before the competition I choose a super cool track with which I throw myself into the slope. It's like a dance for me. And before it starts, I clap my hands twice, I don't know why. Somehow it wakes me up, releases all the energy in the body.
How important are social networks for your job?
We have to be a good mix: not only athletes, but also communicators. That can be pretty exhausting. I'm trying to focus on how I can get better on the board - but at the same time I need to communicate better, work with GoPro, put images on instagram. You have to be multifunctional.
Sometimes I need help. And the day before the competition, I'm completely offline. As soon as you open Instagram, you develop feelings: you are sad, angry or hungry - and these feelings simply interfere with the preparation for the competition. I'm also trying to encourage my sponsors to help us with this Instagram work. We need tools, appropriate teaching and someone to show us how we can get better.
How many followers do you have on Instagram?
31.000.
What about Facebook?
I don't focus on that at all anymore. The future of my generation is Instagram.
What about Youtube?
It would be interesting to have my own channel. I don't have one yet, but it might happen soon. After all, I am on the road with the GoPro all the time. But I'm trying to be original and not just do the standard stuff. We're already working on a very special project, but I can't tell you any more yet...