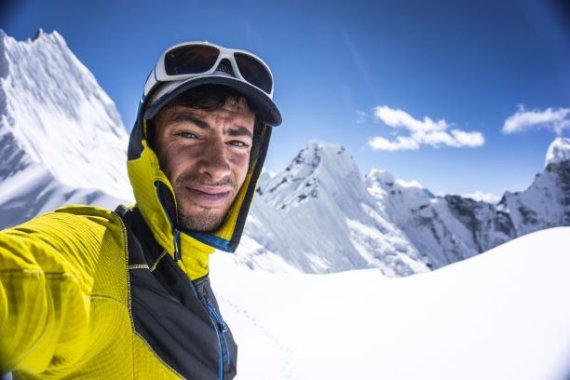 The Spaniard Kilian Jornet has numerous records and great victories in trail running and ski mountaineering to his name. Although his most recent record attempt in 24-hour running failed, his popularity has not been diminished. Jornet uses his reach and fame to focus on nature conservation and environmental protection. Recently, he even set up his own foundation.
In an exclusive interview with ISPO.com, the Salomon athlete looks back on his 2020, talks about the responsibility he feels goes hand in hand with his status as a sports role model, and how World Cups in various disciplines could be held more sustainably in the future.
Kilian Jornet is one of the top speakers on the topic of sustainability at ISPO Munich Online (February 1 to 5) where he will share his vision and approach with the audience.
ISPO.com: Bonjour Kilian, comment ça va? How is life in Romsdalen, Norway? How was 2020 for you?
Kilian Jornet: We didn't have any big problems concerning the virus up here. 2020 was kind of funny. I wanted to try to run more on flat terrain, then I got injured and had to recover. But the good thing with all the restrictions was: Normally we travel far, but this year was the time to explore the backyards, the Norwegian mountains. We have been able to go outside quite a lot, compared to many other countries.
We used to know Kilian Jornet running up and down the mountains. Why did you want to run more on the flat?
It was not possible to go on any kind of expedition in 2020, we had to cancel that. So, I wanted to try something different, train different, learn different things – and to take the things I learned for more mountain activities.
You surprised us with your 24 hours running challenge. In your career you had a lot of runs that lasted even longer. But this one was a very special experience, wasn't it?
It didn't go very well. I had some chest problems. I still don't know exactly what happened. But the training had been very interesting, because I learned a lot about nutrition for the run and about pacing. And in the end, I was like: why not?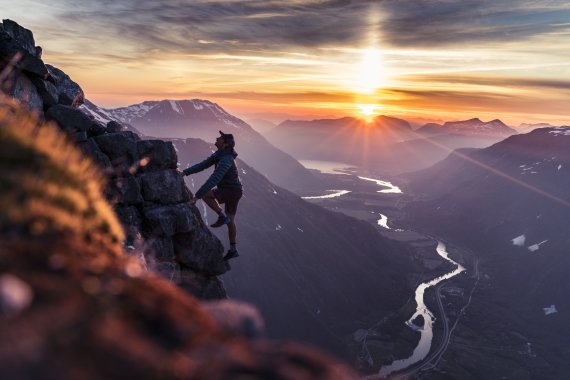 At least there was no need to think about risk management as in the mountains. You are father of a little daughter and your next child is on its way:  Does this have an impact on your risk management in the mountains?
Not really. I was in the Himalayas, did some trips in Norway. I always tried to be as objective as possible, considering my capacity and the conditions. When I take a risk, I know the consequences – and I accept them. But it is the same with  other things: when driving a car or things like that. Even when training for the run in the flat, I had to train two or three days in the mountains – I just need that for my mental wellbeing.
Before the coronavirus pandemic you used to travel a lot: to competitions, events, expeditions. Do you miss it?
Not all of it. I miss the high altitude, the time you spend completely alone on a big mountain. On the other hand, it was really cool to be home and climb mountains right here. When you travel you lose so many days just travelling. I like to train every day, to be in the mountains every day – and that is happening, when you are not travelling as much.
And travelling also hurts the environment. Talking about events and sustainability: Do you think there is a need for major changes concerning running events or any kind of outdoor competitions?
There is a need for a personal commitment of every athlete. I know a guy, who has decided not to take any flights to go racing, not to create more than three tons of carbon emissions per year. But every athlete has to feel comfortable with what they do.
Of course, it's easier for me. I don't have to run that many races and don't travel that much, compared to a young guy for example, who wants to compete constantly. On the other hand, it's important, how we structure the calendar. Do we need to repeat the same kind of event in different places around the world? Maybe it would be good to start some other formats. One possibility would be more local races, where you get some kind of qualification for an international final. Hold high level competitions locally and international competitions one or two times a year. We need to promote this concept to federations and organizations to avoid the world circuit format as much as possible. It would be much easier for athletes to travel less. This could be a good example for all sports, that have the same model.
Do you see already any movement in the organizations you mentioned?
It's starting to become a conversation. This is the first important step. The feedback in the race surveys during the world circuit show, that there a many questions and comments about the importance of the environment. I think within the next four or five years a lot will happen in this direction, because many of the athletes are concerned about it. I know, by then we will have the strength to talk with the federations to change that model.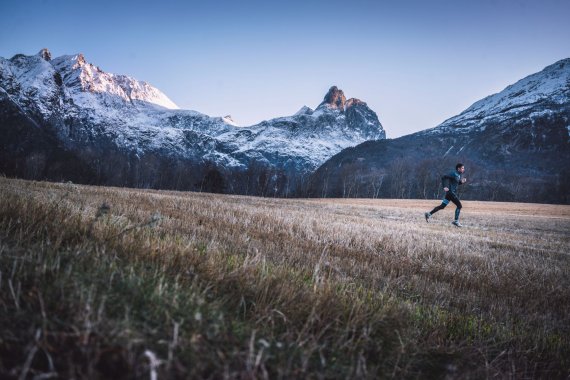 Talking about models: You are not only a role model for many young athletes but as well a very important mentor for the outdoor companies you work with, for example Salomon. How strong is the influence of an athlete on the development of products?
That's one of the roles we have. An ambassador should not only wear the jacket of the sponsor for product placement. Most important is advocating and pushing the brand to be better on the performance side, for example by talking with engineers about let's say a backpack. What are the source materials? Where did they get them  from? Is it possible to replace those source materials with recycled materials? What is the design? What are the cutting patterns? Can I recycle the backpack afterwards? Is there any modularity? Athletes need to push on design as well as on product cycle. We need to ask: What are the politics of the brand concerning sustainability? Is it only marketing? What does the supply chain look like? How long does the gear last? Are there business models like second hand? Is this communicated through the brand? That's our role as athletes: pushing the brand to do it.
You have been with Salomon since 2007. How has this role developed over the years?
2007 sustainability was a very small topic. It was just there in a corner. It was like "We shouldn't do bad, we should do good". Today it's the opposite. Sustainability is a big concern. Some brands are going faster, some slower, but all brands are going in this direction, which is good. I think it is important to share resources, to share knowledge for example about PVC-free materials. It would be good to be more on the open source side.
Talking about function: How would you perform today with material from let's say 2007?
There have been very good products back then, but for example mountain shoes used to be very heavy. The big difference is: At that time, we had one shoe for everything, today we have many different shoes for each kind of pursuit.
Salomon even constructed a special boot for your Everest expedition.
It was a very interesting concept: an over bootconcept for my running shoe. I didn't need to carry different pairs of boots for the expedition.
Some months ago you started a new project: the Kilian Jornet Foundation. What is it all about?
The goal of the foundation is the preservation of mountains and their environment. I thought I could use my voice to start a conversation about the environment and sustainability in the mountains. We are working on different pillars. One is funding research, because we need to know what the best tools are to fight climate change or to preserve biodiversity. Another pillar is raising awareness, to bring the conversation to the people, to show why we should preserve the mountain environment – and how we can do it. That is for individuals, for brands, for institutions. And the last pillar is direct actions: local or seasonal problems, that we try to solve, for example by planting trees or cleaning an area from plastic. All these projects can either be started straight by the foundation or be collaborations with other organizations.
Sounds like an Everest of work. So many options to help. Where to start?
That's right. Everywhere you look, you can find an idea to help. We just started! Now we have three projects going on and we are building new projects for this year. It's like always in life: "Oh, we should do this and that!" I love my life, the emotion of winning a race or climbing a mountain and I will not stop. But it's cool to work with people on other things, that you see, that you can help save the planet.
But it sounds like your day would need much more than 24 hours…
It's like everything: You need to prioritize. In the past I used the time for press things or photo shootings for a brand, now I want to use that time for the foundation.
In general: Where do sport and sustainability fit together well?
Each discipline has its plus and minus, especially outdoor sports. There was a study from Germany last year about carbon emissions: outdoor sports was way higher than indoor, because of the travelling. Most people that practice outdoor sports don't live in the mountains, they live in the city and need to get there, although they have a higher environmental conscience about carbon emissions. Of course, the carbon emissions of a ski mountaineer are lower than those of an alpine skier. Of course, sport is important for health. A healthier society helps to have a healthier planet. When we are healthier it's easier to solve other problems. I believe that sport has the role of being an example for other industries. On the other hand: sport also has an impact on the environment, and we have to reduce it as much a s possible. There are industries, that try to be more sustainable – and they influence other economies and industries, they get inspired by what other companies are doing. 
Sustainability will of course be one of the major topics of ISPO Munich Online 2021. The claim of this year's edition is "Sport is stronger". Can you think of any moment, adventure or experience, where this claim would be fitting as well?
Right now, we are living in a period, where we are facing a lot of issues. We need a stronger, a healthier society to be able to face big problems like an epidemic for example. Sport is not only about enjoying yourself and having fun. We need to advocate that sport is health. That's one thing where sport is stronger.
And sport is also mental health. Being outdoors, alone or with other people, is important for mental health, especially in times, when we have to live in quarantine or lockdowns and spent a lot of time indoors.
And when it comes to sustainability: Sport is the vision in which world we want to live in. Talking about outdoor sports: we want to ski – we need snow, we want to go trail running – we need mountains, we want so surf – we need a clean ocean. If you want to practice these sports, you also need to be strong on protecting these playgrounds.
So, I think sport is strong on physical and mental health and for being strong in protecting the playgrounds.