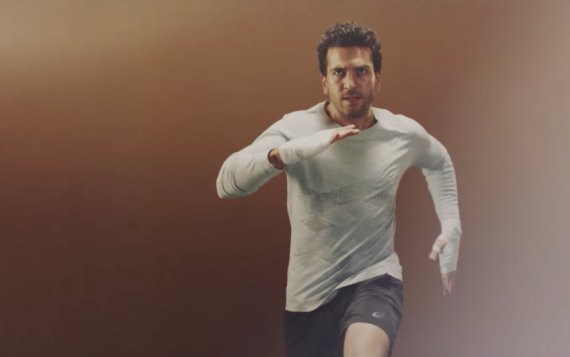 Ready for Hollywood or just a bit over the top? In the Asics advert, Elyas M'Barek (known for his appearance in the film "Fack Ju Göthe") shows off his sporty side. The three adverts are called "Schmerz" (Pain), "Euphorie" (Euphoria) and "Entschlossenheit" (Determination) - and can be watched below.
The 34-year-old is heard saying "I am the fist," before knocking out his opponent, a clone of himself, with a strike across the face. Blood is drawn.
Asics Director: "These films could divide our audience"
The Asics advertising campaign is the first big campaign that has been handled by Lure Media, a relatively young content agency based in Berlin. "For me it was important that the films offer something unexpected," says a quote from Björn Hamacher, the marketing director for Asics Europe, at horizont.com. "I am completely aware that these films could divide our audience."
Read more here: Asics buys the Runkeeper app
Elyas M'Barek is Receiving a Large Fee from Asics
Hambacher said that Asics wanted these online adverts to appeal to a younger target group, 14 to 25-year-olds: "Elyas convincingly and authentically the ideas of training. We chose him as our star, hoping that he will help us to reach a different target group.
In the adverts, M'Barek places Asic's training collection for fall / winter 2016 at center stage. The campaign is running under the tagline, "want it more."
The actor from Munich, who has almost 2.5 million Facebook followers, will according to industry information receive a six-figure sum for his appearance in the adverts. M'Barek also does advertising work for Orangina, Jeep and Sky.
Read more here: Evalu.Run – Coaching App from the Insole
Video: Elyas M'Barek in "Schmerz":
Video: Elyas M'Barek in "Euphorie"
Video: Elyas M'Barek in "Entschlossenheit"