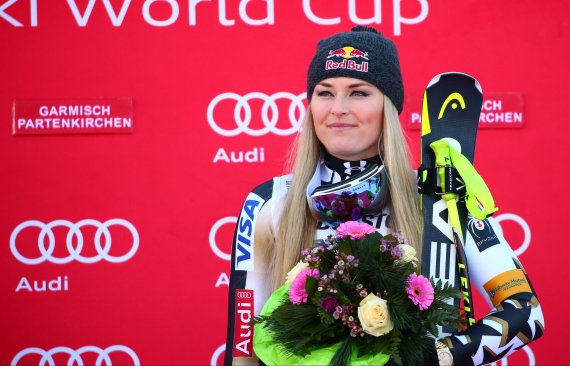 Lindsey Vonn was probably the most dazzling figure in the women's alpine circus from 2004 to 2019. For years, the US American combined sporting success with glamour. The downhill and super-G specialist won the overall World Cup four times, with her last overall triumph dating back to 2012.
With 82 victories, Vonn is the most successful World Cup racer in history. Her 18 World Cup wins at one venue (Lake Louise) are also unparalleled.
After the 2018/19 winter sports season, Vonn ended her career at the age of 34 - befittingly with a World Cup medal (bronze in Are, Sweden).
Before her big appearances on the slopes, the extroverted American made tabloid headlines as she often does. She is said to have enlisted her male colleagues and friends Kjetil Jansrud and Aksel Lund Svindal to find her a new partner.
In general, it's been Vonn's man stories that have dominated the headlines in recent years - whether it's her failed relationship with golfer Tiger Woods from 2012 to 2015 or her love affair with an NFL assistant coach.Vonn has been engaged to professional ice hockey player P.K. Subban since 2019.
Successes:
Four times winner of the overall World Cup, twice world champion as well as once downhill gold at the 2010 Olympic Games in Vancouver. Lindsey Vonn is the most successful alpine skiing athlete of her generation.
Eight small crystal globes for winning the downhill World Cup demonstrate her dominance in the high-speed discipline.
Social:
Instagram2 million followers
Facebook: 1,4 Mio followers
Lindsey Vonn is the clear number 1 on Instagram and Facebook among the stars in alpine skiing. Even the active alpine men can only dream of her follower numbers.
When the breakup with her boyfriend Kenan Smith was announced in the fall of 2017, she let her fans in on it with a cryptic tweet. "Sometimes no matter how hard you try, you're just not good enough," Vonn tweeted. On Intagram, she also gives glimpses into her private life with fiancé P.K. Subban, but also shows clear edges with political and social statements, such as on the Black Lives Matter movement.
Suppliers/Sponsors:
Head (skis), Oakley (goggles), Leki (poles), Briko, Reusch, Rolex, Under Armour.
Revenue:
With an estimated annual income of €2.5 million in her final years as an active athlete, prize money accounted for a relatively small portion, around €100,000 per season, compared to sponsorship income and advertising deals.
Meanwhile, Vonn is also a businesswoman: As the face of ski equipment brand Yniq, in which she became an investor in 2019.