"OutDoor by ISPO 2023 was a huge success", said a satisfied Tobias Gröber at the end of the three-day trade show at the MOC. "While 2022 was still a 'post-Corona edition', this year showed that the international brands and retailers are happy to come to Munich again." The Head of ISPO Group was also happy about the atmosphere: "It was just as the industry loves it: familiar, friendly, professional." In this sense, the last day of the trade show was a little quieter, as usual, but this also allowed the public time for more intensive conversations - and a few familiar faces also made an appearance...
Bénédicte Herbout and Marie Queneuille begin their Climate Pitch with a simple question: What makes you happy? The answers are unsurprising for the outdoor-loving audience: biking, hiking, surfing. The point of the question becomes clear at the end, when the speakers point out that it's not necessary to consume a bunch of CO₂ for these activities. And it is more than urgent that individuals and companies finally act and minimize their CO₂ footprint. The consequences otherwise are fatal: heat waves, forest fires, flooding, sea level rise and many other disasters await in the future. Bénédicte and Marie make it clear in their Climate Pitch: "Every action matters, every bit of warming matters, every year matters, every choice matters!"
Celebrity magnet OutDoor by ISPO: On day three, two sports legends took a look at the latest products and trends: Mountaineering legend Reinhold Messner and former ski racer Christian Neureuther. Messner reports: "I've been an outdoor person for almost 80 years. I'm very interested in seeing what innovations are out there. Sustainability is, after all, now an important topic here at the trade show. The crucial question is: How seriously are sustainability and recycling really taken? Sooner or later, everyone will have to get on board with this, because there's no other way, both practically and emotionally, if you want to get people on board with these issues." Trail run pro Janosch Kowalczyk also had a look around and was a guest at the Run & Trail Summit by Runner's World.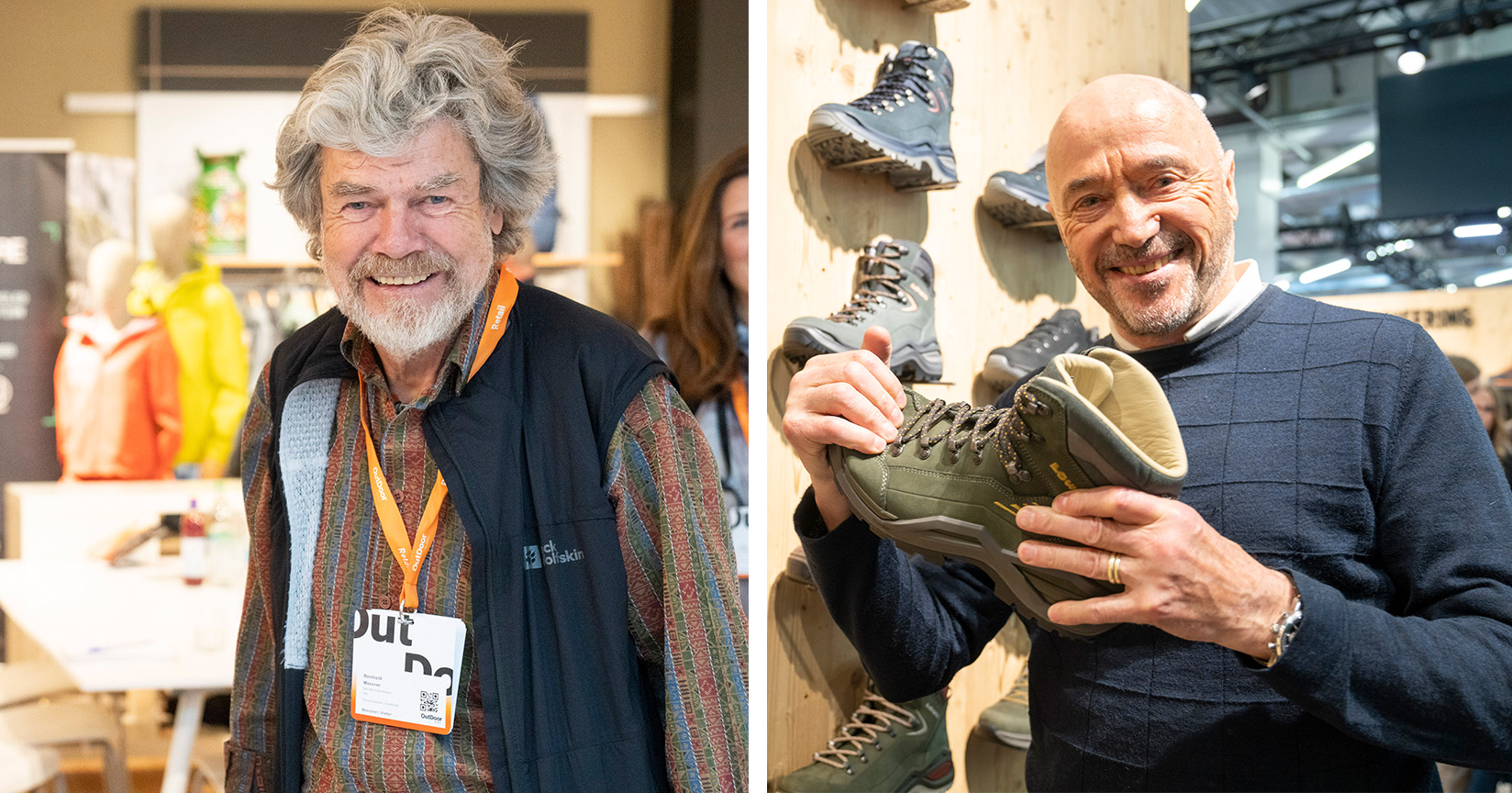 Brands can benefit massively from the growing popularity of sports tourism. This is reported by Maurici Carbó, sports tourism consultant. Sports tourism is booming again and continuing to grow after the sector slumped in the Corona pandemic. The global sports tourism market was estimated at $587.87 billion in 2022 and is expected to grow at a compound annual growth rate of 17.5% from 2023 to 2030. Among them, Europe is the largest market by revenue share, with 38%. It is observed that sports hotels are increasingly specializing in one sport rather than targeting the large mass of tourists, e.g. hotels with tennis or golf camps, hotels specifically targeting bike and MTB riders*, but also niche sports such as rugby. "People want their vacations to be active - whether young or old," says Carbó.
Sports brands and retailers can create synergies with outdoor sports tourism hotels, destinations and businesses. For example, through partnerships with major hotel chains or tourism regions, as well as partner marketing programs. Major sporting events, competitions for professionals and amateurs (e.g. triathlon) are also areas that show great growth potential and benefit from sports tourism. Here, too, brands can position themselves visibly and benefit from growth.
On the third day of OutDoor by ISPO, numerous visitors gathered around Anna Rodewald and Cira Riedel. The two founders of GreenroomVoice gave daily tours of the extensive exhibition in the Sustainability Hub at 11 am. And every day there was great interest in the creative solutions of 30 brands, organizations and service providers on decarbonization, climate protection, circular economy, preferred materials and design.
Many aspects were not only addressed, but also illustrated with concrete best-practice examples. For example, Icebug used a solar installation for a factory in Vietnam to show how costs and CO2 emissions can be saved at the same time. With their Material Facts program, Rab and Lowe Alpine have found a way to communicate important environmental data about a product to consumers in a comprehensible and comparable way. Exped, on the other hand, extends the useful life of its sleeping mats by using a clever inflation method. Initiatives such as "Green Button" and "myclimate" also made presentations. "Some of them are small steps, but they are encouraging and can show the industry possible solutions for the feasibility of a circular economy," said the two initiators. To learn more about the projects, visit GreenroomVoice.