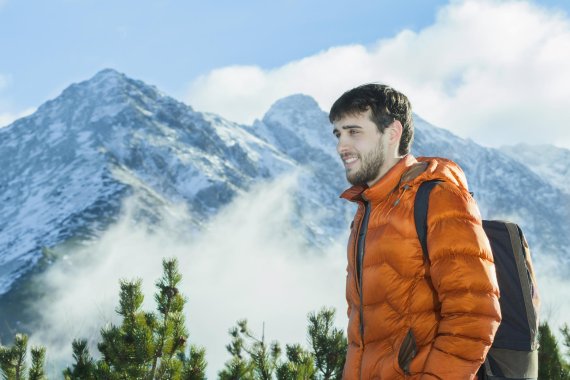 Re:Down is a small company with international reach, with its headquarters in Las Vegas and a branch in Lyon. Together with an outdoor company, Re:Down has developed a method by which used down can be collected, cleaned and re-integrated into textile production processes.
That the down can be re-introduced into textile production is a key aspect – for a long time, down and feathers were collected in containers for old clothes and further processed for other uses from there. However, the materials could not be used again by the clothing industry. They were either too expensive or the quality was not high enough.
"There was no market for it," says Eric Firmann from Re:Down. This used to be quite different. "Recycling down is not a new idea," explains Firmann. In the past, it was totally normal for down and feathers from duvets and pillows to be cleaned and reused.
Down and feathers were expensive, so rather than throwing them away, people preferred to clean them. There were many businesses which specialized in doing this work. "This was until the beginning of the bedding industry, which prized white 'virgin down' and looked down on recycled down," explains Firmann.
As a consequence, there is now virtually no used down available on the market which is of high-enough quality to be used for clothes.
It is in this area that Re:Down is working, offering used downs at a broad range of quality levels. So far, customers can buy down with a fill power of up to 600, which is the average down quality in the clothing industry.
"For a down parka with a solid outer fabric, that is enough," says Firmann. For thinner fabrics, a finer down is needed, one with fill power of up to 900. Re:Down is still working on being able to offer this quality. Something that will however be very difficult to do is to separate duck and goose feathers and down.
Yet, according to Firmann, the biggest challenge for marketing his products is not the clothing industry. It's less difficult to find buyers for high quality down than for the other qualities. From a ton of down and feathers, only a small proportion of 20 per cent can be processed to make the higher-quality down filling.
"I want to sell all levels of quality, even down to broken feathers and feather dust," says Firmann. "Only then is our product sustainable, only then can we offer an attractive price."
"If we want to offer a real alternative to conventional down, two things need to be right," says Firmann: "The quality and the price."
Getting the quality is doable – the first products resulting are already on the market. The price will completely depend on how well the overall marketing of the recycled feather materials goes.
In the long term, the price will even be advantageous. His product is not dependent on the seasons or disasters such as bird flu, so Re:Down can offer a stable price. In comparison to this, the market price of new down has undergone quite a few turbulent periods in the last few years.
The recycling of valuable materials also has another positive effect: The origin of the down can be traced 100%. This means that the customer buys with the knowledge that animals did not have to suffer to get the down.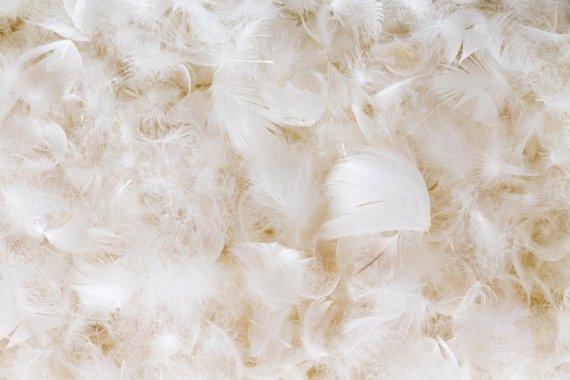 Down and feathers mostly come from Europe. In contrast to the USA, the process of gathering used textiles functions well in Europe. There are enough consumers there who give away used textiles and there is a functioning, extensive system of recycling companies who collect and process the textiles.
Most down and feathers collected by Re:Down come not from clothes, but from bedding. "We don't recycle down from jackets. Cutting open all the different compartments to get the comparatively low amount of down is not worth the effort," says Eric Firmann, who manages the branch in Lyon.
In Lyon, the first steps of the recycling process also take place. Here, the down and feathers are collected, sorted and sent to Hungary, where the material is washed and further processed.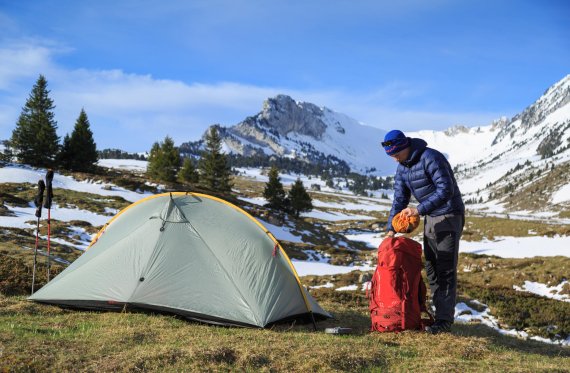 For Re:Down, it was important to recycle natural materials. But it was also just as important for them to find eco-friendly and sustainable processes. Washing the down requires a lot of water and energy. For this reason, the factory in Hungary was built in a location where water springs up from the ground at a temperature of 38 degrees. "We thus use less energy and spare additional costs," says Firmann.
The used water is also recycled. Firmann explained that this was similarly so that "we only use as much water for the cleaning processes as we need." The whole process has been certified and carries the Global Recycled Standard label from Textile Exchange.