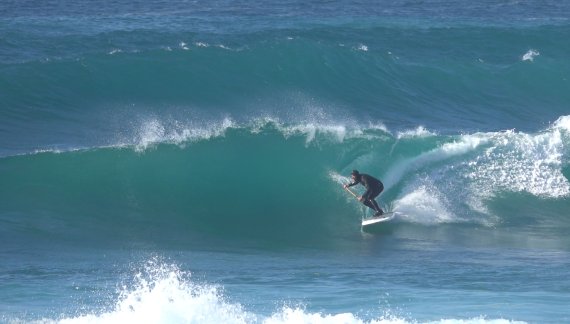 Mercedes is now getting engaged very specifically in the sports of wind- and kitesurfing and stand-up paddling. Big wave surfer Sebastian Steudtner is a brand ambassador for the automotive manufacturer.
On Mercedes' part, it's that they see a connection between the Mercedes brand and the passion for dynamism, innovation, and striving for peak performances. These sports feature the same goals. Precise figures on this engagement aren't known, however.
But how are scene insiders reacting when big investors suddenly want to get something out of them – out of their carefully maintained surfer or paddler image? Expert opinions are divided. These five industry authorities from all kinds of water sports gave us their thoughts on the matter.
Stefan Klare, idea generator at Tripstix
Darren Bush, kayaking bedrock and organizer of the world's largest paddle show
Florian Brunner, trainer in the Association of German Water Sports Schools
Tao Schirrmacher, river surfer and founder of Big Ding
Casey Higginbotham, world record holder in prone paddling
Martin Fahnemann, Head of Sales & Marketing at Finis
The sponsorship trend is desirable
Stefan Klare, CEO and source of ideas at the start up Tripstix. The firm manufactures inflatable stand up paddle boards, which "should provide a substantial alternative to hardboards."
From the businessman's perspective, this trend should definitely be welcomes, as big brands make for new opportunities to take the sport to a new level. There is, however, the risk of the "soul of the sport" being lost. In the long-term, it can even lead to a market drop.
Darren Bush, organizer of Canoecopiathe largest paddle sports show in the world and the biggest kayak symposium in North America:
With paddle sports, everything up to a few exceptions has all been "homegrown." Looking at our humble beginnings, I'm pretty impressed with the abilities of our paddle sports companies. They've used more and more technology and materials from other industrial areas to improve our products. Some examples include the use of Kevlar, as well as resin and thermoforming, etc.
Fundamentally, it's always good when other industries and their technologies play a part with a sponsorship. We don't even have one-hundredth of what professional sports have in terms of marketing power. When a company nevertheless ventures to invest in paddle sports, that's a big win for us.
Surfing and co. offer lifestyle
Florian Brunner is an instructor of the Association of German Windsurfing and Watersport Schools (VDWS) and a managing partner of APM Marketing GmbH, German importer of the brands Starboard (SUP & windsurfing), Severne Sails, and Airush Kiteboarding.
Water sports like windsurfing, surfing, kiting, and now also SUP stand for summer, sun, lifestyle, and fitness like no others. Driven by wind, waves, or brawn.
That fits perfectly with the lifestyle alignment of major brands. Also not to be forgotten are attributes like environmental protection and e-mobility. These collaborations are absolute win-win scenarios.
Tao Schirrmacher, multiple-time European champion in stationary wave riding and founder of Big Ding. The company was founded in 2011, and distributes surfboard repair products. The sets were developed so that surfboards could better withstand the stone walls of Munich's Eisbach river.
I think it's incredibly important in surfing to get rid of the classic surfer image. Before, surfers may have been long-haired, toking types. But today the kids are much more designed for performance: eating well, training hard, and surfing better. By now surfing can be compared with any other professional sport, regardless of whether you're talking about tactics, training, or chutzpah.
Sponsorship budgets increase attractiveness
Casey Higginbotham, paddle boarder and world record holder in prone paddling:
I think it's very important. It's another opportunity to increase our market. These companies can reach a considerably larger amount of people. When famous brands support the sport, it also brings much for sponsorship money for the time into the scene.
When Nike invested in surfing in the 2000s, more money came into the surfing scene that had ever been seen in professional surfing. Even if these brands often disappear back out of the scene rather quickly, it still increases awareness tremendously. The effect that brings can also be felt after a long time, even if the brands have long since stopped playing a part.
Martin Fahnemann is the Head of Sales & Marketing in the EMEA region at Finis. The company was founded in California in 1983 and since then has supplied swimming products to the world.
The water sports industry lives off of the sales of its products. A sponsorship at the right events naturally shows the presence of the brands. External sponsors, who sometimes have much higher budgets, can lead to an increase in attractiveness for the events and to more viewers. Then the water sports industry profits from it directly.