Right after graduation, Ines Thoma quit her teaching career and threw herself onto the enduro race bike instead. For ten years, she traveled the world as Germany's best rider. And then, over a year ago, daughter Romy jumped into the bike trailer. Since then, the Allgäu native has been trying to master the balancing act between the joys of motherhood and the challenges of competition. Successfully. The 32-year-old recently finished seventh in the Enduro World Series (EWS) in Petzen. Already heavily pregnant, she also fulfilled a dream: together with Max Schumann, she realized the book project "Tuscany Trails: Mountain Biking & Dolce Vita in the Heart of Italy". She tells us what makes the mountain bike scene in Italy tick, why Italian trail builders are different, and how it feels to return to international professional sport with a child.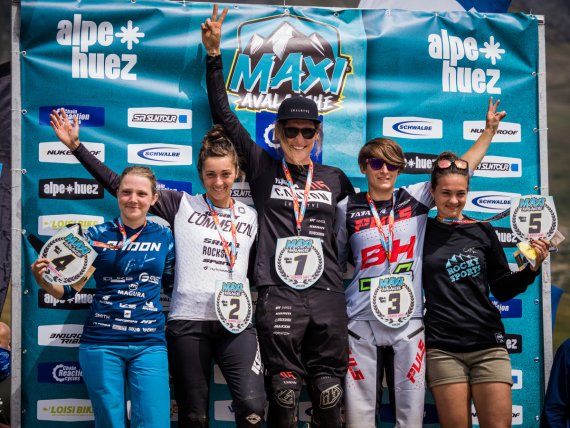 ISPO.com: Congratulations, Ines, you're back in professional sports. After your daughter Romy is just over a year old. How do you feel?
Ines Thoma: That was a really cool weekend in Petzen. I slipped into the top ten on the Pro Stage. That exceeds all my expectations. In this context: Thank you to my mom and Max (Schumann, editor's note), who helped me - not only this weekend - in so many ways.
What was it like to first appear on the international professional mountain bike scene with a child?
The competitive sport is very male-dominated. I also noticed that in my team that there are simply also men who automatically think that it's just a woman with a child. She certainly won't be competing in any more competitions. And they don't mean any harm. Our society has not yet reached the point where it is 100 percent balanced. And it can't be. You always need someone to be with the child, and automatically it's often mom - also because of breastfeeding. But most of them think it's really cool. And I think people don't really care what kind of result I get. At the beginning, I thought I had to prove to everyone that I could still drive at the front - especially to myself. And now I've realized that I can't do it anymore.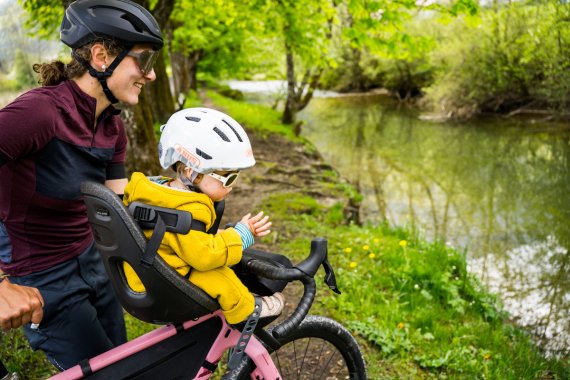 And three weeks ago you still doubted whether you would be able to do all the distances and finish the competition in Petzen. How much training have you done in the past weeks and months?
I often only have time slots of two or three hours, for example when my mom is looking after Romy. And so far I haven't done many competitions. But that would be crazy if I could do that. My years before that, without a child, I spent eight hours a day training. That was a full-time job - with regeneration, stretching, yoga, physiotherapy, massage, and, and, and. I also had to drive to a bike park or to certain downhill tracks, or prepare my bike. And suddenly a day is over. I don't have that ambition anymore. If I'm realistic, it doesn't work either. But I still think it's cool that I can say: I'm still doing this job. And maybe I'll stay in the cycling scene anyway. Somehow I'll find my stuff - with a child.
Like, for example, the book project "Tuscany Trails", which you - heavily pregnant - realized together with your partner Max Schumann. Does the mountain bike scene in Italy actually tick differently?
Absolutely not. There you are somewhere in the pampas, then a mountain biker comes and bang you talk! Where are you from? Which trail is cool? And by the way, tonight my Nonna in Florence makes a barbecue. Are you coming over too?' And bang, you've somehow made friends there. I think that's just great. When you're on fire for the same thing and therefore have the same mindset.
Why is that?
Because a community like that simply connects people. I don't think it's specific to cycling at all. It happens in many other areas. That's why people belong to clubs. Some are stamp collectors and others are Vespa lovers. Because then you simply meet people who are initially like-minded. You immediately have topics of conversation and I think that's wonderful.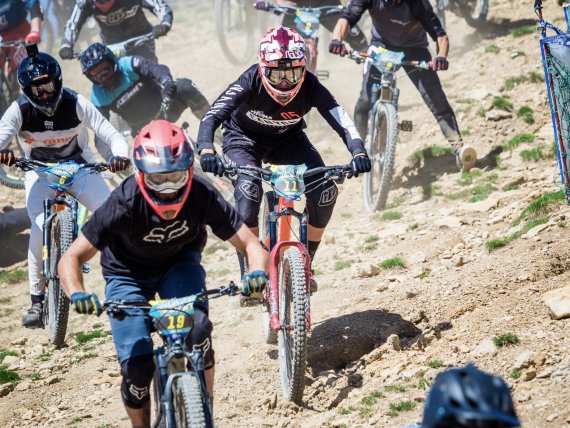 Nevertheless, I believe that the mountain bike scene ticks differently. I don't know that from hiking, for example.
That's true, but maybe also skiing. And my brother is a paraglider - they also have a good community. But it's different with bikers. They are all nature lovers. The mountain bikers aren't the ones who throw trash in the forest, we want to enjoy nature. That's why the trails have to be built sensibly, so that they don't wash out more and more or form deep gullies, but are really a beautifully running path. Trails just provide a fascinating nature experience for so many people. I think when a ski trail is built, it's a much more blatant intrusion into nature.
Let's travel south - your book has the subtitle "Mountain biking & Dolce Vita in the heart of Italy" - what makes the country a good biking destination for you?
We Germans just love Italy - right? It's not just us, but many people. Almost everyone loves Italian food, the dolce vita, the lifestyle. And as a mountain biker, it's just great there because the Italians are a step ahead of us. Of course, they have a bit more and less densely populated landscape available there and a bit more mountains. So they have better conditions, but they also make something out of it.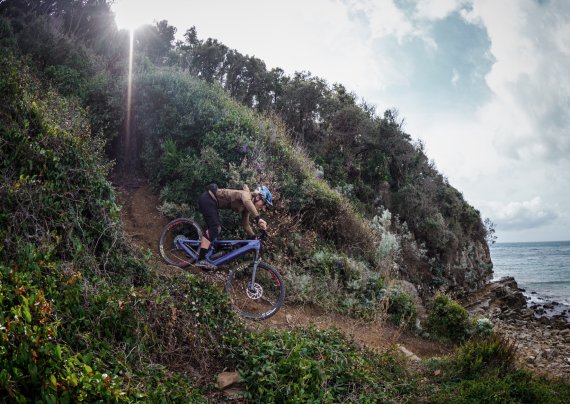 What do you mean by that?
In Germany, a lot of things are very bureaucratic: For example, who now assumes liability for this or that single trail? There's often an insane amount of hassle. And in Italy I often have the feeling that they have a certain kind of relaxed attitude, that they just do it. In the end, it's just as complicated. So, the Italian bureaucracy is terrible. We have talked to some single trail farmers. Until funds are collected or things are legalized, it's no easier than with us. But they just do it. They just get going. Many also recognize the importance of tourism, especially for regions that otherwise don't have as much to offer as in Garfagnana. There is not so much going on, there is space and then it is cool when the mountain bikers come. And with us it's often: 'How do we do this, how do we regulate that?' That's just a bit better in Italy.
How important is the dolce vita to you when mountain biking?
It's really important to me to convey this attitude to life, not just the tours and the sport, but also the relaxation. And we wanted to have a balance in the book - the way we like to vacation. If someone also does not want to research so much, and not think too much on vacation. You don't want to be on your cell phone all the time. And then hopefully you still have a similar taste to us, look in our book, and see: Here's a nice beach, a café and here I can go cycling now.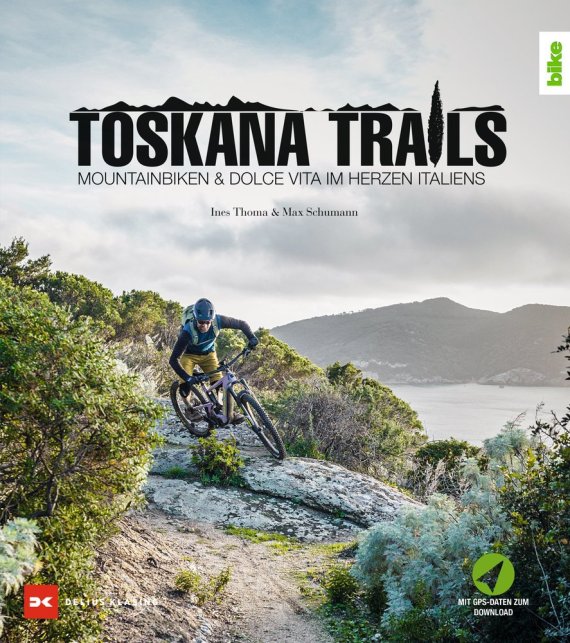 But you also let single-trail builders have their say - why?
That was the other point: We simply wanted to introduce the people behind the scenes, to bring them into focus, because they are very often forgotten. Especially by vacationers. They come to a place and there are three trees in the way, and bang someone complains: 'There's no tidying up at all'.
That's why you're presenting eight trail builders in different regions?
Yes, because very few people think about who cleans up the trail in the first place. How many hours of work go into a trail that makes it so much fun? And does the trail builder actually get paid for it? Or does he do it on a voluntary basis? That's really a danger, I often experience that. And that's why I think it's totally important to let the heroes behind the scenes have their say. Because anyone who has never built a trail doesn't know how much work it takes.
That's why you want to talk to some trail builders again in your next book?
Ja, we just started researching our second book. The format will be similar to "Tuscany Trails." Just about a different region that we also love very much. But I don't want to reveal more about that yet....
Then tell us about your next sports project?
This weekend I'm going to compete again in the EWS in Canazei. On the one hand, because it was so much fun in Petzen and it was so nice to meet all my friends. On the other hand also because the Dolomites are simply amazing. And I hope that I will be able to ride at the front again. But I'll just see how it goes this year, and maybe I'll say that racing is no longer for me. We'll see.