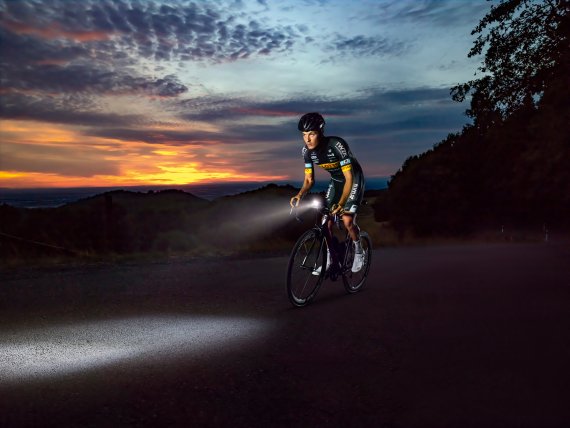 Particularly in the dark season of the year, the more visible a cyclist is on the road, the better. That's why in part 2 of our series of the best gadgets for bikes, we focus on smart solutions for taillights, brake lights and rear traffic.
Not many bikers use brake lights and turn signals, even though they could increase safety. Zackees produces cycling gloves with integrated turning light. The LED illuminated arrow prevents the hand signal from being overlooked at dusk or in the dark. It is an eye-catcher and cannot be distinguished from conventional gloves in terms of wearing comfort.
Especially in the age of powerful disc brakes, bikes can decelerate harder than cars. Important tenths of a second elapse before the back man notices. A stop light, which detects the negative acceleration by means of a sensor and lights up at lightning speed, can prevent accidents.
One of the first of its kind comes from the wheel light specialist Busch & Müller, in the field of battery lights the G-Ray from Litecco and the stl08 from Xanel are among the top sellers on the market. An alternative comes in the form of the Brakelight from Sigma. The tiny light is integrated into the brake calipers of classic Caliper brakes, for example on sports wheels. If the pliers close during braking, the bright LED lights up.
Also from Litecco is a rear light that uses sensors and algorithms to detect an accident. In such a case, the Lightguard Connect waits a few seconds before sending an emergency call including position with GPS data via the paired smartphone. In the time one can still prevent this call for help with less bad crashes.
Because safety is a top priority when cycling, bikers should always use a helmet. Models with electronic extras are also available for this purpose. The Lumosbelongs to a series of helmets with lighting elements.
The highlight: The rear LED field can be programmed by the user via app, so that it reacts according to movement or displays patterns, also flasher functions are possible. To the front, a white light makes the cyclist visible even at a great distance without dazzling oncoming traffic.
The Varia Radar taillight from Garmin is just as futuristic. As the name suggests, a rear radar system is integrated.
This is coupled with one of the Garmin bike computers and shows the driver without a shoulder glance what is going on behind him, how far and how many vehicles are behind him and how fast they are approaching. Sounds unnecessary, but many dangerous situations actually occur due to the surprising suction effect of fast overtaking vehicles that you can't hear coming in headwinds, for example.