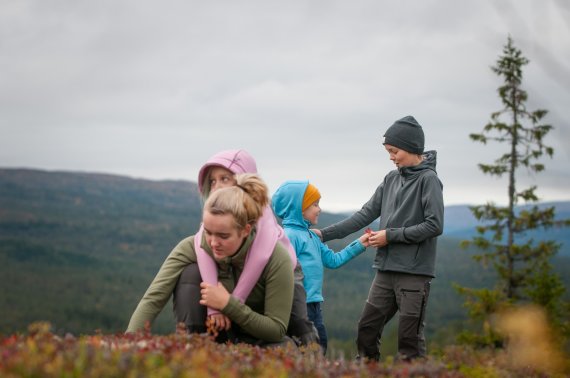 Sustainable children's fashion is on demand. What makes them? And how do children's labels act sustainably? In fact even the production of children's clothing consumes resources. Responsible action, constantly new ideas and approaches are needed to further relieve the environment.
ISPO.com presents 5 brands that see sustainability in children's fashion firmly anchored in their company philosophy.
Isbjörn was founded in 2005 in Stockholm, Sweden by two mothers who could not find any outdoor clothing for children that could withstand the rough weather of the Scandinavian winter.
Co-founder and CEO Maria Frykmann describes the brand philosophy with the following slogans: "Genuine sustainability, longevity and slow fashion" - which also means that a completely new collection does not have to be created every season. This saves natural resources. "Functionality is equally important to Isbjörn. After all, if children feel comfortable and protected in their clothing at any time of the year, they can develop love of being outdoors and for nature from the very beginning."
The brand promises 100% PFC-free products. In addition 90% of the materials are bluesign certified - and the trend is rising. Plus: the brand has decided to cover as many transport routes as possible by rail.
In September 2019, the brand also launched a rental service in Scandinavia. The aim: to further reduce textile waste and save the consumer money. If successful, the pilot project will soon be rolled out to Germany and other countries.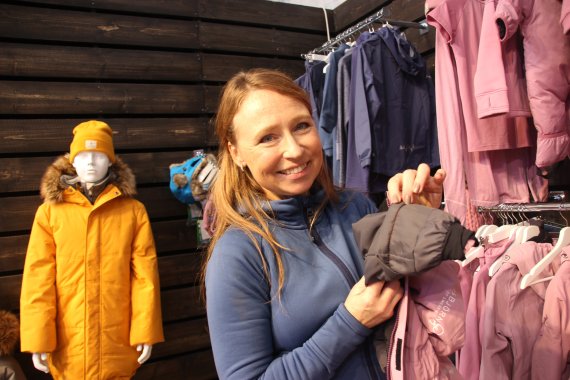 Reduce

(Reduce): Isbjörn only wants to use materials that do not pollute nature. For example, the entire Husky underwear collection A/W 2020 consists of: 49%

Mulesing

free merino wool, 46% renewable bamboo and 5% nylon.

Fish trap

(Reuse): Designed for high durability, the products already have sewn-in name labels with space for three children's names -  the minimum number of children the products should be able to withstand. Isbjörn also reports that her customers have been able to pass on products that have been used for ten years.

Reycle

(Recycle): Isbjörn claims to use as many recycled materials as possible.

Repair

(Repair): If something does break, it doesn't mean the end of the product: the pieces can be repaired by Isbjörn.
The sneaker brand Veja also has children's shoes in its range. Based on the adult models, they are intended to combine sustainability and style.
The overall vision of the French brand, founded in 2005 is to produce transparently, environmentally friendly and fair to the best of their ability, at every stage of production.
Some Veja children's shoes are made of Upcycled material C.W.L. in which corn waste is processed. The vegan leather alternative not only looks like real leather - it even feels like it. According to the manufacturer, it consists of 63% organic materials.
Veja wants transparency: Transport routes can be tracked via the website and contracts with the producers can be viewed there as well.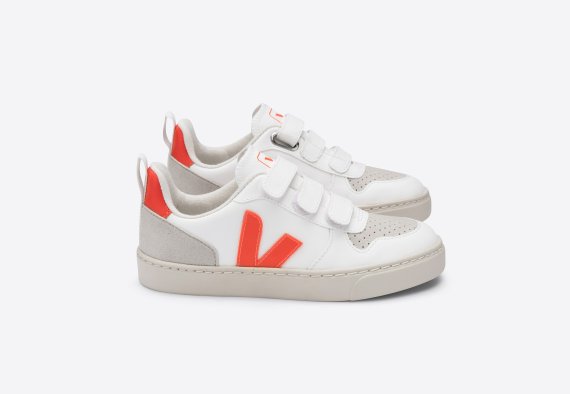 Fair trade cotton:

Veja buys directly from the manufacturer in Brazil and Peru.

They pick their producers personally.

"Amazon gum" from Brazil

: The shoe sole is made of 18-22% wild rubber, which is directly extracted from the rubber trees in the Amazon rainforest. This way the aim to increase the economic value of the forest in order to protect it.

No ads:

About 70% of a medium-sized sneakers company's expenditure goes into marketing, according to Veja. Veja saves the rest and "instead invests in good working and living conditions for the workers" says co-founder Sébastien Koop.

recycled materials:

Veja for example relies on so-called

B-Mash 

which consists of 100% recycled plastic bottles.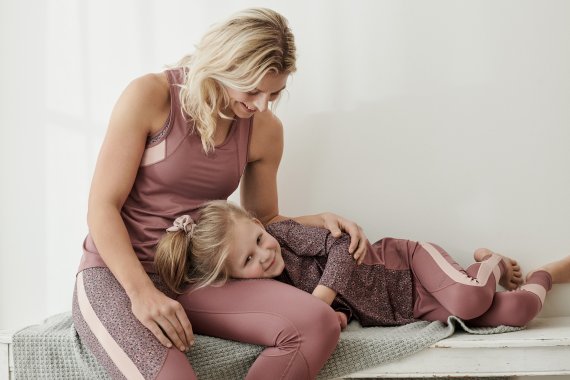 Recycled materials:

The polyester used of 100% recycled and certified, including the sewing threads. The company tries to use as many recycled materials as possible. This includes elastic logo bands, sewn-in elastic bands, zippers and cords.

Natural materials

: For the coming season, bamboo, linen and other environmentally friendly materials will be used.

Social responsibility:

The clothing is 100% OEKO-TEX certified. The production takes place in a

BSCI

-certified factory.
The children's brand founded in 1944 in Finland (Vantaa). Reima offers clothes and shoes. Their premise is safe and durable children's clothes. Because what remains beautiful and wearable for a long time does not consume anything new. Their designs are timeless so they never go out of fashion.
"Our products should be manufactured in an ethical and sustainable manner and should be safely recycled or disposed of. We want to inspire children to explore the world freely, and help to make new generations fit for the world to come - that is our goal," says CSR coordinator Sissi Penttilä.
Reima's goals through 2023:
50% of its clothing materials and ten complete product styles bluesign certified

50% of fabrics and 100% of wadding recycled

20% of the clothing is recyclable
Scandinavian Outdoor Award winner: the Kulkija jacket
The Kulkija jacket for the coming HW 20/21 season is made of only one fabric. This means that expensive separation and sorting processes are no longer necessary when recycling. Before recycling the the mono-material jacket can be registered via reima.com, so its life journey from child to child can be traced online. This increases its ideal value every day and makes second-hand an experience. For this, the Scandinavian Outdoor Award was presented at the ISPO Munich 2020. Kulkija's mid-season sister "Voyager" just came into the shops - according to the manufacturer, it is also 100% recyclable.
In addition, Reima will present PFC-free and vegan shoes in autumn 2020.
Reima cooperates with the Finnish second-hand online shop for children 

emmy.com

. Further Second-Hand partners are currently being sought.

Reima claims to completely eliminate harmful PFCs in clothing. They only use chemicals which are are safe and legal according to

REACH

.

Reima relies on high resistance to dirt and water for easy washing of the dir. This saves detergent, water and energy.

Reima does not need real animal fur. They also state, only

RDS (Responsible Down Standard)-

certified down and

mulesing

-free wool are used.
Vaudes Entrepreneurial vision is expressed by managing director Antje von Dewitz as follows: "To show with Vaude that it is possible to be economically successful and to act in a thoroughly fair and environmentally friendly way.
The climate-neutral company, publishs its Sustainability Report every year. By the way Vaude offers a own children's store. Ideal for testing children's products right away.
To make products last even longer, Vaude also offers
Repair instructions and repair service:

At

iFixit

, a free online platform, as well as the Vaude website provide instructions for the repair of various Vaude products. In some cities the brand stores work together with local repair cafes.
From the summer of 2020, the Faunus 2L jacket, which is to be made of 100% recycled materials, will be part of the children's collection. The Faunus fleece jacket made of biodegradable wood fibres and GOTS-certified cotton can be zipped in  
In the assortment Vaude also has Backpacks for children and bags with an outer fabric made of 50% recycled PET bottles - combined with a material made of 70% recycled hemp and 30% organic cotton.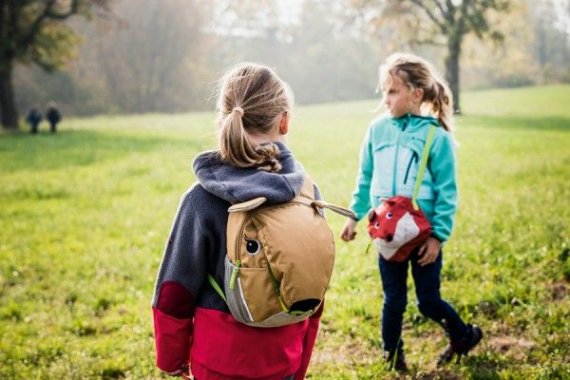 97% of the children's collection is

Green Shape

certified. The company-owned label is based on external highest standards such as bluesign or

fair wear

- for which Vaude achieved "Leader Status".

VAUDE is one of the first outdoor companies to rely on the state and German textile seal, which has been in existence since September 2019:

Green button.

The label contains 46 strict criteria designed to protect people and the environment.

Vaude also states that about one third of the models for kids are made with recycled or renewable materials such as hemp or organic cotton.