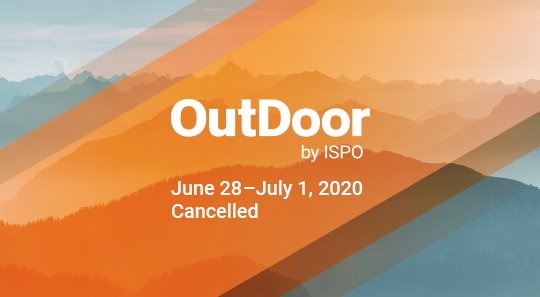 The second edition of an event is always a challenge. After last year's premiere, OutDoor by ISPO project manager Markus Hefter and his team worked flat out on the 2020 show. However, due to the unforeseeable development of the pandemic and on the basis of the recommendation of the state government of Bavaria and the relevant health authorities, Messe München felt compelled to cancel OutDoor by ISPO.
Tobias Gröber, Markus Hefter, how are you doing after the cancellation?
Tobias Gröber: To be honest, it was one of the decisions in my professional life that affected me the most. The health and well-being of our employees and our customers has always been and still is our top priority, so of course we had to act. And of course it was important for us to provide clarity for exhibitors, visitors and partners at this point in time.
Markus Hefter: I feel like Tobi. We collected so much feedback from the industry about the first OutDoor by ISPO, wanted to make so many things even better in 2020 and then we had to cancel with a heavy heart. Because the focus is now completely different.
What do you mean by that?
Hefter: The Coronavirus pandemic has put many things into perspective and reminds us what really matters. When we look at our partners and the many outdoor companies from, for example, Italy, Spain, the UK or other countries, the first thing that matters is health and then the economic survival. The support for retailers, manufacturers and supply chain partners has top priority this year in order to - if possible - at least somewhat mitigate the consequences of the crisis.
We will start there and stand together with the European Outdoor Group by the side of the outdoor community.
Are there any plans for that? What does that mean in concrete terms?
Gröber: We are of course in close contact with the industry and trade associations. Because, as Markus has already said, it's an outdoor community and not just any industry. The ISPO team and our partners from the EOG are currently asking how we can really help exhibitors, suppliers and retailers now.
Is it about the exchange of experience or knowledge? Is it about industry-wide alliances, in competition with other industries? Are agreements with retailers now the most important thing, or is there something completely different that is now the focus for the outdoor industry? Therefore we offer all partners from industry and trade to come to us with their questions, suggestions and ideas for cooperation.
Hefter: We are already working on comprehensive cooperation and new formats that will guide all industry participants through the difficult times in the best possible way. We currently need some time for this and will of course announce things as soon as possible. We have an extensive network and are convinced that, as a wide-reaching analogue and digital platform, we can be a good partner for all market participants.
Gröber: Even if we don't see each other in person for the next few months, we'll stay in touch with our partners, customers and visitors. The Coronavirus crisis is a turning point, but it already shows how valuable personal connections are. We are already looking forward to meeting everyone in person again. And we will continue to work towards this every day.
Where do you get the motivation for your constant drive?
Of course, the outdoor and sports industry will be changed, coming out of this crisis. But we are all convinced that outdoor activities and sports will become even more important. Right now it is becoming clear how valuable it is to be outdoors. Health was and is today more than ever an important asset. The outdoor and sports industry can make one of the best contributions in helping people stay healthy and fit.