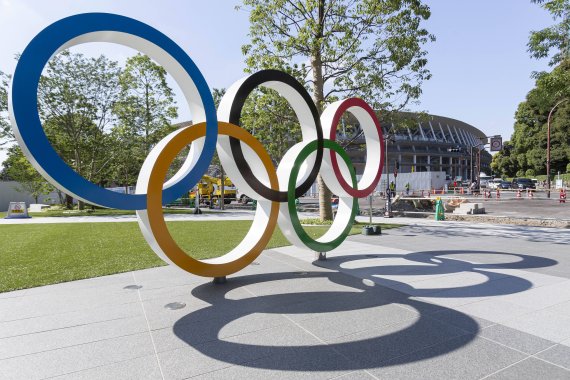 Already in winter there are three highlights: the Men's Handball European Championships in Austria, Sweden and Norway (9 to 26 January), the Biathlon World Championships in Antholz (12 to 23 February) and the annual Super Bowl.
From mid-June, Europe will be back in football fever. For the first time ever, the tournament will be staged not only in one or two host countries, but in a total of twelve cities across the continent. The two semi-finals and the final on 12 July will take place at London's Wembley Stadium.
The biggest sporting highlight in 2020, however, will be the Summer Olympics in Tokyo from 24 July to 9 August. In a total of 339 competitions, athletes from all over the world will compete for medals. Five sports will celebrate their Olympic premiere:
Climbing

Skateboarding

Karate

Surfing

Baseball/Softball
With the subsequent European Athletics Championships in Paris, the Paralympics and finally the Women's Handball World Championships in December, the sports year still has some more highlights to offer in its second half.
ISPO.com gives an overview of the sports highlights of the year 2020.
| Date | Event | Venue |
| --- | --- | --- |
|        JANUARY |   |   |
| 1 to 6 January | Four Hills Tournament | Garmisch-Partenkirchen, Innsbruck, Bischofshofen |
| 9 to 26 January | Men's European Handball Championship | Austria, Sweden, Norway |
|   |   |   |
|       FEBRUARY |   |   |
| 2 February | Super Bowl LIV | Miami |
| 12 to 23 February | Biathlon World Championships | Antholz |
| 14 to 16 February | World Luge Championships | Sochi |
| 17 February to 1 March | Bob/Skeleton World Championships | Altenberg |
|   |   |   |
|          MARCH |   |   |
| 14 to 22 March | Women's Curling World Championships | Prince George (Canada) |
| 22 to 29 March | World Table Tennis Championships | Busan |
| 28 March to 5 April | Men's Curling World Championship | Glasgow |
|   |   |   |
|           APRIL |   |   |
| 20 April | Boston Marathon | Boston |
| 26 April | London Marathon | London |
| 27 April to 3 May | Patrouille des Glaciers | Chamonix |
|   |   |   |
|             MAY |   |   |
| 8 to 24 May | Men's Ice Hockey World Championships | Switzerland |
| 9 to 31 May | Giro d'Italia | Italy, Hungary |
| 11 to 24 May | Swimming European Championships | Budapest |
| 25 May to 1 June | Skateboard World Cups | London and China |
|   |   |   |
|           JUNE |   |   |
| 12 June to 12 July | Men's European Football Championship | 12 European cities |
| 26 to 28 June | MTB and Cross Country World Championships | Albstadt |
| 27 June to 19 July | Tour de France | France |
|   |   |   |
|            JULY |   |   |
| 24 July to 9 August | Summer Olympics | Tokyo |
|   |   |   |
|        AUGUST |   |   |
| 14 to 28 August | DOTA 2: The International (eSports) | Stockholm |
| 14 August to 6 September | Vuelta a Espana | Spain, Netherlands |
| 24 to 30 August | UTMB | France |
| 25 August to 6 September | Paralympics | Tokyo |
| 26 to 30 August | European Athletics Championships | Paris |
|   |   |   |
|       SEPTEMBER |   |   |
| 12 September | 100k Ultrarun World Championship | Winschoten, Netherlands |
| 25 to 27 September | Ryder Cup (Golf) | Whistling Straits (USA) |
| 27 September | Berlin Marathon | Berlin |
|   |   |   |
|         OCTOBER |   |   |
| 10 October | Ironman | Hawaii |
| 26 and 27 October | 24-hour Ultrarun World Cup | Albi, France |
|   |   |   |
|       NOVEMBER |   |   |
| 1 November | New York Marathon | New York |
| 2 to 21 November | U17 Women's Soccer World Cup | India |
|   |   |   |
|      DECEMBER |   |   |
| 4 to 20 December | Women's Handball World Championships | Denmark, Norway |
| 30 December | Four Hills Tournament | colonel's village |