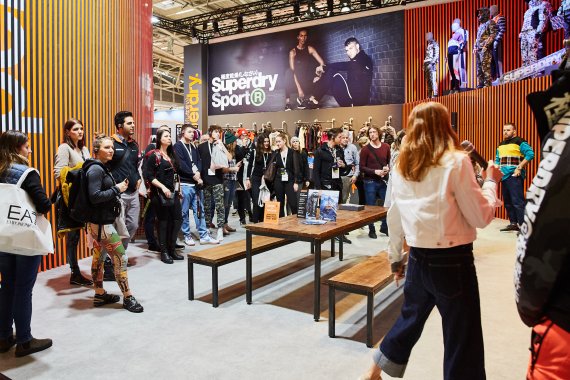 On Monday evening, ISPO Munich 2019 will see one of its highlights the ISPO Digitize Pioneers Night in Hall C6. 
We start  with the adidas Pinnacle Talk (5 pm), followed by the keynote of skate legend Tony Hawk (5.40 pm) and an eSports FIFA19 Showmatch (6 pm). Furthermore, we will celebrate from 6 pm with DJ Alkalino (Harry Klein Club) the unknown and the future of sports.
Other sports stars will also be present on this day. The Neureuther family even uses the event for a family excursion: alpine star Felix Neureuther and his father Christian Neureuther will be coming to stand 302 in hall B6 from 11 a.m. on Monday (4th of February). From 1 p.m. Felix' wife and two-time biathlon world champion Miriam Neureuther (formerly Gössner) will be giving tips from her life as an athlete at the Health & Fitness Forum in Hall A6.
The Darts professionals Max Hopp and Martin Schindler will be available - as already on Sunday - for talks from 11 and 12 a.m. as well as 2 and 4 p.m. (Hall C6, Stand 211). Ornella Wahner, the German Amateur Boxing World Champion, can be seen live twice on Monday - from 11 a.m. in Hall A6/Stand 113 and from 3.30 p.m. in Hall A6 on the ISPO Health & Fitness stage.
The US-American sports climber Chris Sharma wil sign posters at 3 p.m. (Hall A1 Stand 106). In the Watersports Village (Hall A4, Stand 4.50), the Danish SUP World Champion Casper Steinfath will share his experiences from 3.30 p.m. onwards.
Visitors can experience the most successful winter sportsman of all times from 4 p.m. in Hall B5 at Stand 320: Ole Einar Björndalen comes to the "Meet & Greet" at his sponsors Madshus and Gore. The biathlete has reason to celebrate: On Tuesday he receives the ISPO cup.
Further highlights on Monday will be the Runners World Running Shoe Symposium (ICM Room 5/10 to 18 h) and the ISPO Talks by Women will connect at the ISPO Academy Stage in Hall C6, which will begin with an opening speech by Messe München CEO Klaus Dittrich at 11 a.m..
On this Monday, Klaus Dittrich, head of Messe München, will have another important appearance: At 2.30 p.m., he will give an outlook on the premiere of Outdoor by ISPO in the Press Centre West. The outdoor trade fair, which was previously held in Friedrichshafen, will take place in Munich for the first time this year (30th of June to 3rd of July).
The best products of the sports industry will be awarded the ISPO Award in various categories throughout the day in the ISPO Brandnew Village (Hall B4, Stand 430).
Further information is available in the event database of ISPO Munich 2019.