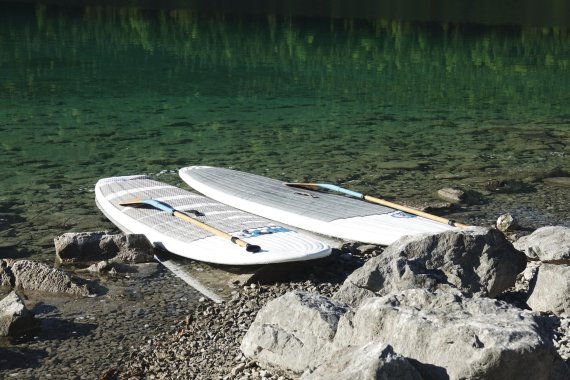 Will river surfing, for example, be the next big thing, or will there be a revival of canoes? Several insiders answered these questions about water sports trends for ISPO.com.

Florian Brunner, trainer in the Association of German Water Sports Schools (VDWS)
Stefan Klare, CEO of Tripstix
Casey Higginbotham, prone paddler and world record holder
Darren Bush, organizer of the biggest paddle fair worldwide
Tao Schirrmacher, multiple-time European champion in stationary wave riding
SUP will continue to develop
Florian Brunner is an instructor of the Association of German Windsurfing and Watersport Schools (VDWS) and a managing partner of APM Marketing GmbH, German importer of the brands Starboard (SUP & windsurfing), Severne Sails, and Airush:
"My estimation is that SUP will continue to enjoy positive progress. The sport is still attracting lots of beginners, making it even more diverse. In addition to SUP yoga, the trends are sporty paddling for fitness and longer paddling trips.
Test the products of the future with ISPO OPEN INNOVATION and give the manufacturer direct feedback. Register here for free >>>
Stefan Klare, CEO and source of ideas at the start up Tripstix. The firm manufactures inflatable stand up paddle boards, which "should provide a substantial alternative to hardboards." He says: 
"For lots of people, stand up paddling represents the way in to surf sports in general. Surfing or rather SUP is undoubtedly developing more and more from a trend sport to a mass sport.
This is particularly favored by the target group of those who live inland, thanks in large part to inflatables. Larger boards, which are particularly suitable for beginners, are still practical due to their inflatable character."
Families interested in canoe sports
Casey Higginbotham, paddle boarder and world record holder in prone paddling:
"I think the next trend will be that more and more people use SUP as an opportunity to travel, taking trips to lakes for a few days, for example. At the same time I think that there will be lots more SUP offers and races for children.
Of course, SUP could also go down the route of being used in physiotherapy, or SUPs might be built for people with handicaps. There are so many possibilities when it comes to stand up paddling."

Darren Bush, organizer of Canoecopia, the largest paddle sports show in the world and the biggest Kayak symposium in North America:
"We have noticed that alongside SUP, there is more and more interest in canoe sports. Above all, many families are interested in taking part in outdoor activities with their children. In lots of sports, such as hiking, cycling etc., children find it difficult to keep up with their parents. Canoeing solves this problem.
At the same time I can see that more and more people are renting outdoor equipment, particularly millennials. They are thrill seekers more interested in adventure than what they can own. As an industry we should accommodate these interests."



Lots of opportunities for river surfing
Tao Schirrmacher, multiple-time European champion in stationary wave riding and founder of Big Ding. The company was founded in 2011, and distributes surfboard repair products. The sets were developed so that surfboards could better withstand the stone walls of Munich's Eisbach river. He says:
"I think the development has already truly begun. Just take a look at project firms like Tripstix, Gofoils or other similar projects. I believe our lakes and rivers are on the verge of a revolution.
Let's think about river surfing alongside SUP: we all want to surf and there are so many potential opportunities for that inland. And I think that there are plenty of potential river surfers. Completely new markets could arise from that. With river surfing on the Eisbach alone we have between 10 and 15 small labels."