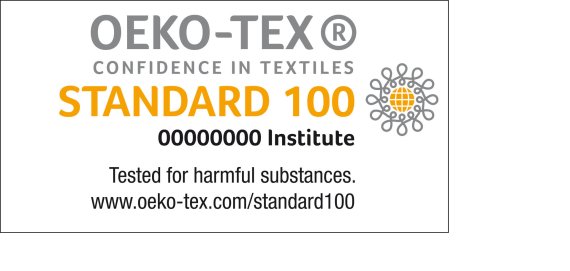 It is one of the oldest and most well-known eco-seals in Germany, and is awarded by the Oeko-Tex Community, headquartered in Zurich. It was developed in response to toxic residues found in textiles.

As such, its focus is not on the manufacture of the product, but rather verifying product safety with regard to human health. For example, it checks for prohibited azo dyes, carcinogenic and allergenic dyes, pesticides for textiles made of natural fibers, polycyclic aromatic hydrocarbons (PAHs), organotin compounds, chlorinated phenols, phthalates (plasticizers), PFOS, PFOA and many more.
Standard 100 by Oeko-Tex: Product Safety and Thresholds for Harmful Substances
By successfully passing inspection, Standard 100 by Oeko-Tex ensures that certified products adhere to the standard's strict thresholds for harmful substances and that these harmful substances are not present in any significant concentration. This means that every single one of an item's components must comply with the required criteria.
Product safety is divided into four product classes determined by the product's intended purpose: from Class 1 for babies and small children, with highly strict guidelines, all the way up to Class 4 for home textiles like curtains, which almost never come into direct contact with skin.

In addition to Standard 100 by Oeko-Tex, the Oeko-Tex Community awards other seals with various focuses, including STeP by Oeko-Tex, which certifies the production process, and Made in Green by Oeko-Tex, which certifies both the production and the product, making it the highest class of certification.