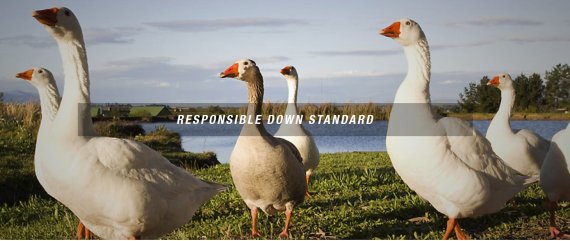 The reason behind this was increasing protests by animal rights activists who denounced the methods being used for harvesting down, demanding greater accountability from the clothing industry. Added to that was a particularly complex supply chain that was nearly impossible for clothing companies to audit.
The North Face transferred ownership of the RDS to Textile Exchange. That way, any organization can access this tool to procure down responsibly.

Down can only be acquired by plucking carcasses, meaning the animal must be dead first. Live plucking is prohibited. Animals must be kept in conditions free from any suffering, and may not be force fed.

Responsible Down Standard: Fighting Back Against Live-plucked Down
Though the RDS applies to the entire supply chain, it does not include the keeping of parent birds like the Global Traceable Down Standard (Global TDS) does. Including this makes sense, however, since parent animals face a particularly high risk of live plucking because of their longer lifespans.
An RDS certificate is valid for 14 months and is reviewed during this period through both scheduled and surprise inspections. The details of the standard's criteria and requirements are available online.
The RDS is one of the most used down standards in the clothing industry. 900 large and small farms worldwide have already been certified. You can find additional information on the Responsible Down Standard here.