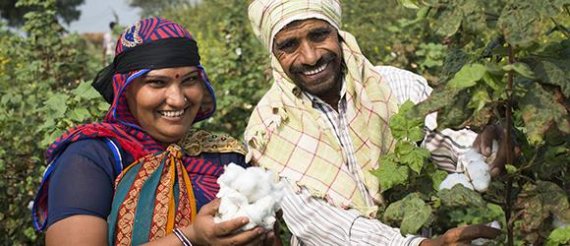 The organization originates from the Fairtrade movement in the Netherlands, where the first label for coffee was awarded in 1988. The standards are defined by Fairtrade International and the certifying company FLO-CERT monitors compliance.
The seal also had its origins in food cultivation. Fairtrade supports farmers in developing countries and advocates sufficient pay that allows workers to live a decent life. Fairtrade offers small farmers a fair price, guaranteed price stability and technical opportunities to improve product quality. All products and trade partnerships in the Fairtrade system are based on respect, transparency and dialog.
Fairtrade: A New Certificate for Cotton
The Fairtrade Cotton seal has been around since 2005. Fairtrade Certified Cotton guarantees fair working conditions and long-term trade relations in cotton production and promotes switching to organic cultivation.

Cotton farmers are paid a Fairtrade minimum rate based on their region. If the world market price is higher than this minimum price, then they receive the world market price. The Fairtrade Textile Standard first came into effect in Germany in June 2016. It certifies the entire product, from the fibers used all the way up to the finished piece, and is therefore only useful for cotton products.