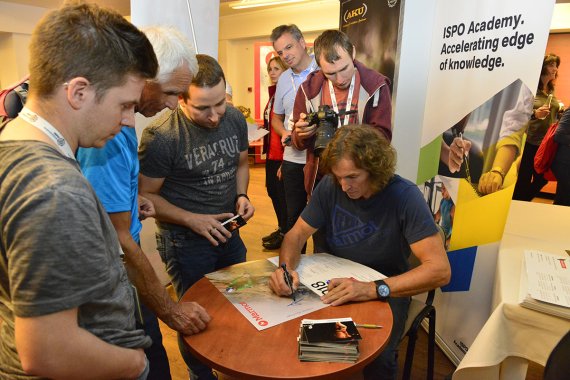 The 6th edition of ISPO Academy Poland took place in Wierchomla on October 17-19. Over 150 participants, representing all sectors of the sports and outdoor market, and 20 journalists took part in numerous presentations and workshops whose subjects reflected current and future challenges faced by the industry.
From a practical point of view, this conference constitutes the only opportunity for domestic networking. It must be said that this year the international partners of the event took a great advantage of this fact. The partnership of brands such as Marmot, Aku, Primaloft or Nikwax confirms the importance these companies ascribe to the Polish market.    
As the result of the constantly growing competition in the outdoor sector, companies are trying to actively broaden their target group. It is believed that in a country such as Poland addressing one's offer exclusively to specialized core consumers cannot guarantee sufficient space for development and boils down to fighting for survival.
These trends – discussed during a panel discussion at the ISPO Academy – manifest themselves not only in complementing collections with products bordering on sports and fashion but also in development of proprietary mono-brand and multi-brand shopping chains and, last but not least, in expansion of online sales channels.       
One of the conditions for success of a new store is locating it in a shopping centre – for years shopping malls have been steadily popular with Polish customers. Within 9 months of 2017, the amount of visitors to 100 surveyed shopping centres increased by 6.2%, while the average market value of a square metre of gross leasable area [GLA] was around 180 € at the end of August 2017 i.e. approximately 12 € higher than in the previous year (source: Retail Institute).
However, mono-brand stores are not the only direction of development. Capital Group Martes Sport – the biggest sports-outdoor company on the Polish market – is betting on the development of their own multi-sport chain, in which they will sell not only their own brands, but also popular sports products of established international brands.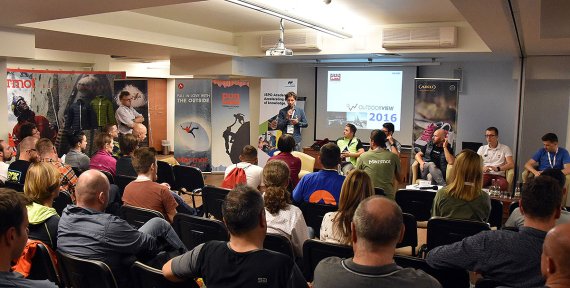 Participants of the ISPO Academy panel were unanimous – the business environment keeps evolving: new shopping habits are appearing (e-commerce is developing dynamically), the target group for outdoor is ageing, social networks are dominating – they have become the main communication platform also for marketing and PR activities. Only skilful reading of these trends and a swift reaction with suitable business tools allows for a success on the market.   
Fortunately, there are numerous examples of well executed strategies – which is clearly reflected by the e-commerce market and the position of shops like 8a.pl, Skalnik.pl and Polarsport.pl, which successfully combine their online businesses with running a brick-and-mortar shop. These shops have dominated online sales in the outdoor sector.
On the other hand, brands like The North Face have been successfully acquiring new customers by introducing lifestyle products, while Jack Wolfskin has decided to promote in Poland their urban, travel and fashion collections through cooperation with a popular celebrity – Martyna Wojciechowska, who is a famous traveller and journalist in Poland.      
The biggest problem for outdoor still poses the segment addressed to children – high quality footwear and apparel for kids continue to prove too expensive for Polish home budgets. In result, the children's segment has been successfully dominated by Decathlon.
One of the main goals of ISPO Academy Poland is to provide suitable and efficient business tools for retailers, producers and distributors. Consequently, the discussions included important topics, e.g.: cash flow and inventory management, visual merchandising, loyalty programs, event marketing, etc. A few years ago, these topics proved to be too challenging for most retailers. However nowadays, most of these shops have been applying improved and highly optimised business tools while at the same time developing several unique proprietary formats.
One may risk a claim that, in some respects, concepts realized on the Polish market – especially within e-commerce – are ahead of what is happening on the markets of Western Europe. The reason seems to be prosaic – the specific character and size of the Polish market mobilizes companies to constant activity. These initiatives manifest themselves not only in highly optimized advertising campaigns but also in a constant process of perfecting B2B platforms.
Results of these actions seem optimistic – as the best example may serve the 4outdoor.pl Barometer, which monitors 30 specialist outdoor shops. According to it, sales figures for the first 8 months of 2017 were on average higher by 11.5% when compared to a corresponding period of 2016.
ISPO Academy is also a venue where future issues are discussed. Although in Western Europe initiatives connected with sustainability, natural environment and CSR belong to everyday business and consumer practices, in the Polish sports-outdoor industry they do not play a significant role.
Of course, this does not mean that distributors – and in result retailers – do not use formats and campaigns prepared by foreign brands. In this context, the presentation about the economy of values and a new generation of socially responsible businesses resonated even stronger – it clearly indicated the necessity for changes that in near future.
The organic link between the outdoor industry and requirements of sustainability was emphasised by Stefan Glowacz – a famous climber and a special guest of ISPO Academy Poland, invited by Marmot, who announced that his new expedition will be organised according to principles of minimizing the carbon footprint.
Glowacz is planning to travel across Germany in an electric car, then sail by yacht, and finally to cross the wastelands of Greenland on skis and sledges – all this in order not to use means of transport powered by combustion engines. This declaration and the whole presentation of Marmot Ambassador Glowacz received a standing ovation. It's high time things started to change!