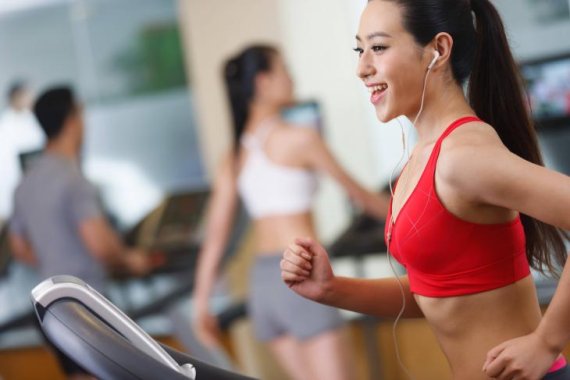 The idea of "sharing is caring" has continued to prevail in our society over the last decade. And a lot really is shared nowadays in the public sphere: automobiles, bicycles, train tickets — there are even companies offering umbrellas for a certain period of time in exchange for a fee.
The advantages are obvious. There are no purchase or maintenance costs any longer for the individual, and in the case of bicycles and automobiles, mobility is increased.
The latest "sharing is caring" trend is now beginning in China: micro fitness studios.
In a space of around four to ten square meters, companies such as Misspao, LePao, and Douba offer fitness enthusiasts in Beijing, Shanghai, and Chengdu the opportunity to keep up their workout routine in an air-conditioned pod, no matter what time of day (or night). By the end of 2017, there are expected to be around 1000 of these micro gyms.
The pods vary in furnishings and may or may not include showers, treadmills with televisions, rowing machines or stationary bikes. Furthermore the air is filtered — a massive plus in China's smoggy cities. The pod window panels can be darkened. But probably the biggest highlight of micro gyms  is the payment.
Usage time is calculated to the minute and payment is taken — as so often in China — via smartphone. Misspao charges 0.2 yuan per minute, equivalent to around three US cents, and requires a deposit of 15 dollars, which is reimbursed of course after use.
The pods can be found and booked through an app. As soon as payment has been received via WeChat or Alipay, the pods can then be opened with a QR code sent to the recipient.
Misspao's investors have backed the project to the tune of 11.4 million dollars over two rounds of financing, and the prospects for this new fitness product look quite positive at the moment. The fitness industry in China has developed rapidly in recent years due to the middle class becoming ever richer — and ever fatter.
Between 2011 and 2016, the market for fitness and health studios grew by 11.8 percent per year, and turnover amounted to approximately 5.81 billion dollars in 2016 (study: Ibis World Market Research).
One advantage of micro pods compared to traditional fitness studios is the straightforward pricing strategy of the miniature fitness studios. Although the number of members in China's 70 biggest cities has increased by around four to five million people every year since 2011, the annual membership fee of between 2000 and 15000 yuan (300 to 2300 dollars) is still a luxury in many places.
The average monthly income in China is currently around 6500 yuan. Millennials, the target group for micro gyms, are likely to earn less than that. Alongside the financial aspects, the "clean air" factor is doubtless a big selling point in Beijing right now.
Demand? Already there. Supply? Created and ready for use. So what's standing in the way of brisk business? In some ways, the principle of "sharing is caring." No matter how good the idea of sharing is, some people forget their manners if the item in use doesn't belong to them alone.
In short, the problem is vandalism in the best-case scenario, theft in the worst. These fears aren't completely unjustified, as shown by the examples of bike rental companies Mobike and Ofo. Thousands of bikes were either disassembled, stolen or simply thrown in ditches or rivers. The rental company E Umbrella lost 300,000 umbrellas in eleven Chinese cities in the first three months alone.
If all of these hurdles are overcome, there remains one last concern among the operators: will the pods really only be used for workouts?
Remember, the windows can be darkened to guarantee maximum privacy...