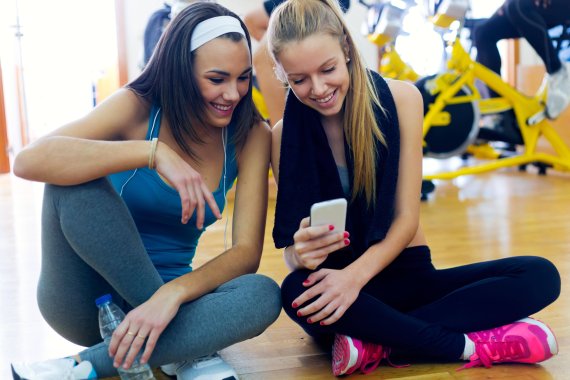 Smartphones and apps have revolutionized fitness training. The days when average consumers only got a training plan in the gym are long gone. Nine percent of all apps on offer are now fitness apps. And they're more popular than ever. But it was a rocky road up to here - and even today dubious developers still try to palm useless products off on users.
Markus Burgdorf has been writing app reviews for almost ten years. In the meantime, he has presented and tested almost 10,000 apps. His blog App-kostenlos.de reaches around 30 million readers. He explains how fitness apps have evolved and how users can keep track in today's app jungle.
The App Stores were launched in 2008. Only two years later, the first fitness and sports apps were launched. One of the first was "Fit Phone". In the meantime, however, it has disappeared from the market.
Compared to today's offers, these first fitness apps were still very simply knitted. The smartphone offered new possibilities that developers took advantage of. Suddenly you could take your "fitness trainer" with you for jogging, cycling or hiking.
Movement sensors and GPS tracking made it possible to trace the exact route of the run. In addition to Runtastic, numerous other running and marathon apps also rely on the new functions.
Initially, users had to buy most apps in order to use them permanently. In order to trigger more customers, however, the developers offered the app for free download in the App Store about every three months. Many users recognized these cycles early on - and waited until it was available again to download the app free of charge. "Of course, you can't pay for a development team, customer service or advertising this way," explains Burgdorf. "The app developers ran out of money."
So it's no wonder that fitness apps have changed enormously over the years.
The companies initially tried to make a profit with training equipment that matched their app. So fitness bracelets, headbands or smartwatches came onto the market. The strategy only worked moderately. Mobile commerce was still in its infancy.

This was followed by a focus on in-app advertising. The snag: most fitness apps were suddenly flooded with advertising, so that the user could hardly use the app without clicking on a banner or advertising video.

Then functions of the free app were

reduced. Additional functions, which were originally already available in the free version, became premium features with costs.

The subscription model emerged from the idea of a premium version. This means that the user pays a monthly fee in order to be able to use all functions at any time as a so-called full member.

This is how the community idea came into being, which is the focus of most successful fitness apps today. The possibility of uploading a profile picture, networking and comparing oneself with other members, inviting one's friends and sharing one's sporting successes on social networks is a great incentive for many users.

Today, users are regularly reminded of the app and sport by the increasing personalization. Push notifications with prompts such as "Did you train today?" or "Get back on the scales!" are intended to prevent the app from lying idle on users' smartphones.
In 2010, most fitness apps contained training plans only. Many companies now combine lifestyle sports with sophisticated health advice. Nutrition plans via app are now standard. In addition, fitness apps are no longer limited to running, cycling or hiking, but cover all possible fitness and health areas.
Especially in the area of High Intensity Interval Training (HIIT), the offer for smartphone users has increased rapidly in recent years. Not only popular companies like Runtastic or Freeletics woo for users. HIIT or interval training seems to have arrived in digitalization.
"There is an almost unmanageable range of fitness apps," says Burgdorf. The overview is quickly lost for users. Especially since there are also dubious providers. One should do without an app if ...
the expensive app contains only one YouTube video collection

it's making generous false promises to compete for top scores

the ratings for the app are bad

the app passes on user data and the manufacturer does not take data protection seriously

all valuations are exaggeratedly good
Expert Burgdorf generally recommends being critical and not simply trusting blindly. To find a suitable app, you should download several apps and try them out. Delete the app if you don't like it. Rarely can one speak of "good" or "bad" fitness apps, according to the expert. Similar to the choice of sports, it is often a subjective preference.