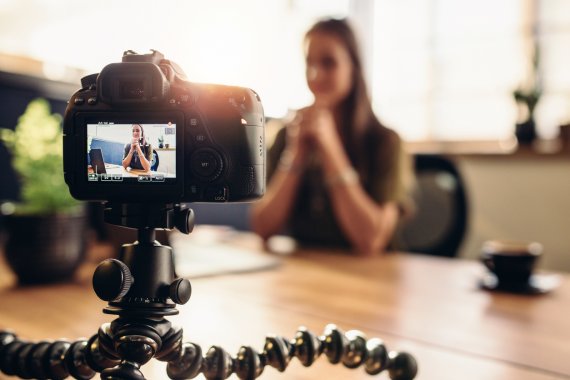 About a year ago the video of Page Kemna was a viral hit. Not on YouTube or Facebook, but on the LinkedIn business network: the 24-year-old graduate from Nevada's moving image application was viewed almost a million times. She had sat down in front of an electric piano and sung her application: "Hire me". She was just looking for a creative job - and couldn't save herself from offers because thousands of personnel managers admired her courage and her refreshing manner.
Meanwhile video applications (naturally speaking and less singing) are in the trend: Companies can thereby make themselves a picture of the personality even before the interview and applicants can stand out from the masses. Such courageous applications are particularly well received by creative industries and brand owners.
The sports business is ideally suited for this, because here applicants can show their acquisition to the brand and the sport more impressively than only with words. Here are the most important requirements to successfully go down with sports companies with an application video - in order of importance.
Almost everyone who nowadays joins the trend of video applications arranges a precise dramaturgy and a script. Each sentence is written down and rehearsed beforehand. Often, special apps are being used. These usually work with ready-made questions, which are being answered in front of the camera, so that the performance is - supposedly - structured more clearly. But this is NOT the purpose of these videos. The CVs and input masks of the application portals are structured anyway (especially for the large sports corporations).
What the recruiter above all wants to know and otherwise only learns in the written cover letter: what kind of personality do I get with the applicant? Is he/she funny or rather dry, spontaneous or thoughtful? Therefore applicants should put together a rough framework, what they would like to say (content under point 2.). And then tell with my their words as loosely as possible what comes to mind - just as they are in real life. This can be done several times with always new variations as a tryout. Until a setting is ready - the main thing is not to read.
The employer specifically wants to know two things: Who are you? Why do you want to work for me? So on the one hand it is important to peel out your USP. The best way to do this is to complete the sentence "With me you get a...". For example, a woman who runs 3,500 kilometers across country every year, went to the USA for her master's degree to research marketing for running shoes and discovered her love of environmental issues.
The statement about the company is similar: I have always liked the design of your company, but for half a year now I've been following your commitment to fair trade and I can imagine that very well as a domain! There you go. And the icing on the cake would be a little story of success. In the beginning, in the middle or in the end. How was the first contact with the brand, how did you get to know the true advantages of a product in a sports competition, etc.? Advantage: Stories can be told most easily and naturally (see point 1.).
A video focuses on the charisma of a candidate, on how he is telling something. But also on the background, which the viewer automatically studies very carefully and in which every little detail attracts attention and perhaps distracts. Naked walls are boring, but a restless poster can draw attention away from the person. "More neutral" are bookshelves without legible book titles or a tidy desk.
In the sports business it is of course ideal to take outdoor pictures as part of your personal "business card" - at the edge of the running track in the appropriate outfit or in front of the climbing wall, for example. Nevertheless, the background should remain "calm", nothing distracting should happen. And the sports atmosphere has another advantage: you inevitably have to stand. Shooting while standing usually looks more natural than sitting down (even if the shooting area should only go to the navel), you can use more body language, which makes the video more lively.
More important than most people think is the sound. People are very fixated on sounds and sound fluctuations. We quickly find out whether someone is serious about their message or not. That is why it is important to speak loudly and clearly. But also slowly and in short sentences, which sounds concise and "serious". Someone is "serious" about his application, if he does not rattle down his text.
Technically, sound is the greatest challenge. No matter how good today's smartphones may be for moving image recording - the small wonder boxes have their weaknesses in terms of sound due to their design. Those who do not approach the closest selfie distance, which is not recommendable (see point 5.), captures too much noise from the outside world. And even in the quietest room, the sound quality at the recommended distance between the recording device and the actor is so moderate that the viewer has to fully turn up the volume control and therefore the voice quickly croaks. Remedy: a microphone! For smartphones there are already devices that you can get for a small amount of money and everyone who wants to shoot a serious application video should be able to afford one. Whether you need a clip-on microphone directly on the device, a directional microphone or for attaching to clothing.
In general, a good smartphone is sufficient for application videos. It doesn't need to have a resolution over 40 megapixels, but at least 12 MP are recommended. The crux of the matter: When it comes to mobile phones, everyone thinks of the Selfie and films it with their arms outstretched. This may have had some charm at the beginning of the video applications, but it often looks unfavorable because of the ultra close-up (every bead of sweat in large format) and is above all too wobbly.
For a professional application video in which the viewer can only concentrate on the person, a tripod at a distance of one to two meters and a microphone (point 4.) are a must when filming with the smartphone. Here is the question of whether the applicant wants to purchase both for the perhaps single use. 
Alternative 1: Thanks to significantly larger memory, digital video cameras are also worth considering for future holidays and are extremely cheap as used devices including tripods due to mobile phone competition. They take decent moving pictures and usually have a built-in microphone that is superior to those of smartphones.
Alternative 2: Digital cameras - preferably single lens reflex cameras with many zoom options - today sometimes take better pictures than amateur video cameras. If you don't have one of your own, maybe you can borrow one with a tripod from your friends.
Last tips for sending. The video should be saved in a common video format, preferably mp4. The transmission of the quite high data volume should not be done by mail, but via platforms such as WeTransfer. The easiest way is to send it via WeTransfer, but then send the shipment link again separately with the application. Because these links are usually only valid for one week, the best solution is to place the video permanently on your own application website and send its link.
One thing is clear: no one can create a perfect application video, except for actors rentig a studio with a cameraman. The personnel managers are happy to forgive small personal or technical shortcomings. For them, what's more important and what made Page Kemna so successfull is the insight into the personality of an applicant who has the courage and the will to put a lot of effort into their dream job!
An article by Gunther Schnatmann, personnel consultant (schnatmann media), application coach and media trainer (topcom academy).