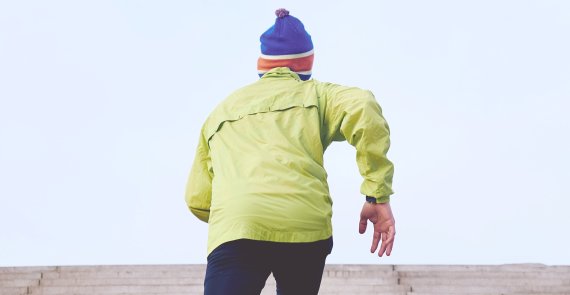 If you dress wrongly for winter jogging, you risk a lot: Besides the dripping nose, it can then quickly happen that you lose the desire to exercise outdoors with the freezing or sweating. Then the winter fat has an easy game, gingerbread and Christmas goose are powerful allies.
However, if you dress properly and follow a few basic rules, you won't want to miss the clear winter air, the special light of the season and the relative solitude on the trail.
The right clothing for winter running is flexible. There is no other way. Because if you're afraid of the cold, you'll quickly overheat in a thick jacket. And if you think you'll be warm enough when you run, you can quickly start chattering your teeth because of the wind chill effect.
The first basic principle is to wear several layers of clothing. If the functional materials of the base and outer layers are in harmony, these layers provide natural regulation and keep the body temperature in a comfortable range. If it does get too warm during a run in the winter sun, you can return to the comfort zone by taking off layers at a time.
Close-fitting functional underwear:
Reduces perspiration and transports it "dosed" to the outside. In addition, close-fitting functional underwear provides a comfortable feeling and is erodynamic.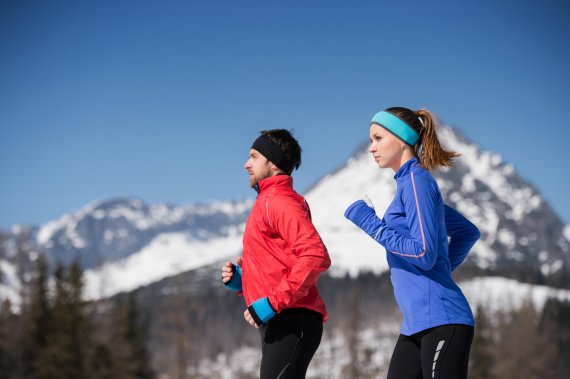 Elastic, seamless, breathable and with the perfect fit for men and women. The tights should guarantee maximum freedom of movement.
As an outer layer, the jacket has to fulfil several protective functions, but may still be thin due to the materials and the onion principle. The breathable jacket should have a windproof membrane, insulate body heat well and provide reliable protection against moisture (snow). It should not fit too tightly to form an air cushion and ultimately sufficient room to move.
In winter it is extremely important that the runner is seen well even in sleet and grey skies. Luminous colours are therefore less a matter of taste than a safety effect. Reflectors are also a must in winter.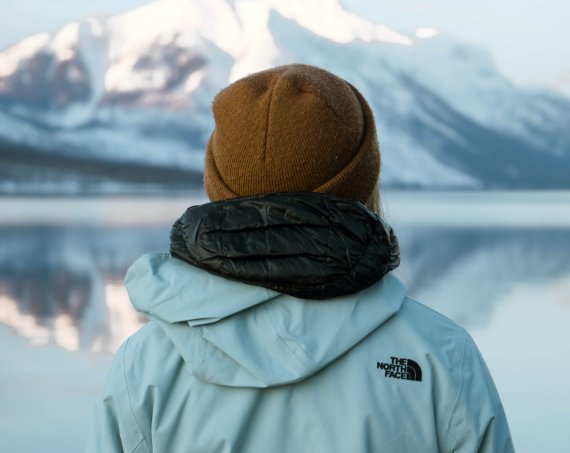 Running shirts with long sleeves form the layers above the functional underwear - with identical functionality. Thanks to the thin fabrics, two longsleeves can be worn on top of each other in the onion principle if required.
Whether Nike, adidas or Brooks, winter running shoes focus on two aspects: the grip of the sole and protection against moisture. The upper shoe should have a water-repellent but breathable membrane. The strongly profiled sole consists of a special rubber material mixture that guarantees enough grip.
Since frozen ground can be very hard, it is also important to ensure good cushioning.
When it comes to socks, seamless running socks are preferable and must fit perfectly. In addition to comfort, good heat regulation during training is important. Polygiene technology can additionally prevent unpleasant odours.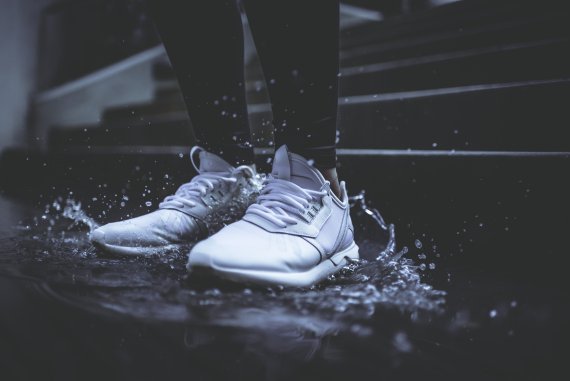 Breathable running gloves are also part of the basic equipment. It is an advantage if these have additional reflectors and allow the operation of various sports apps on the smartphone. Some models also have a small pocket for keys or banknotes.
Also indispensable: a running cap or headband and a scarf or bandana.
What you have to pay for the equipment depends mainly on your own preferences. Specialized online shops always have cheap offers, especially if the brand does not matter. Good running gloves, for example, are available for less than seven but also for over 70 euros.
With the right clothing, running is possible in almost any winter weather. In icy temperatures (below -15 degrees), however, you should avoid running or shorten the distance. To maintain fitness, there are also indoor alternatives such as home workouts or the treadmill in the gym, which do not overload the respiratory system.
It is advisable to do a light warm-up while still warm before hitting the winter slopes. An energy bar before the start provides sufficient power for jogging. Even in winter you should not neglect your fluid balance, because in the end the difference to summer consumption is not that big. Water before and after the workout therefore remains important.