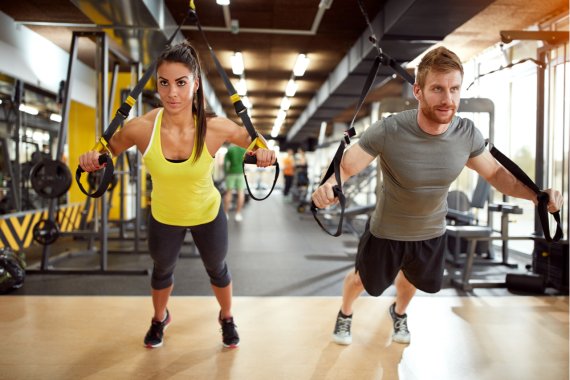 The term TRX Training has become an integral part of the vocabulary of fitness enthusiasts. But what does it actually mean?
TRX stands for "Total (Body) Resistance eXercise" and refers on the one hand to the training device (a suspension system) itself and on the other hand to a sub-area of functional training. The suspension trainer was invented by Navy Seal Randy Hetrick and is now sold all over the world.
Randy Hetrick wanted to keep fit on duty. Since he could not take dumbbells with him on the way, he invented a compact and light training device with which he could supplement the usual body weight exercises.
What makes the invention of TRX so ingenious? The suspension trainer solves several problems of people who either have little space, little time or both:
The suspension trainer weighs only a few grams and some of them are even supplied in a compact transport bag. It can be taken anywhere. The TRX can be attached to trees or other fixed anchor points with a sling or clamped in the door with an additional anchor, or it can be used for high intensity training: This compresses a workout to 4-20 minutes and solves the time problem.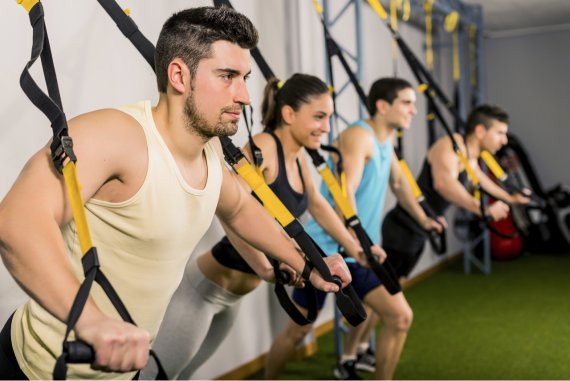 From a training science point of view, the TRX even solves another typical problem of bodyweight training. Typically in body weight training, pulling is almost only trained vertically in the form of a pull-up. However, it is often problematic to find a suitable edge or pull-up bar. Furthermore, especially beginners are often not yet able to perform a full chin-up. This is where the TRX comes into play: Due to its free placement in the room, the horizontal pulling direction can also be operated, which is lighter on the one hand and also addresses other important muscle groups of the back.
The TRX also makes other exercises easier, as it reduces body weight by gripping the sling of the TRX. A good example is the one-legged knee bend ("Pistol Squat"). If the force is not yet sufficient for this, the suspension system can help.
Another important factor comes through term: "Suspension Trainer". It forces us to stabilize our own body weight in the pulling system above the ground - the exercises become more unstable. On the one hand, this helps advanced athletes to make already established TRX exercises more difficult again, on the other hand it also helps beginners to train their balance and body tension from the beginning.
The "Total Body Resistance Exercise" suspension system is a real all-rounder! The functional training offers exercises for the trunk, the strengthening of the arms and legs as well as isolation exercises for flexor and extensor muscles.
TRX Training is not for nothing a part of our Top Trends 2020: The versatile training method allows to train time-efficiently and everywhere - especially in combination with HIT. So there is only one obstacle to effective fitness training: Procrastination.